SMC given the go signal to start works on airport
September 19, 2019 | 12:00am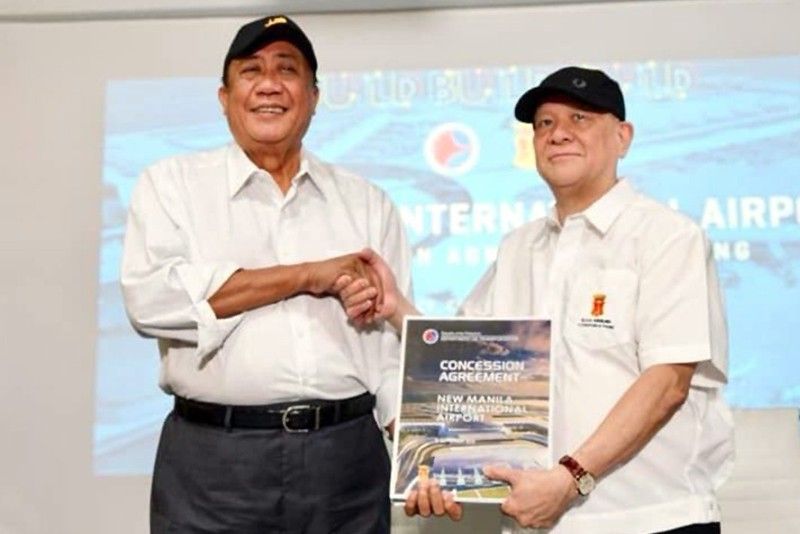 MANILA, Philippines — The government finally gave the go signal for conglomerate San Miguel Corp. (SMC) to commence with the construction of the $15-billion New Manila International Airport in Bulacan.
The Department of Transportation (DOTr) and SMC signed yesterday the concession agreement for the development of the international airport, allowing the project to finally take-off.
Transportation Secretary Arthur Tugade said he also signed on Wednesday morning the project's notice to proceed, which gives SMC the greenlight to start with the project's construction anytime.
"It's a game changer because we can come up with a facility that will compete with the world-class airports all over Asia and all over the world," Tugade said.
The new airport, which will be built on a 2,400-hectare property in Bulakan, Bulacan, will have four runways, eight taxiways and three terminals. It will be able to handle up to 100 million passengers per year once fully completed in five years' time.
"We have started engineering for this project about two years ago. Now that we have been given the go signal by Secretary Tugade, this will be just fast," SMC president and chief operating officer Ramon Ang said.
"I assure you that we will complete the four runways on the fifth year. The contractors that will build this airport are all world-class," Ang said.
Transportation Undersecretary for planning Ruben Reinoso said SMC has committed to complete initially two runways and a passenger terminal with a 35 million capacity within three to four years upon start of construction, which means the airport can be operational as early as late 2022.
Reinoso said SMC should also complete its 8.4-kilometer toll way that will connect the airport to the North Luzon Expressway by then.
SMC is targeting to break ground on the airport by December.
The project is expected to fuel trillions of dollars in economic activity, potentially contributing about nine percent to GDP by 2025. Its estimated impact to the economy would amount to nearly P900 million.
"It's really a game changer. This is the only meaningful project in the last so many years. I think this is the most meaningful project of our country," Ang said.
Ang said Japanese, Korean and European airport operators have expressed interest to operate the airport. SMC earlier said it would engage a world-class airport operator to help manage the country's future premier gateway.
SMC has also engaged the services of global firms Groupe ADPi, Meinhardt Group, and Jacobs to design and build the New Manila International Airport project.
All three companies were involved in building world-class airports including Singapore's Chiangi Airport, Atlanta Airport, and France's Charles de Gaulle Airport.
Through its world class designers, Ang said the airport would come with its own flood barrier and spillway to provide solutions to Bulacan's perennial flood problems and that of nearby areas.
"The master planners we hired for this project are experts when it comes to the issues we are facing," he said.
In terms of financing the massive airport project, Ang said SMC would likely tap Chinese and American banks to compliment the equity it would provide.
"Shareholders of San Miguel will come up with a new equity, private equity. We'll put in an equity capital so that the banks would lend us," he said.
SMC will undertake the financing, design, construction, supply, completion, testing, commissioning, and operation and maintenance of the new international gateway, which is expected to ease congestion at the Ninoy Aquino International Airport, the country's main international gateway.