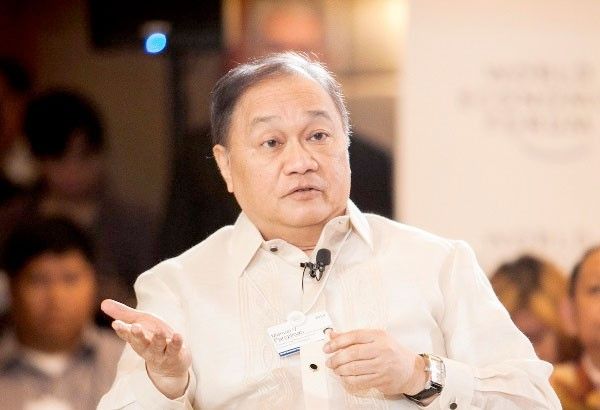 Meralco chairman Manuel Pangilinan said first half income was "good" and better than last year.
File
Meralco sees profit improvement in H1
MANILA, Philippines — Manila Electric Co. (Meralco) expects first half earnings to improve on the back of continued sales growth, its top official said yesterday.
Meralco chairman Manuel Pangilinan said first half income was "good" and better than last year.
Pangilinan attributed the positive growth to higher sales volume during the period.
"It's not double digit, but it's good. Better than historic average," Pangilinan said.
Meralco is set to announce its first half numbers next week.
In the first half of 2018, Meralco booked a 6.5 percent rise in sales volume to 21,665 gigawatt-hours (GWh).
This resulted in a 14 percent expansion in reported net income to P11.97 billion and a seven percent rise in core earnings to P10.85 billion.
Earlier this year, Pangilinan said he was optimistic Meralco would post another positive year on the back of strong demand amid improved economic prospects.
At that time, he said economic landscape was improving, especially with lower inflation and interest rates, higher income and a stronger stock market.
The mid-term elections in May was also expected to contribute to the growth in demand.
"I feel this year's going to be better. Inflation has tapered down. I think the risk of interest rates rising has receded, so that's good news…
Overall, this will be a better year with a positive impact on power demand," Pangilinan said.
Meralco is looking at a three percent rise in energy sales this year, lower than the actual last year, given the high base, former Meralco senior vice president Alfredo Panlilio said earlier.
For 2018, Meralco surpassed its previous profit and revenue figures as it registered record sales volume.
Its core net income rose 11 percent to P22.4 billion, while reported net income went up 12.95 percent to P23 billion.
This as consolidated energy sales volume increased by five percent to 44,313 GWh.
Meanwhile, Meralco is expanding its commitment on rural electrification through green energy as it eyes to replicate its Cagbalete microgrid project in other islands across the country.
Meralco inaugurated yesterday the initial phase of its power microgrid project at Cagbalete Island, Quezon, which was completed last May.
Microgrids, or small-scale power grids, can operate independently from the country's mainland interconnected network of transmission and distribution lines.
The first phase consists of a 60-kilowatt-peak (kWp) solar photovoltaic (PV) system, 150-kilowatt-hour (kwh) battery energy storage, and two units of 30-kW diesel generators to provide 24/7 power to about 200 households in two barangays in the island.
"We at Meralco are very proud of this moment. We'll finally be involved in electrification of an island community that is in need of light and power," Meralco president and chief executive officer Ray Espinosa said during the inauguration.
He said the company is working to expand its microgrid project to a total of 1,000 kw or one megawatt (MW) to power up the whole island and displace the more expensive diesel generator sets (gensets).
With the new microgrid project, Energy Regulatory Commission (ERC) chairperson Agnes Devanadera said Meralco is making itself more relevant in the power sector, particularly within its franchise area.
"There is a growing sensitivity to respond to the growing needs," she said, noting the minimum electricity cost in the island reaches as high as P55 per kwh because power is provided by private gensets.
Meanwhile, Meralco is looking at other off-grid islands to replicate its Cagbalete microgrid project.
"We also plan to bring this outside our franchise area so we can also help the Department of Energy (DOE) and government in providing electrification to other parts of the country using the same solution," Espinosa said.