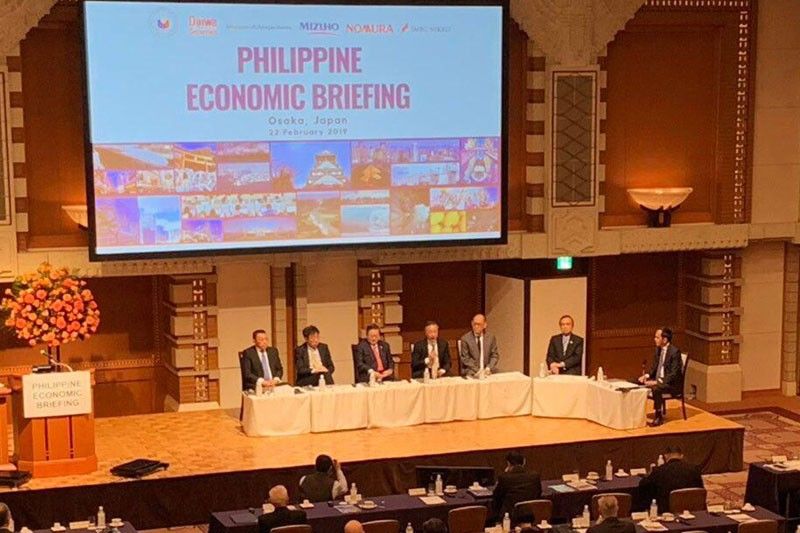 In photo are (from left) BSP Deputy Governor Diwa Guinigundo, JETRO president Yasushi Akahoshi, Finance Secretary Carlos Dominguez III, Nestor Tan of BDO Unibank Inc., Budget Secretary Benja- min Diokno, Socioeconomic Planning Secretary Ernesto Pernia, and Euben Paracuelles of Nomura (moderator). Akahoshi and Tan provided their independent views of the Philippine economy.
File
Japanese investors flock to Philippines economic briefing
MANILA, Philippines — Japanese investors continued to show strong interest in the Philippines as close to 180 companies attended the Philippine economic briefing held in Osaka wherein economic managers pitched investment opportunities, citing vital economic and infrastructure reforms that have been put in place.
Finance Secretary Carlos Dominguez III said the Duterte administration continues to relentlessly push reforms to improve the ease of doing business in the country.
"We have drastically cut the Foreign Investments Negative List. [Also] just last week, President Duterte signed into law the Rice Tariffication Act, which will stabilize rice prices, further push down inflation, and improve the Philippines' agricultural productivity, as well as open the country's rice market to private traders," Dominguez said.
President Duterte signed Republic Act 11203 or the Rice Tariffication Act and RA 11211 or an act amending RA 7653 otherwise known as The New Central Bank Act.
Bangko Sentral ng Pilipinas Deputy Governor Diwa Guinigundo explained the importance of central banking reform, the law which was finally signed last week following years of deliberation in Congress.
"The BSP Charter was recently amended, allowing the BSP to issue its own debt securities. This means the BSP can move more quickly into a more market-based open market operation to manage domestic liquidity and sustain price stability," Guinigundo said.
Transportation Secretary Arthur Tugade told Japanese investors there are over 4,000 infrastructure projects including airports, mass transit systems, expressways and inter-island connector roads all over the Philippines, of which 75 are considered flagship given their high impact on the economy.
"With these numerous projects under the Build Build Build program, the Philippines is headed toward a new age – an age where infrastructure is safe, secure, and offers the 'good life' that every Filipino dreams of," Tugade added.
For his part, Budget Secretary Benjamin Diokno harped on the government's regard for fiscal discipline, even as it invests more on infrastructure and social services.
"The characteristics of our fiscal strategy are that it is fiscally responsible, it puts a high premium on the quicker delivery of services and the earlier completion of projects, it is transparent, and [it] encourages citizen participation," Diokno said.
The reforms cited by the officials, among others, are seen propelling the Philippines to a path of higher economic growth that is increasingly more inclusive.
The Philippines is expected to graduate into an upper middle income economy this year, ahead of the 2022 schedule. The government also aims to keep the momentum so that the economy reaches high-income status by 2040.
During the PEB's panel discussion, Japan External Trade Organization president Yasushi Akahoshi said among ASEAN countries, the Philippines is where Japanese companies enjoy the highest profits.
Profitability of business is seen sustainable amid a favorable outlook for the Philippine economy, which is widely expected to remain among the fastest growing economies in Asia.
Japan is one of the Philippines' biggest export markets and is also one of its top sources of imports. It is also a major source of official development assistance and foreign investments.