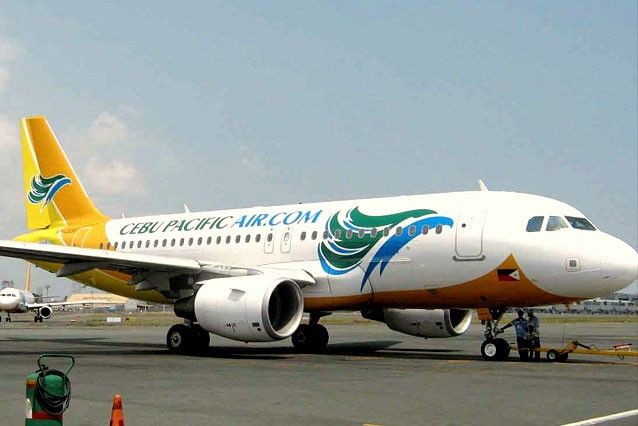 Some flights are canceled on September 14 to 17 due to the Typhoon Ompong.
File
LIST: Flights canceled due to 'Ompong'
(philstar.com) - September 13, 2018 - 9:31pm
MANILA, Philippines (Updated 2:09 p.m., Saturday) — The Manila International Airport Authority has issued an advisory regarding the flight cancellations of some airlines due to the anticipated onslaught of Typhoon Ompong (international name: Mangkhut).
Among the airlines that grounded some of its domestic flights from September 14 to 17 are carriers Philippine Airlines, Cebu Pacific, AirAsia, Xiamen Airlines, Skyjet and AirSWIFT airlines.
The airlines cited that heavy rains are expected in northern and central Luzon as well as Metro Manila throughout the weekend.
MIAA advised passengers to coordinate with their respective airlines for any announcements of flight cancellations, rescheduling or rebooking of flights.
Passengers with inquiries may call MIAA at its hotline 879-1109.
Meanwhile, PAL and Cebu Pacific encouraged affected passengers to rebook or refund before their flights through their respective websites.
Here are the canceled flights:
Cebu Pacific
Sept.14, 2018 (Friday)
5J 506 – Manila to Tuguegarao

5J 507 – Tuguegarao to Manila

5J 192 – Manila to Cauayan

5J 193 – Cauayan to Manila

5J 821 – Manila to Virac

5J 822 – Virac to Manila

DG 6111 – Manila to Naga

DG 6112 – Naga to Manila

DG 6009 – Manila to Basco

DG 6010 – Basco to Manila
Sept. 15, 2018 (Saturday)
5J 504 – Manila to Tuguegarao

5J 505 – Tuguegarao to Manila

5J 506 – Manila to Tuguegarao

5J 507 – Tuguegarao to Manila

5J 196 – Manila to Cauayan

5J 197 – Cauayan to Manila

DG 6009 – Manila to Basco

DG 6010 – Basco to Manila

5J 192 - Manila to Cauayan

5J 193 - Cauayan to Manila

5J 821 - Manila to Virac

5J 822 - Virac to Manila

5J 379 - Manila to Cagayan de Oro

5J 380 - Cagayan de Oro to Manila

5J 495 - Manila to Iloilo

5J 496 - Iloilo to Manila

5J 449 - Manila to Iloilo
September 16
5J 504 - Manila to Tuguegarao
5J 505 - Tuguegarao to Manila
5J 506 - Manila to Tuguegarao
5J 507 - Tuguegarao to Manila
5J 196 - Manila to Cauayan
5J 197 - Cauayan to Manila
DG6009 - Manila to Basco
DG6010 - Basco to Manila
Philippine Airlines
September 14
PR2688 – Clark to Basco

PR2689 – Basco to Clark

PR2614 – Clark to Tuguegarao

PR2615 – Tuguegarao to Clark

PR 346 - Manila to Pudong

PR 347 - Pudong to Manila

PR 312 - Manila to Hong Kong
September 15
PR2196 – Manila to Laoag

PR2197 – Laoag to Manila

PR2198 – Manila to Laoag

PR2199 – Laoag to Manila

PR2688 – Clark to Basco

PR2689 – Basco to Clark

PR2614 – Clark to Tuguegarao

PR2615 – Tuguegarao to Clark

PR833 - Clark to Cagayan

PR831 - Cagayan to Clark

PR831 - Clark to Davao

PR2671 - Clark to Calbayog

PR2672 - Calbayog to Clark

PR2875 - Clark to Siargao

PR2976 - Siargao to Clark

PR2684 - Clark to Siargao

PR2876 - Siargao to Clark

PR2678 - Clark to Busuanga

PR2685 - Busuanga to Clark

PR2678 - Clark to Busuanga

PR2679 - Busuanga to Clark

PR 2153 - Manila to Bacolod

PR 2154 - Bacolod to Manila

PR2789 - Manila to Puerto Princesa

PR2790 - Puerto Princesa to Manila

PR313 - Hong Kong to Manila

PR2483 - Seoul (Incheon) to Tagbilaran

PR352 - Manila to Macau

PR353 - Macau to Manila

PR5408 - Manila to Osaka (Kansai)

PR5407- Osaka to Manila

PR334 - Manila to Xiamen

PR335 - Xiamen to Manila

PR318 - Manila to Hong Kong

PR319 - Hong Kong to Manila

PR310 - Manila to Hong Kong

PR311 - Hong Kong to Manila

PR312 - Manila to Hong Kong

PR390 - Cebu to Beijing

PR423 - Tokyo (Haneda) to Manila

PR300 - Manila to Hong Kong

PR301 - Hong Kong to Manila

PR306 - Manila to Hong Kong

PR307 - Hong Kong to Manila

PR336 - Manila to Shanghai (Pudong)

PR337 - Shanghai to Manila

2P9747 - Cebu to Hangzhou

2P9748 - Hangzhou to Cebu

2P2391 - Cebu to Chengdu

2P2328 - Manila to Haikou

PR2329 - Haikou to Manila

PR356 - Manila to Quanzhou (Jinjiang)

PR357 - Quanzhou to Manila
The following flights from Middle East will be re-timed to arrive in the afternoon of September 15 instead of their original morning arrival:
PR685 - Doha to Manila
PR655 - Riyadh to Manila
PR659 - Dubai to Manila
PR683 - Dammam to Manila
September 16
PR313 - Hong Kong to Manila
PR391 - Beijing to Cebu
2P2392 - Chengdu to Cebu
AirAsia
September 15
Z20432 - Manila to Puerto Princesa
Z20433 - Puerto Princesa to Manila
Z20790 - Cebu to Manila
Z20791 - Manila to Cebu
Z20782 - Cebu to Manila
Z20783 - Manila to Cebu
Z20625 - Manila to Davao
Z20626 - Davao to Manila
Z20769 - Manila to Cebu
Z20138 - Manila to Guangzhou
Z27800 - Cebu to Shenzhen
September 16
Z20770 - Cebu to Manila
Z02139 - Guangzhou to Manila
Z27801 - Shenzhen to Cebu
Z21264 - Manila to Hong Kong
Z21265 - Hong Kong to Manila
Z20088 - Manila to Macao
Z20089 - Macao to Manila
AirSWIFT
September 14
T6 837 – Manila to Basco (5:15 a.m. to 7:00 a.m.)

T6 838 –Basco to Manila (8:30 a.m. to 10:15 p.m.)
September 16
T6 837 – Manila to Basco (5:15 a.m. to 7:00 a.m.)

T6 838 –Basco to Manila (8:30 a.m. to 10:15 p.m.)
Xiamen Airlines
September 14
MF 819 - Xiamen to Manila
MF 820 - Manila to Xiamen
MF 8667 - Xiamen to Manila
Cebgo
September 14
DG 6111 - Manila to Naga
DG 6112 - Naga to Manila
DG 6009 - Manila to Basco
DG 6010 - Basco to Manila
Skyjet
September 14
M8 816 - Manila to Basco
M8 817 - Basco to Manila
M8 421 - Manila to Siargao
M8 422 - Siargao to Manila
M8 715 - Manila to Busuanga
M8 716 - Busuanga to Manila