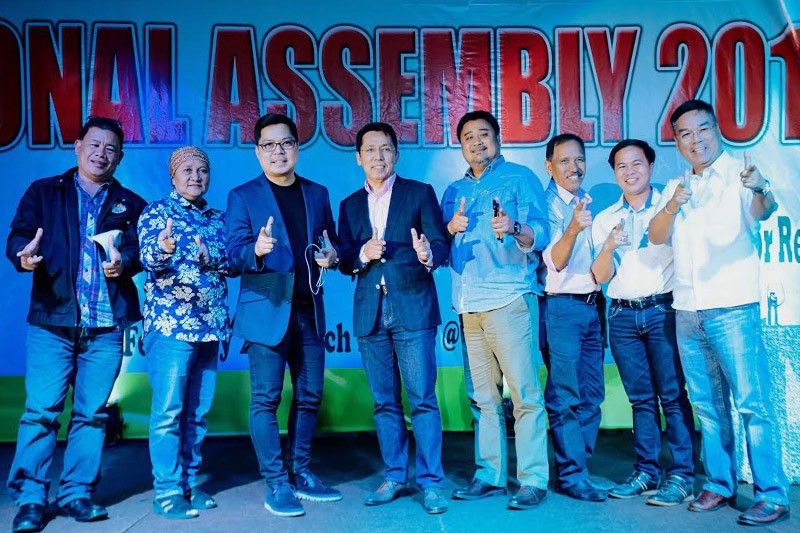 FINTQ Managing Director and KasamaKA Founder and Lead Convenor Lito Villanueva with North Cotabato Barangay Chairmen during the 2018 Liga ng mga Barangay sa Pilipinas National Assembly.
Released
1 million barangay constituents receive free microinsurance from KasamaKA
(philstar.com) - March 12, 2018 - 11:20am
MANILA, Philippines — True to its mission of supporting the government's thrust of promoting inclusive growth in the country, FINTQ, through its grassroots-based financial inclusion program KasamaKA, is providing 1 million free microinsurance policies to unbanked and underserved Filipinos across the 42,000 barangays nationwide.
"We all need security and protection from any uncertainties. With this affordable and accessible microinsurance policies under the KasamaKA Microinsurance Program, it will kickstart a massive nationwide financial literacy campaign to educate millions of unbanked and underserved Filipinos on the importance of being financially secured and insured," said Lito Villanueva, FINTQ managing director, KasamaKA founder and lead convenor.
Insurance Commissioner Dennis Funa said, "We welcome KasamaKA as a national digital enabler towards achieving our goals to exponentially grow the country's insurance penetration rate to 4 percent by year 2020 from 1.7 percent in 2017. This is the first of its kind initiative in the country."
National movement
Insurance penetration rate is the ratio of premiums over GDP. The national insurance penetration grew to 1.64 percent last year from 1.61 percent in 2016.
The distribution of the 1 million free microinsurance policies is an initiative under the KasamaKA Ka-Barangay sa Kaunlaran, a capacity-building initiative in collaboration with Liga ng mga Barangay sa Pilipinas. It was announced during the Liga ng mga Barangay sa Pilipinas National Assembly last February 27 at the Manila Hotel.
A month ago, its National Executive Board, through a national resolution, unanimously adopted KasamaKA as a social advocacy and a national movement for financial inclusion across 42,036 barangays in the country.
Villanueva who is also the chairman of the FinTechAlliance.ph noted that with a microinsurance policy, Filipinos will have an additional source of financial assistance to help them cope and recover faster in times of natural disasters or unfortunate events in their lives.
Lawyer Edmund Abesamis, Liga ng mga Barangay sa Pilipinas National President concurred, saying, "KasamaKA levels the playing field as it empowers even our marginalized constituents to avail and enjoy the benefits of digital financial services. They no longer need to request and wait for the release of financial assistance from various government offices. With their insurance coverage, they now have peace of mind as their beneficiaries are entitled to avail immediate release of their accident-related claims to cover for their needed expenses, all through the use of their mobile phone."
How to avail
The distribution of free microinsurance policies will run from February 27 to March 13 only. Insurance coverage period will be for three months.
Beneficiaries of policyholders are entitled to the following claims: accidental death and disablement, P20,000; total and permanent disability due to accident, P2,500; burial assistance due to accident, P5,000; daily accident hospital benefit,P200 per day for a maximum of 10 days hospitalization due to accident; and fire cash assistance, P5,000.
To avail of the free microinsurance, an individual has to register as a KasamaKA member by simply texting KKK to 29292 or signing up on KasamaKA's website: www.kasamaka.com.
For SMS registration, type in REG <Space><First Name>/<Last Name>/<Date of Birth, MMDDYYYY>/<Address> and send to 29292. For website registration, provide your Full Name (Kumpletong Pangalan); Date of Birth (Araw ng Kapanganakan); Nationality (Nasyonalidad); Present Address (Kasalukuyang Tirahan); Source of Income (Saan galing ang iyong kasalukuyang kita); and Mobile Number.
"Once you are registered, you will receive your KasamaKA Builder ID Code, which will also serve as your insurance policy number. Your beneficiaries need to provide your Builder ID Code to claim the benefits under your policy," Villanueva explained, adding: "You will also receive a text message from our partner insurance companies and brokers." Among them include Pioneer Insurance, Malayan Insurance, Sun Life Financial, Country Bankers Insurance, Gotuaco del Rosario Insurance Brokers and a lot more.
To make an insurance claim, beneficiaries need to call 0999-9932161 and provide the policyholder's KasamaKA Builder ID code number.
The KasamaKA Builder ID Code of policyholders also serves as their referral ID for KasamaKA Loans via Lendr, which will allow them to earn P300 for every successful loan release. And soon, this includes the KasamaKA Microsavings and KasamaKA Microinvestments.
Last mile solution
KasamaKA is a grassroots-based, self-help and digital-enabled social intervention and last mile solution to promote financial literacy and inclusive growth.
It is a cost-efficient, convenient, secured and transparent shared services platform to expand the reach of banks, financial services and insurance sector to Filipinos who are not banking clients by providing microsavings, microinsurance, microinvestments and lending products.
FINTQnologies Corp. (FINTQ) is the leader in customer-centric, demand driven, evidence-based and mobile-first digital financial innovations by way of engaging regulators, enabling enterprises, and empowering individuals.
It is committed to accelerating universal digital access to finance at scale via pioneering financial technologies in growth and emerging markets. It is the financial technology arm of Voyager Innovations under the PLDT Group. To know more, visit
For more information, visit www.kasamaka.com and http://www.fintq.com.