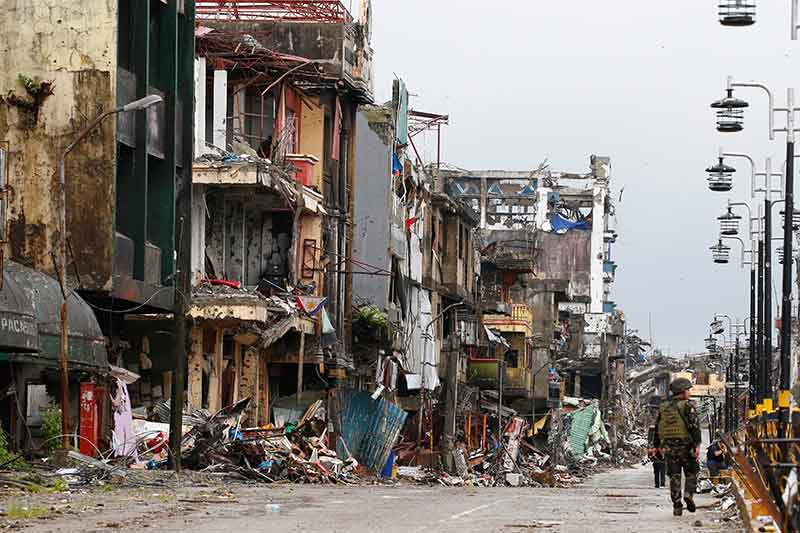 During a recent meeting with top officials of the Sumitomo Mitsui Banking Corp. (SMBC), Finance Secretary Carlos Dominguez said the government is eyeing to set up community-based industries as part of the rehabilitation program for Marawi City. AP/Bullit Marquez, File
Gov't to put up ecozones in Marawi
MANILA, Philippines — The government plans to establish community-based economic zones within war-torn Marawi City to create jobs and livelihood for returning residents and ultimately help the city's economy to recover, according to the Department of Finance (DOF).
During a recent meeting with top officials of the Sumitomo Mitsui Banking Corp. (SMBC), Finance Secretary Carlos Dominguez said the government is eyeing to set up community-based industries as part of the rehabilitation program for Marawi City.
"As part of the rehabilitation program, we are planning to put up a community-based economic zone in the area for small industries, local food processing and small foundries," Dominguez said.
Domiguez said the community ecozones in Marawi City would serve as a tool to help open economic opportunities for struggling residents.
Aside from providing residents with basic necessities, such as water and electricity, Dominguez said the government is also planning to provide the city access to the internet so the industries within the proposed ecozone would be able to take part in e-commerce through tie-ups withonline selling platforms.
SMBC president and chief executive officer Takeshi Kunibe expressed willingness to assist the Philippines in its reconstruction efforts in Marawi and congratulated the government for successfully liberating the city.
"We appreciate your enthusiasm in taking part in the rehabilitation efforts for Marawi," Dominguez told Kunibe.
Meanwhile, SMBC, the second largest banking institution in Japan with a total assets of ¥162.3 trillion yen, said there is currently healthy demand for Samurai bonds in the Japanese market.
Dominguez earlier said the Philippine government is studying the possibility of offering Samurai bonds, or yen-denominated debt papers, by next year, depending on market conditions.
He said said the plan would help diversify the borrowing portfolio of the government.