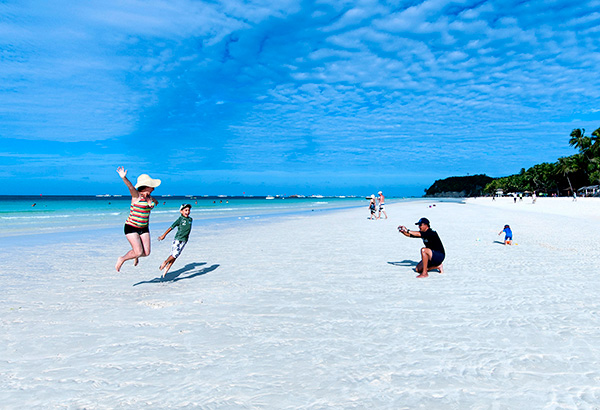 Based on figures released by the DOT on its website, tourism activities generated P146.3 million in total earnings in the first half, higher than the P127.37 million recorded in the same period last year. File
Tourism receipts up 15% in H1
MANILA, Philippines — Tourism receipts grew 14.89 percent in the first six months of the year, driven by higher tourist arrivals, the Department of Tourism (DOT) said.
Based on figures released by the DOT on its website, tourism activities generated P146.3 million in total earnings in the first half, higher than the P127.37 million recorded in the same period last year.
"The month of May recorded the biggest receipts of P27.86 billion as well as the highest growth of 39.62," the tourism department said.
In June alone, tourism receipts reached P27.1 million, up 30.68 percent year on year.
In addition, average daily expenditure (ADE) for the same month amounted to P6,229.27, an increase of 20.26 percent or an additional daily spending of P1,049.41 compared to the same period last year.
"The average length of stay (ALoS) of tourists in the country was recorded at 10.04 nights, longer by 5.02 percent compared to the ALoS of 9.56 nights in June 2016," the tourism department reported.
Korea is the top spending market with receipts amounting to about P8.75 billion for the month of June. This was followed by China, with a total spending of almost P5.25 billion.
"USA placed third with P2.62 billion spent followed by Taiwan with an estimated P2.14 billion spending and Japan with P2.13 billion," the DOT said.
It added that among the top 20 markets, Taiwan registered the highest per capita expenditure for two consecutive months, with a Taiwanese visitor spending P116,443.45 on average while in the country.
This was followed by visitors from Vietnam with an average of P97,440.99 per capita spending and Korea with P80,722.99.
Other top markets with high per capita spending include China with P79,420.88, Norway (P59,981.81) and Malaysia (P59,883.58).
The DOT attributed the growth to the stronger tourist arrivals in the first half of the year, which increased 12.7 percent to 3.36 million.
"The biggest volume was recorded in the month of January while the highest growth was registered in April," the DOT said.
For this year, the tourism department is targeting to hit the seven million mark in tourist arrivals, higher than the 5.9 million arrivals registered in 2016.
Tourism Undersecretary Benito Bengzon Jr. earlier said the DOT was targeting P400 million to P500 million worth of visitor receipts.