Microentrepreneurship changes lives
GO NEGOSYO
-
Joey Concepcion
(The Philippine Star) - December 9, 2015 - 9:00am
In the past few years that I have joined many selection and awarding programs for microentrepreneurs, I have seen how many of them scale up because of proper funding and support from microfinance institutions.
Recently, I was honored to be part of the national selection committee of the 2015 Citi Microentrepreneurship Awards (CMA) organized by Bangko Sentral ng Pilipinas, Citi Foundation, Citibank, and Microfinance Council of the Philippines. The CMA is a nationwide search for the most outstanding microentrepreneurs across the country. And for the past 12 years, CMA has recognized more than 100 microentrepreneurs who have displayed passion and determination to pursue their dreams and help their families move up in life.
This year's winner is truly an inspiration. She is a public school teacher and now a nata de coco manufacturer in Mindanao. Hailing from Davao City, Lydia Malot was named as this year's national winner of CMA. But what is inspiring about this Pinay entrepreneur? A few years ago, she read an article in a magazine which showed steps on how to make nata de coco. This inspired her to try her luck in the business. With only P300 capital, Lydia and her husband started growing the business. When her husband died, she took over the business and became very hands-on in all its processes and growth. Indeed, business inspiration can come from anything.
From the small capital she had, she applied for a loan from microfinance institution Kabalikat para sa Maunlad na Buhay Inc. (KMBI) to expand her business.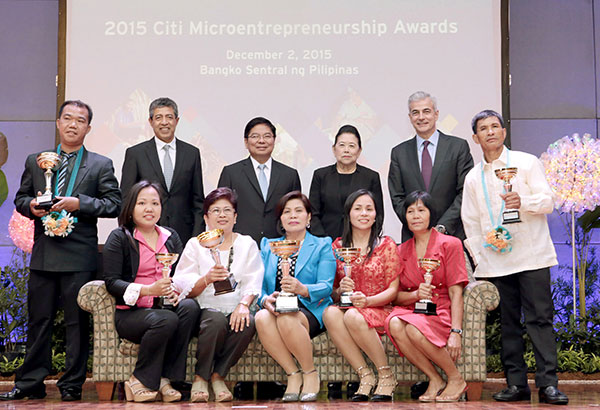 Members of the national selection committee of CMA 2015 with the winners. (front row): Special award for agri micro-business awardee Laarni Ditablan, Regional Awardee for Mindanao Maternidad Salili, national winner Lydia Malot, regional awardee for Luzon Ester Shiela Vitto, special award for agri micro-business awardee Victoria Bantilan. (back row) : Regional awardee for Visayas Jordan Inalisan, Citi Philippines CEO Aftab Ahmed, BSP Gov. Amando Tetangco, Jr., chairman of the Philippine Daily Inquirer Marixi Rufino-Prieto, Ayala Corporation president Fernando Zobel de Ayala, and special award for community leadership awardee Marines Takingan.
Today, Lydia's business caters to large food and juice producers like Profoods International, Del Monte, and Dole Philippines. Aside from these, international investors and companies also recognize her business and have invited her to join food expos abroad. Recently, her nata de coco was named as the best product compared to those which came from Singapore, Thailand and Malaysia. Currently, she is seeking accreditation to be compliant with the international standards in nata de coco production in order to accommodate the demands from international companies.
With the assistance provided by CMA, Lydia will be able to get the much-needed technical knowledge and equipment to improve the quality of her products.
Aside from Lydia, there are other winners as well who have shown their inspiring entrepreneurial journeys.
Ester Vitto and her husband Ronald started a slippers business in Oriental Mindoro. The soles of the slippers and sandals are made from used tires. They also offer free repair to their customers. Ester received the Malikhain award from CARD MRI's Galing Ni Nanay search for their innovative way of recycling used tires. CMA recognized her as the regional awardee for Luzon.
The Visayas awardee Jordan Inalisan hails from Carigara, Leyte which is known for its products made from pure carabao's milk. This led to the establishment of his business which sells special pastillas, cookies, and other local delicacies. Jordan's pastillas shop is known as one of the biggest pasalubong stores in Leyte. His initial loan with the MFI was P3,000 only. His business not only helps his family, but also members of his community including working students.
Regional awardee of Mindanao Maternidad Salili runs a business of fabricating coil springs that are used in machines and vehicles. With the P4000 loan she got, she was able to improve the quality of the products through continuous improvement of her machines and equipment. Maternidad proudly shares there are multinational companies in the country which order coil springs from them which she immediately delivers within the agreed turnaround time.
A special award for agri micro-business was also given to two microentrepreneurs – Victoria Bantilan of Negros Occidental and Laarni Ditablan of Rizal.
From sari-sari store to rice retailing and selling RTWs, Victoria and her husband decided to try agri-business by attending a three-day training program on mushroom culture. They also till a piece of land that they received from CARP which produces organic black and red rice. Aside from selling their products in public markets and stalls, Victoria also distributes their products in some hospitals, restaurants, and organic farmers' market.
Laarni, on the other hand, is a fish breeder and knife fish trader. Laarni and her husband started their business with just three fishnets. After seeing that the business is lucrative, Laarni decided to get a loan to acquire necessary assets such as canoes and fishing boats. Today, they breed tilapias, and bighead carps and are financing knife fish catchers in Binangonan.
Marines Takingan's advocacy on organic farming in La Trinidad, Benguet earned him a special award for community leadership. After suffering from an illness caused by pesticides and insecticides, Marines decided to shift to organic farming and founded an association for organic farmers. Aside from the promotion of organic farming, he offers his garden as a demo farm and trains fellow members.
The winners received close to P2 million in cash and non-cash prizes including a four-week entrepreneurship training which will better guide them in the improvement of their businesses.
I believe microentrepreneurs like them are an inspiration to the larger part of our population especially, those who want to move up in life and be successful. But the key to their growth is microfinance and mentorship.
BSP Gov. Amando Tetangco Jr., said, "Our microentrepreneurs represent a gold mine of lessons and information that has been helping us transform and improve the lives of millions of Filipinos through microfinance. A significant factor in our growing harvest of successful microenterprises stories is a regulatory environment that enables microfinance institutions or MFIs to provide appropriate products and services."
Supporting and enabling microentrepreneurs can really help change lives. They are the over 90% of the total number of enterprises, and empowering them and helping them take their businesses to the next level is helping the bottom of the entrepreneur pyramid, leading us towards a real inclusive growth.