First APEC public-private dialogue
February 13, 2015 | 12:00am
I would like to compliment DFA undersecretary Laura del Rosario ( the Philippine senior official for APEC) for organizing this first ever dialogue in partnership with the APEC Business Advisory Council (ABAC) and the Pacific Economic Cooperation Council (PECC). In one of my previous lives, I was involved in both organizations as chairman. It was always my desire to get the three organizations to work hand in glove. They have done so on an ad hoc basis before, but not in formal partnership. They add value to each other.
I was invited to moderate a panel: "Creating Globally Competitive ICT-Business Process Management." Some 10 years ago, I was also asked to give a presentation to the DFA staff on Business Process Outsourcing by Foreign Secretary Blas Ople. Call Centers were a new phenomenon then and the Philippines was eager to get into it because of our large number of unemployed college graduates and English proficiency. There were initial skepticism on the part of some government officials that it was a worthwhile business as well as from experts abroad who felt that we did not have the skills and the critical mass. Today, as proudly announced by the IT-Business Processing Association of the Philippines (IT-BPAP), there are more than one million Filipinos engaged in the business. It was a tremendous achievement and much of the credit goes to the sustained and unstinting support of President Arroyo during the early years.
But the 21st century has moved on and before I asked the panelists to speak I gave a one page power point chart which summarized what I perceived to be the challenges for the Industry.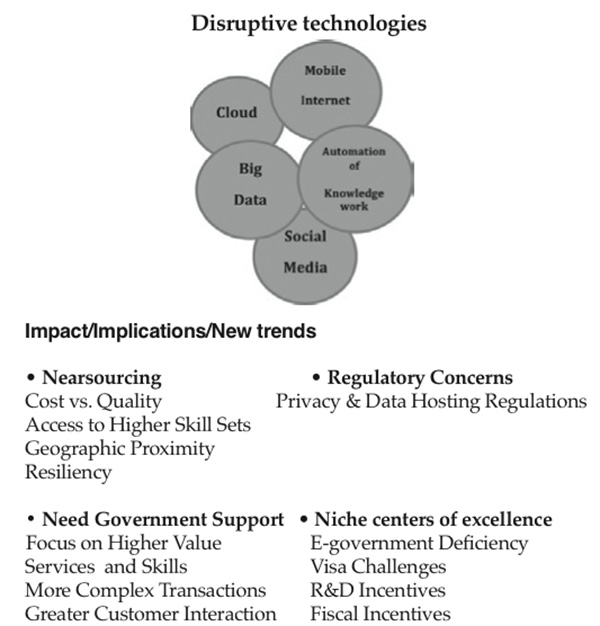 The above, I believe is self-explanatory, but allow me to elaborate further (based on what I have learned from an expat who once managed a call center in Manila) on its implications for the Philippines:
1. The dramatic changes in technologies demand greater innovation and creativity from management and different/higher skills from employees. Countries or locations which have these technologies will have the competitive advantage.
2. As this transformation continues, single-country locators and large "do it all" service centers are becoming rare, being replaced by service providers and captives with global or regional networks of delivery centers. In many cases, these centers also develop as niche centers of excellence with higher concentrations of high-value skills. Painfully, English proficiency will not necessarily make the difference.
3. "Back office" and transactional call center work in BPO will decrease (which has been the strength of the Philippines). This work is being automated, while the demand for high-value, KPO (knowledge process outsourcing) or customer-facing work is growing.
4. Labor or infrastructure arbitrage (cost considerations) may not be a major factor in decision making for the ICT-BPM location. Quality, accessibility to higher skill sets, perceptions of information security, geographic proximity and cultural/political familiarity are becoming greater factors than wage differentials.
5. Infrastructure and Real Estate. While the growth of new locator cities has been explosive in recent years, first tier locations, such as Manila and Cebu are becoming saturated. Power supply, facilities costs and transportation/accessibility will present constraints on growth unless tier 2 and 3 cities can be developed rapidly.
6. Retention will continue to be a factor in all BPO locations. attrition rates of 50 percent to 60 percent complicate the sustainability of growth, as well as the image of the Philippines as a stable long- term location.
7. Resiliency. The Philippines is rated no. 2 in vulnerability to natural disasters according to the United Nations University. Swiss Re rates Metro Manila as second only to Tokyo in vulnerability to earthquakes.
8. Fiscal Incentives. The Philippines should continue and even strengthen the incentives granted by PEZA and the 2007 Investment Priorities Plan. The Asean Economic Community, by lowering trade and employment barriers will ease the transition of work across borders. Countries with better incentives will erode Philippine advantage. The key question is: Will the incentives provided by the Philippines be relied on for long term planning? The perception persists that the political changes erode stability in policy.
9. Government Support and Bureaucracy. The Philippines remains behind in the effectiveness and efficiency of government support. From basic transacting with government via internet/electronic media and the administrative challenges of visa and foreign travel are barriers to greater FDI. There is a serious need for government support for R&D, innovation centers and educational programs to support the transition to higher value services. Also, as I have advocated for years, the proposed legislation to create a Department of Information and Communications Technology is considered a critical enabler for this #1 industry of the Philippines. Malaysia has MDeC (Multimedia Development Corp.), Singapore has IDA (Infocomm Development Authority) and almost all of Asean economies have a similar agency.
In my humble opinion, the National Competitiveness Council must focus on the above items with the greatest sense of urgency.