Marcos takes hat off to Hidilyn
December 10, 2022 | 12:00am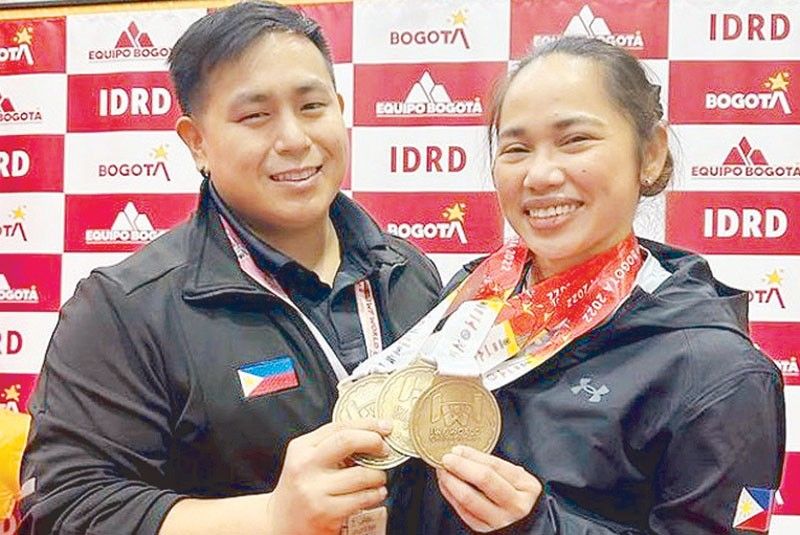 MANILA, Philippines — While the Philippine Sports Commission has yet to roll out any cash incentive for Hidilyn Diaz-Naranjo, the three-gold winner in the International Weightlifting Federation World Championships can find other reasons to smile.
President Marcos has personally congratulated Diaz for winning three golds in the 55kg division of the World Championships last Thursday.
"I join the entire nation in paying tribute to you Hidilyn for your continuous efforts to serve as an inspiration to many Filipinos and bring home honor for our country," the President said in a Twitter post.
Diaz, who earned a windfall for delivering the country's first Olympic gold last year, will receive P750,000 from her home province of Zamboanga, according to her former coach Elbert Atilano, a consultant to Zamboanga City Mayor John Dalipe.
Philippine Sports Commission chairman Noli Eala said the government agency has yet to determine the cash incentive that awaits the Olympic champion, who received as much as P56.5 million in cash and other gifts for winning the gold in Tokyo.
Under Republic Act 10699 or the Expanded Athletes and Coaches Incentives Act, Diaz stands to receive cash incentives for winning in Bogota, Colombia.
Under the law, a gold medal in world-level competitions "held at least every two years with at least 45 countries participating" is worth P1 million.
The Bogota tilt has met the 45-country criteria but is held annually.
Still, Diaz-Naranjo should be happy with the fact that she will bring home the gold that had eluded her for so long and added it to her mammoth collection that includes mints in the Asian Championships, and Asian and Southeast Asian Games.
It also earned her qualifying points to the 2024 Paris Games where she hopes to make the cut for the fifth and probably the final time.
Meanwhile, fellow Olympian Elreen Ando suffered a heartbreaking fate after injuring her left elbow while attempting 127kg on her first clean and jerk try that dashed her medal hopes.
The 24-year-old Cebu City native wound up seventh out of 11 entries in the women's 59kg class in snatch with a best lift of 97kg.