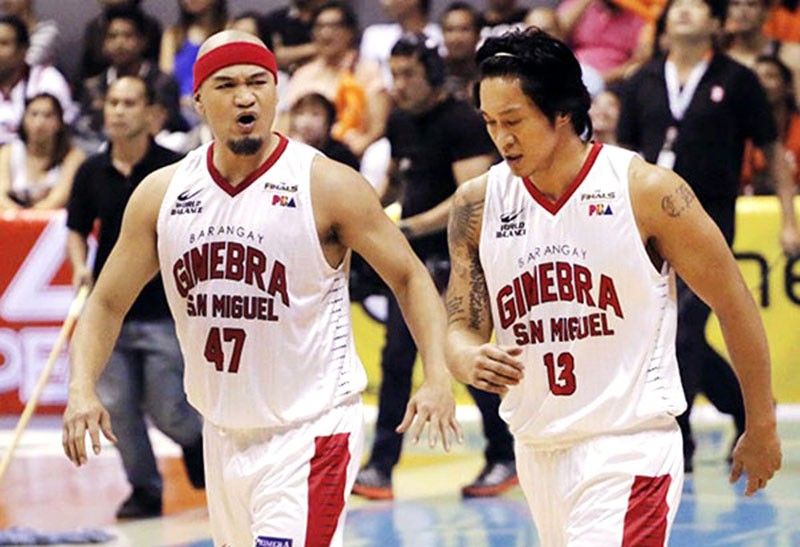 Mark Caguioa and Jayjay Helterbrand, in file photo, were pillars in Ginebra's four title runs from 2004 to 2010.
STAR/File
2-conference era: Kings' glorious years
MANILA, Philippines — The likelihood of the current PBA season being reduced to one or two tourneys brings back to mind the 2004-2010 era – a glorious period for crowd darling Barangay Ginebra with its haul of four crowns during the league's brief shift to a two-conference format.
Those were the heydays of Eric Menk, Mark Caguioa and Jayjay Helterbrand, the deadly triumvirate leading the Gin Kings to a pair of Philippine Cup title runs and a couple of Fiesta Conference conquests.
There was no Commissioner's Cup and Governors Cup to talk about as the league introduced the two-conference format while adjusting its usual February-December calendar to October-July.
A brainchild of then commissioner Noli Eala, the PBA made the shift to open a window of opportunity for the PBA players to represent the country in international tourneys as they did in the 2007 and the 2009 FIBA Asia Championships before the PBA reverted back to its original three-conference calendar in 2010.
Nonetheless, it took the Philippines three more years to achieve its goal of a return trip to the FIBA World Cup in 2014 via its runner-up finish to Iran in the 2013 Asian meet.
"Looking at the numbers, the board figured the fans wanted to see more playoff games, thus, the PBA brought back the old format," said current PBA commissioner Willie Marcial, recalling the board decision then.
Curiously, even with only two crowns to win in the 2004-2010 era, no team was able to pull off a sweep. No twin-kill. No double championship. And it spoke well of the balance and parity the league enjoyed then.
The Gin Kings emerged the winningest team in that era with four championships – the 2004 transition Fiesta Cup, the succeeding 2004 Philippine Cup, the 2006 Philippine Cup and 2007-08 Fiesta Cup.
San Miguel struck twice in the 2004-05 and 2008-09 Fiesta Cups; Alaska had its own two crowns in the 2006-07 and 2009-10 Fiesta while Red Bull, Purefoods, Sta. Lucia Realty and Talk n Text made one title run each.
And then the league shifted back to its old format.