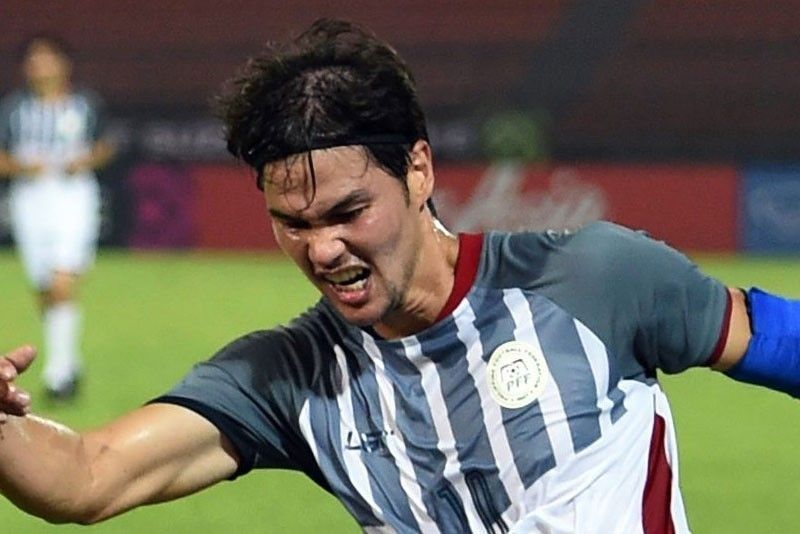 When asked if he'll play if asked, Phil Younghusband said, "yes, I think I would."
File
Phil Younghusband to play in SEAG if called
MANILA, Philippines — Azkals star Phil Younghusband said yesterday if called to play as one of two exceptions in the Philippine U22 football team in the coming SEA Games, he'll suit up. It's not certain if coach Anto Gonzalez will choose two "seniors" to reinforce the squad or if Younghusband will be picked but the door is open to recruit the only Filipino to be named in the list of 61 players with at least 50 goals in international competitions.
Younghusband, 31, is tied at No. 46 in the all-time scoring ladder with Denmark's Poul Nielsen and Jon Dahl Tomasson, Maldives' Ali Ashfaq and the United Arab Emirates' Adrian Al Talyani for notching 52 goals. He did it in 108 caps. The No. 1 scorer is Iran's Ali Daei with 109 goals in 149 matches and No. 2 is Portugal's Cristiano Ronaldo with 85 in 156. Brazil's Pele is No. 7 with 77 in 92 and Argentina's Lionel Messi is No. 21 with 65 in 129.
When asked if he'll play if asked, Younghusband said, "yes, I think I would." There's no question where Younghusband's heart lies. He's turned down recent offers from Thailand and Malaysia to play for big bucks as an import in their leagues to stay close to home. "I know the Thai and Malaysian leagues are more stable than ours but if I play overseas, I'll be out of sight in the Philippines," he said. "My priority is to help in developing the sport here."
Younghusband's father Phil Sr. was English and his mother Susan Placer, Filipina. He was born in Surrey, England and never lost track of his Filipino roots as the family would often visit the Philippines in the summer. His mother was from Malabon which is where the family stayed on vacations. His father passed away in 2003 and his mother in 2011. Younghusband is the middle child of three. His older brother James also plays for the Azkals and younger sister is Keri. "James is 14 months older than me and Keri is 14 years younger," he noted.
Since representing the country at the 2005 SEA Games, Younghusband has been a fixture on the national team. Last year, he scored his 50th goal in the Azkals' 2-1 win over Tajikistan, leading to the Philippines' first-ever qualification for the Asian Football Confederation Asian Cup. Younghusband was also at the forefront of the Philippines' historic 2-0 victory over defending champion Vietnam at the 2010 Suzuki Cup before 40,000 fans in Hanoi. It was called the Miracle in Hanoi as the underdog Philippines made it to the semifinals of the competition for the first time. When Younghusband joined the Azkals, the Philippines was ranked No. 195 in the FIFA honor roll. Last May, the Philippines went up to No. 111, the highest ever.
Younghusband is not affiliated with any local club at the moment. He was previously with the San Beda FC, Meralco and Davao Aguilas. Younghusband isn't sure if he can join the Azkals in a pair of friendlies in China next month as he's busy preparing for his wedding in England in July. Younghusband is getting married to Fil-English Margaret Hall, a former gymnast and a law graduate, in Canterbury. They met in Manila in 2015 while Hall was on vacation with her family.
"We found out we lived 66 miles from each other in England and coincidentally, the Philippines is 6,666.7 miles away from England," said Younghusband. "I knew her father and brothers from before. I met Mags through her brothers James and Ryan who also play football. Mags usually goes straight to Bacolod, where her mother is from, when visiting the Philippines and never stays in Manila. But in 2015, she decided to spend two weeks in Manila. I got together with her brothers at the Fort one day and met Mags. That was it."
Younghusband said building a family right away is a goal. "Mags and I love children," he said. "Mags has been involved in youth judicial practice and she's watched some of the gymnastics competitions in Manila. We know gymnastics is picking up in the Philippines and maybe, Mags can help out in some way to develop young gymnasts. It's what James and I do with young footballers in our Younghusband Football Academy. We do programs in schools, work out of Kerry Sports, partner with LGUs in training PE teachers and conduct clinics in provinces all over the country. We're investing in the youth which is the future. We can't play forever. We hope to develop the next Filipino football stars to take us to the next level."