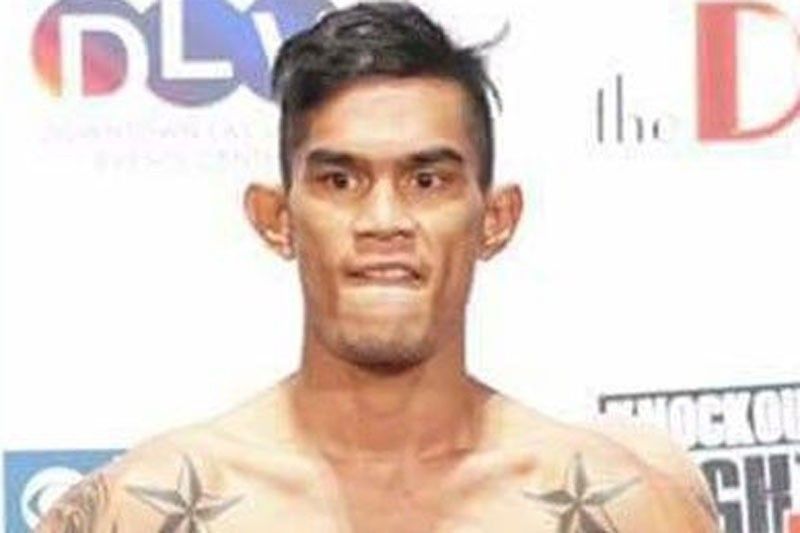 Aston Palicte's manager Jason Soong confirmed the title shot the other day after signing the fight contract. The bout will be streamed live on UFC Fight Pass.
File
All set for Aston Palicte's title bid
MANILA, Philippines — No. 1 contender Aston Palicte of Bago City gets a second crack at the WBO superflyweight title when he faces former three-time world titleholder Kazuto Ioka of Japan in a scheduled 12-round bout for the vacant 115-pound throne at the Osaka Orefectural Gym in Osaka on June 19.
Palicte's manager Jason Soong confirmed the title shot the other day after signing the fight contract. The bout will be streamed live on UFC Fight Pass.
It will be Palicte's second attempt to claim the WBO crown. Last September, he battled countryman Donnie Nietes to a split 12-round draw for the vacant title at the Forum in Inglewood, California. A rematch was supposed to settle the dispute but Nietes withdrew to set his sights on a bigger fight and pave the way for Palicte to face another contender for the crown. Soong expressed his gratitude to Nietes for stepping aside and said, "we wish the future Hall of Famer the best of luck in his next move."
Initially, Soong said there was an offer for Palicte to fight Puerto Rico Olympian Jeyver Cintron for the vacant title but the deal didn't push through. Instead, the WBO named Ioka, the No. 2 contender, as Palicte's opponent. Last December, Ioka lost a split 12-round decision to Nietes for the vacant WBO title in Macau. Nietes then relinquished the throne to stand in line for a big duel with either WBC titlist Srisaket Sor Rungvisai of Thailand or WBA counterpart Khalid Yafai of the UK. Rungvisai, who has beaten Nicaragua's Roman (Chocolatito) Gonzalez twice, is set to stake his crown against Mexico's Juan Francisco Estrada at the Forum on April 26.
Soong said the WBO has sanctioned the title fight. "It's good to go," he said. "I was at first in touch with Ioka's manager but the Roy Jones team of Keith Veltre and Guy Taylor finished the negotiations. We're really going to try to make a solid training camp for Aston. He's been training for nearly three weeks now and will work through Holy Week. The camp is in Manila at the moment but it will relocate to Baguio on May 1. Aston will train in Baguio until May 30." Representing Ioka in the negotiations was his international manager Taku Nagashima.
Former WBC lightflyweight champion Rodel Mayol, now based in Los Angeles, will arrive to work with Palicte in mid-May. Mayol will work Palicte's corner for the fight. He was also in Palicte's corner for the second round knockout win over Puerto Rico's Jose Martinez in San Diego last January.
Soong said it'll be a tough fight for Palicte, who has never faced a Japanese, but he gave the Filipino slugger a 60 to 70 percent chance of winning. "Ioka didn't seem to hurt Nietes so I'm banking on Aston's power," he noted. Palicte said he's excited to deliver the first world title to the Roy Jones stable.
Palicte, 28, has a record of 25-2-1, with 21 KOs, including 11 in the first round. He hasn't lost in his last six outings since dropping a split 10-round decision to Mexican Junior Granados in Merida in 2016. Palicte is unbeaten in 16 of his last 17 fights. Ioka, 30, totes a record of 23-2, with 13 KOs. His only setbacks were to Nietes and Thai Amnat Ruenroeng, both by split decision. Ioka retired from the ring briefly after a falling out with his father and trainer Kazunori due to his marriage to Japanese pop star Nana Tanimura in 2017. But he came back from a 17-month layoff to outpoint Puerto Rico's McWilliams Arroyo at the Forum last September. Ioka is a former WBC minimumweight, WBA lightflyweight and WBA flyweight champion.
Palicte is ranked No. 1 by the WBO and No. 7 by the WBC while Ioka is rated No. 2 by the WBO and No. 4 by the WBC. Aside from Rungvisai and Yafai, the other world superflyweight champion is Filipino Jerwin Ancajas who wears the IBF belt.