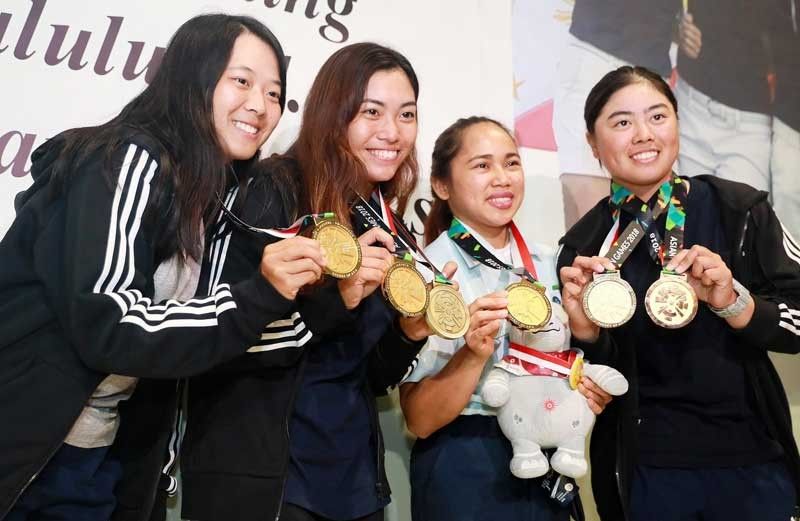 The newsmakers include Asiad gold medallists Louise Kay Go, Bianca Pagdanganan, Hidilyn Diaz and Yuka Saso...
Breakthroughs and comebacks Top 10 stories of 2018
Teens blossomed into full stardom in various fronts and many disciplines. Veterans came back to retain their crowns while others rose from the ashes to relaunch their careers in a blaze of glory. There are over a hundred of them, earning laurels from the ancient Olympic disciplines in many international battlefronts – from the Asian Games to the World Championships – and nationally in the sport every Filipino loves.
Minor sports like kite boarding and skate boarding generated mass appeal and patronage as they produced heroes out of Filipino teenagers, and the Para Games, neglected and least publicized, produced new heroes out of the differently abled.
For the first time in the long, sad and colorful history of Philippine sports, women shone more brightly than the men. Their shining performance in the Asian Games was like a whiff of fresh air for Philippine sports, as they won all four gold medals in the Asiad by midyear.
All these men and women produced for Philippine STAR readers the Top Ten Stories of the Year.
1. Women power fuels four-gold Asiad romp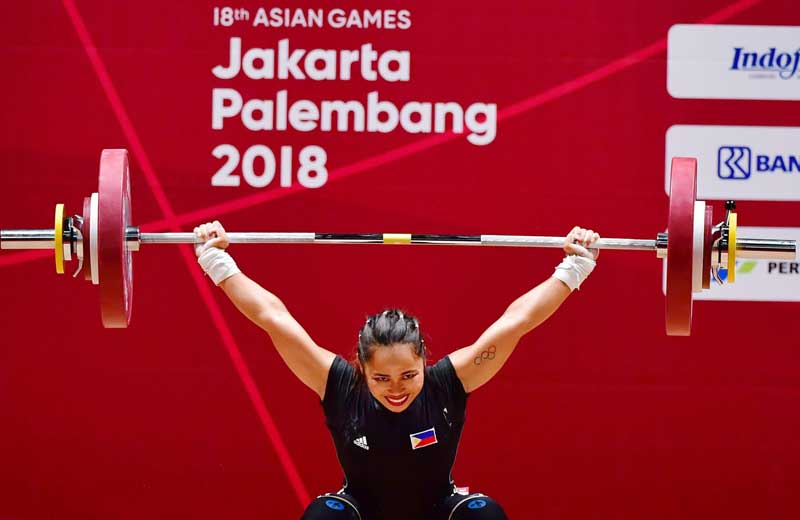 Hidilyn Diaz in her winning lift.
In a spectacle never before seen, women power fuelled a scorching four-gold medal romp as Team Phl narrowly missed what could have been the country's best showing in the Asian Games in 56 long years.
Weightlifter Hidilyn Diaz, skateboarder Margie Didal and the women's golf team of Yuka Saso, Bianca Pagdanganan and Louise Kay Go pulled off performances for the ages in the Jakarta/Palembang Games as the country matched its gold harvests in Bangkok in 1978, Seoul in 1986 and Doha in 2006.
Saso, Pagdanganan and Go joined forces to deliver a first Asiad golf team championship for the Philippines. And with her sizzling closing round of 66 capped by a climactic eagle in the final hole, Saso, the reigning national women's champ, emerged only the second individual golf gold medalist for the country since Ramon Brobio reigned supreme in the men's side in 1986.
The final-round blitzkrieg was also spiked by Pagdanganan's bronze-medal feat in women's individual that she achieved on a sudden death versus Japanese Ayaka Furue.
The Philippines also cheered on the silver-medal feats of judoka Kiyomi Watanabe and boxer Rogen Ladon, and the bronze-winning efforts of Daniel Caluag in BMX, Margie Ochoa in ju-jitsu, Junna Tsukii in karate, Carlo Paalam and Eumir Marcial in boxing, Agatha Wong and Divine Wally in wushu, Almohaidib Abad, Dines Dumaan, Jefferson Rhey Loon and Cherry May Regalado in pencak silat, and Dustin Jacob Mella, Jeordan Dominguez, Rodolfo Reyes Jr., Pauline Lopez, Juvenile Faye Crisostomo, Rinna Babanto and Janna Dominique Oliva in taekwondo in an improvement from the country's mere 1-2-12 (gold-silver-bronze) showing in Incheon.
The Philippines placed 19th overall, moving three notches up from its showing in the 2014 Incheon meet, although the Filipino athletes still finished behind rivals from Indonesia, Thailand, Malaysia, Vietnam and Singapore heading to their SEA Games battle in Manila next year.
Team Phl posted a medal tally of 4-2-15 as against Indonesia's 31-24-43, Thailand's 11-14-46, Malaysia's 7-13-16, Vietnam's 4-16-18 and Singapore's 4-4-14.
Philippine Olympic Committee president Ricky Vargas hoped the country's silver and bronze medals can improve to gold in the SEA Games.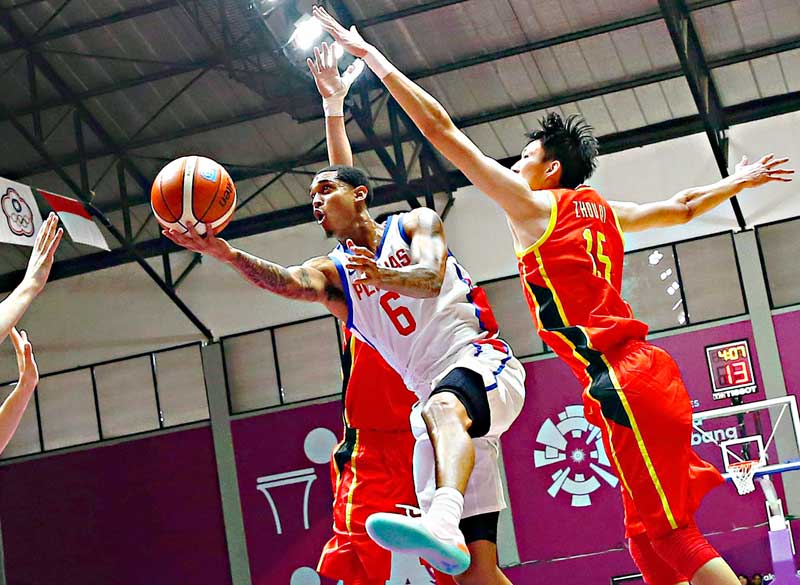 Jordan Clarkson in his Gilas debut.
2. Gilas on a roller coaster
Gilas Pilipinas went on an up-and-down ride, and gained world attention ironically for a wrong reason.
Ten Gilas players and coaches Chot Reyes and Jong Uichico drew suspension while Samahang Basketbol ng Pilipinas incurred a heavy fine and was put on probation in the aftermath of the ugly brawl that marred the Gilas-Australia match at the Philippine Arena in Bocaue.
Somehow, Gilas regained some measure of pride and respect with its improved performance in the Asian Games in Jakarta with a team bannered by Fil-Am NBA player Jordan Clarkson under coach Yeng Guiao.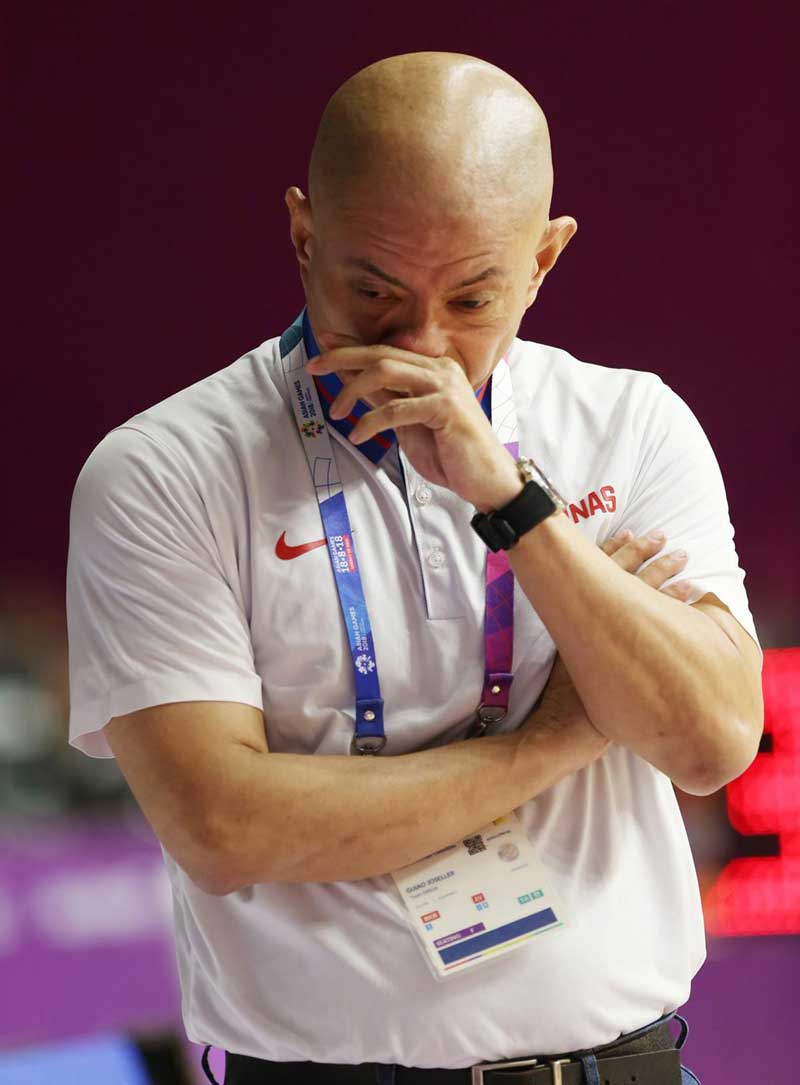 Yeng Guiao returning as national head coach.
Also featuring Christian Standhardinger, Stanley Pringle, Asi Taulava, Beau Belga, Poy Erram, Raymond Almazan, Paul Lee, James Yap, Gabe Norwood, Chris Tiu and Maverick Ahanmisi, Team Phl placed fifth behind China, Iran, South Korea and Chinese Taipei.
Upon return to Manila, Guiao was appointed permanent national coach in lieu of Reyes.
The Nationals, however, struggled for a 1-3 showing in the next two windows of the FIBA World Cup qualifier, putting them in a must-win situation in their last two games against Qatar and Kazakhstan in February.
Clarkson may suit up with the Nationals if they make it to the 2019 World Cup in China.
In his debut with Team Phl, the Cleveland Cavaliers guard sizzled with 28 points as the Nationals lost a cliffhanger against China, 80-82, in the Jakarta Asiad.
Manny Pacquiao knocking out Argentina's Lucas Mathysse.
3. Return of boxing champs
It was a great year for Philippine boxing – thanks to Manny Pacquiao, Nonito Donaire Jr., Jerwin Ancajas and Vic Saludar.
Pacquiao, who's now 40, is back as world champion after scoring a seventh-round TKO win over Argentina's Lucas Mathysse in Kuala Lumpur last July. It was the first time since 2009 that he scored a stoppage. With the WBA welterweight title, he proved that at his age, he still belongs to the elite circle.
As the year was coming to an end, Donaire, at 36, regained his lofty billing by winning the WBA bantamweight title at the expense of Ryan Burnett. Donaire had moved up to featherweight but never felt at home. Last November, in Glasgow, he announced his return to 118 pounds with a bang.
Ancajas, 26, the new toast of Philippine boxing, remained as the WBO super-flyweight champion with victories over Mexican Israel Gonzalez of Mexico and compatriot Jonas Sultan and a draw with Alejandro Barrios in 2018. In the coming year, he hopes to land the bigger fights that should turn him into a full-fledged superstar.
With less fanfare, the 27-year-old Saludar won the WBO minimumweight title by dethroning Ryuya Yamanaka in Kobe, Japan last July. The bronze medalist in the 2010 Asian Games scored a knockdown in the seventh round to win by unanimous decision and become world champion.
4. Ateneo repeats; UP nails golden second
Ateneo entered UAAP Season 81 men's basketball as a heavy favorite as it won a slew of pre-season tournaments and placed a fighting fourth when it represented the Philippines against foreign clubs in the Jones Cup.
The Blue Eagles, made even mightier by the debuting center Angelo Kouame, played true to form and blitzed past their opposition in their last 10 games, including a sweep of surprise finalist University of the Philippines, en route to extending their dynasty.
The Maroons' silver medal glittered like gold as they won the hearts of basketball afficionados for tirelessly pursuing their quest to climb out of the gutter and end agonizingly long droughts in the Final Four (21 years) and championship (32 years).
Big winners, too, were the National U Lady Bulldogs, who captured a five-peat with another clean sweep, stretching their streak to a record 80 games since 2013. NU shattered the old mark of 73 consecutive victories held by the Adamson softball team from 2010-2016.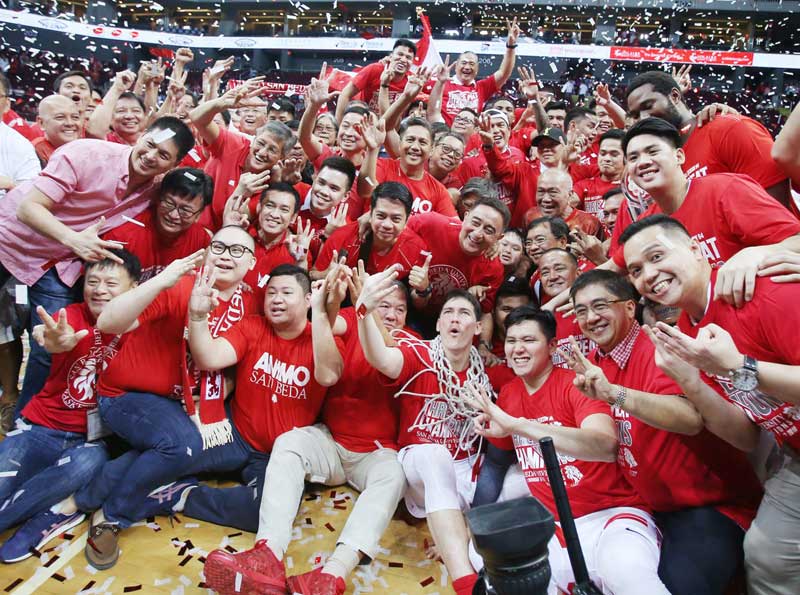 5. Red Lions continue to roar, score 3-peat
San Beda extended its dynastic reign in the National Collegiate Athletic Association to another year after it beat Lyceum of the Philippines University, 71-56, to fashion out a two-game sweep of the Season 94 basketball title.
The win also completed the Lions' three-peat and their 11th championship in a dream 13 straight finals appearances.
It also underscored San Beda's dominance of the league as it hiked its championship total to 22, the most by any school that joined the country's oldest collegiate league, with Letran coming in as the closest with 17 crowns.
6. Beermen extend Philippine Cup reign to 4 years
San Miguel Beer pulled an amazing trick to complete a special feat, climbing out of a 23-point hole then withstanding Magnolia in a double-overtime battle as the Beermen carved out a 108-99 win to keep their mighty reign as PBA Philippine Cup champs for a fourth straight season in April.
June Mar Fajardo came through with 42 points and 20 rebounds in the first 40-20 game in PBA playoffs in two years in the all-Filipino title-clincher highlighting the first of his two Best Player of the Conference feats in the season.
With his two BPC plums and their all-Filipino title run, Fajardo now looks a cinch to win an unprecedented fifth MVP award in the PBA Leo Awards on Jan. 13.
The Beermen stayed perfect in finals – six of six – under coach Leo Austria. It's the franchise's eighth all-Filipino crown and 25th championship overall.
Then Barangay Ginebra and Magnolia had their respective reigns in the Commissioner's Cup and in the Governors Cup to deliver a season sweep for the SMC Group.
SMC scored a Triple Crown in the season that was in chaos at the start, with the board deeply divided on the tenure of PBA commissioner Chito Narvasa.
After the conflict was resolved, Ricky Vargas of the MVP Group reemerged as board chairman while Willie Marcial was appointed as the new league commissioner.
7. POC binds wounds, initiates changes
The Philippine Olympic Committee underwent a major facelift when Ricky Vargas of boxing ended Jose Cojuangco's long reign as POC president.
Vargas answered the call for change by majority of the national sports associations (NSAs) to challenge the former politician from Tarlac.
Vargas and Rep. Abraham Tolentino were disqualified from the 2016 POC elections. But they went to court and gained a favorable decision that called for a special election last February. Vargas defeated Cojuangco, 24-15, while Tolentino got past Ting Ledesma, 23-15, for the post of chairman.
8. Azkals qualify for Asian Cup
After establishing their presence in Southeast Asia, former football minnows Philippine Azkals took the next step by earning a historic berth in the 2019 AFC Asian Cup.
The Pinoy booters sealed the milestone by rallying past Tajikistan, 2-1, in the Asian Cup Qualifiers at the Rizal Memorial Stadium last March, to rule Group F with 12 points and tab a ticket to the Asian meet.
The team later parted with coach Thomas Dooley and initially hired Terry Butcher to take the reins. Butcher withdrew from the job and the management eventually tapped a high-profile tactician in former England coach Sven Goran Eriksson, who steered the Azkals back to the semis of the 2018 Asean Football Federation Suzuki Cup.
The Phl women's team Malditas actually beat the Azkals to the draw in joining Asia's elite as they debuted in the AFC Women's Asian Cup last April in Jordan. The Malditas finished sixth overall, just a place short of qualifying for next year's Fifa Women's World Cup.
9. Manila, Tanauan reign in Softball World Series
The Philippines' young softbelles produced golden performances in two fronts as Manila repeated as Pony World Series U-18 champ and Tanauan emerged triumphant in the Senior League Softball World Series.
Manila, banking on ace hurler Alma Tauli, reasserted its mastery over Central squad Hemet Xplosion in their title rematch, 5-1, to go back-to-back in the world meet held last July in Hemet, California.
Tanauan similarly leaned on a sizzling performance of its pitcher, Royvel Palma, who delivered a three-hitter and 14-strikeout outing in helping the squad score the 8-0 clincher over East representative Massachusetts last August in Lower Sussex, Delaware.
The Tanauan belles' title run came after Bacolod's triumph in Junior League Softball in 2003 and Manila's domination of the defunct Big League division in 2012.
10. Kiteboarder earns silver in Youth Games
Kiteboarder Christian Tio saved the day for the Philippines when he won the silver medal in the 2018 Youth Olympic Games in Buenos Aires, Argentina.
The 17-year-old native of Boracay stayed close behind the leaders on the opening days then struck hard on the final day, racing from fourth place to make it to the podium, and give the Philippines its lone medal in the third YOG.
He said he dreams of winning the gold medal in the 2014 Olympics in Paris.
Other big stories
5 Pinoy MMA warriors emerge ONE champs
Philippine mixed martial arts had a banner year in ONE Championship as it produced five champions in the Asia-based fight outfit.
Four of the current title-holders belong to Baguio-based Team Lakay – Eduard Folayang (lightweight), Kevin Belingon (bantam), Geje Eustaquio (fly) and Joshua Pacio (straw).
Folayang was the recent addition after he outfoxed inexperienced Amir Khan of Singapore in ONE's Conquest of Champions at the MOA Arena in Pasay City late November.
Fil-Am Brandon "The Truth" Vera retained his heavyweight crown by disposing of Italian challenger Mauro Cerilli via a sensational first round stoppage to join the current stable of Filipino champions at ONE.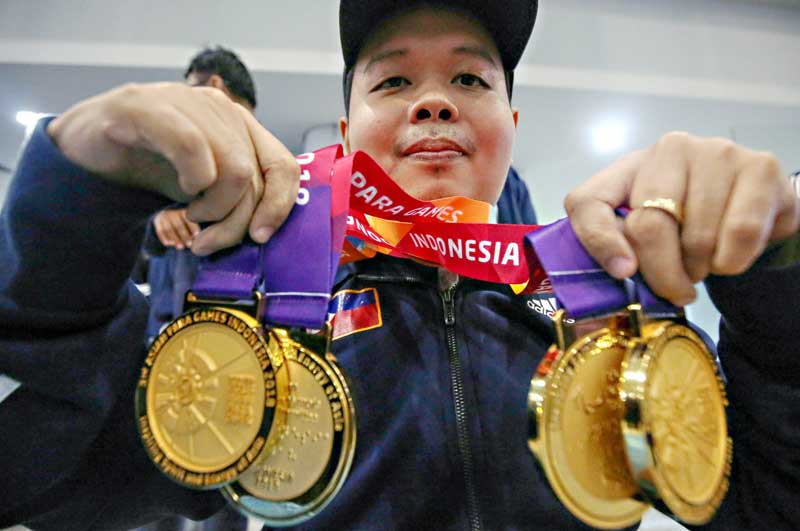 Para athletes collar 10 golds in Asian meet
The Philippine Para Games team posted its best-ever finish in the Asian Para Games in Jakarta, breaking not only its gold medal drought but hauling a whopping 10-gold haul in the quadrennial event for differently-abled athletes. With eight silvers and 11 bronzes, the Phl finished 11th overall.
Chesser Sander Severino led the gold rush with four while swimmer Ernie Gawilan copped three golds and two silvers.
Other golden winners were cyclist Arthus Bucay and the team of woodpushers Arman Subaste, Menandro Redor and Israel Peligro.
The medal winners received incentives worth P16.2 million from the government as a gold, silver and a bronze were worth P1 million, P500,000 and P200,000, respectively.