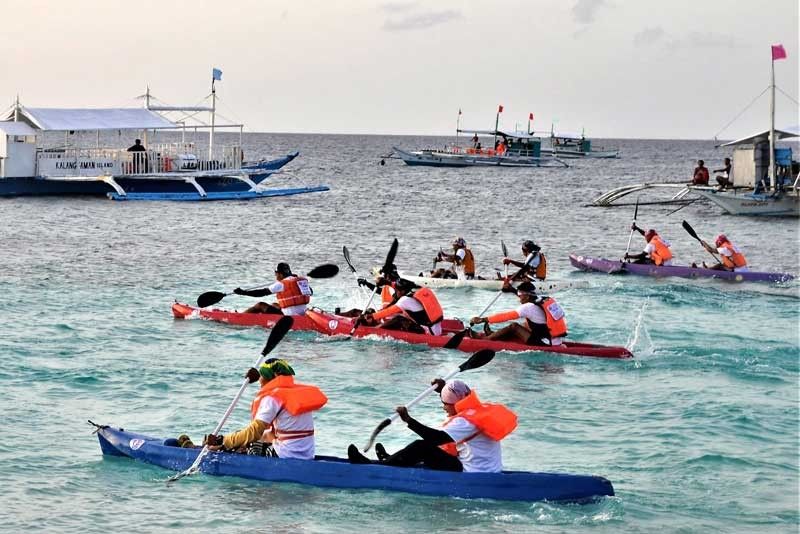 Palompon's 15-km kayak marathon.
Palompon makes waves as Visayas' sports hub
(The Philippine Star) - December 22, 2018 - 12:00am
MANILA, Philippines — The town of Palompon, Leyte has strengthened its positioning as a mecca for watersports with the successful staging of the recent Abre Grande sports festival which featured a 15-km kayak marathon and a mantaha regatta.
Organized by the Palompon Municipal Eco-tourism Council Inc. and supported by 2Go Travel Supercat and the Department of Tourism-Region 8, the sportsfest is the kick-off to the month-long Lawig Festival which is part of the town's feast of St. Francis Xavier.
According to Mayor Ramon Oñate, the sports extravaganza and the festival seek to promote environmental protection through eco-water sports and rediscover the town's precolonial heritage of sailing and maritime trading.
He said Kalanggaman is also an emerging scuba diving site with lush coral walls and marine life on both sides.
The tandems of homegrown paddlers Marjun Montealto and Joemer Montealto of Team Cyclist Palompon and Diosdado Paradero Jr. and Arnold Panilag of Team JoPao capitalized on their home water advantage to capture the first and second places, respectively, in the kayak marathon.
Visiting competitors Danilo Atendido and Joebert Abad of Team LGU Dimasalang from Masbate province edged the rest of the pack to finish third.
The paddle fest ran from the Kalanggaman island, named last year as the country's most amazing sandbar by the travel portal Skyscanner, to Palompon town proper.
In the mantaha category, Cambinoy Mangrove and Livelihood Association Paddlers and Brgy. Parilla 4Ps Paddlers, won top two honors, with Dimasalang Masbate National High School Paddlers settling for third.
The mantaha is an improvised dragonboat made out of two hulls of the typical fisherman's outrigger boat to simulate the excitement of sprint paddling. Crewed by eight paddlers, a drummer and a rudder man, the 300-meter race was held at the town's Tabuk Mangrove Park.
Now on its eighth edition, Abre Grande also included with duathlon for kids and open categories (run, bike, run), long board competitions, and a 6.42-km trail run at the Palompon Terrestrial Eco-Adventure Park.
Literally meaning "grand opening", it is a recipient of the Pearl Award from the Association of Tourism Officers in the Philippines (ATOP) for being country's best sports tourism event in 2017.