Led by bench, Clippers hang on to beat Rockets
October 22, 2018 | 12:02pm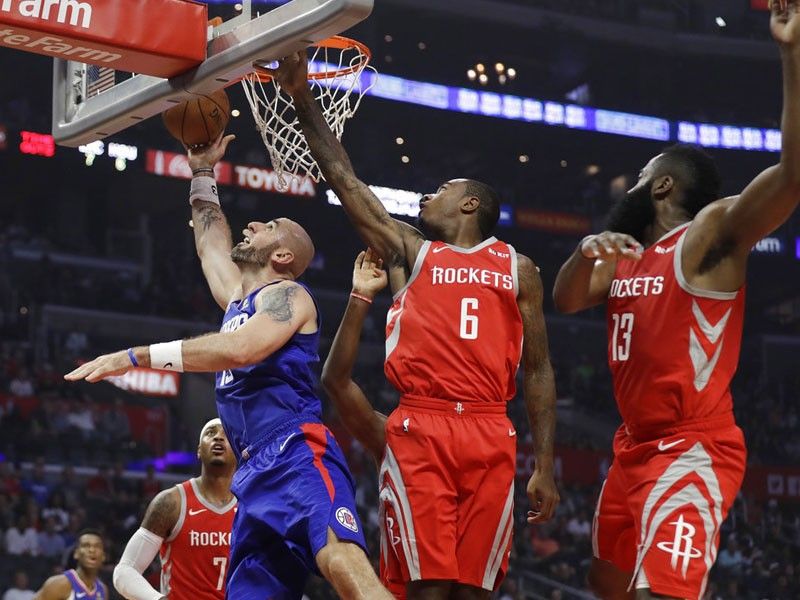 LOS ANGELES — Montrezl Harrell led a fourth-quarter charge by the Clippers' reserves with 17 points, and Los Angeles defeated the Houston Rockets, 115-112, on Sunday night (Monday Manila time).
Harrell and the bench helped the Clippers erase a four-point deficit late in the third, with Luc Mbah a Moute's 3-pointer giving them the lead for good.
Tobias Harris led the Clippers with 23 points. Danilo Gallinari added 20 and Harrell had 10 rebounds.
The Rockets were without Chris Paul against his old team. He began serving a two-game suspension for his involvement in an on-court fight against the Lakers on Saturday (Sunday Manila time).
James Harden had 31 points and 14 assists for the Rockets. He got shoved by the Lakers' Brandon Ingram in a move that started the incident a night earlier.
Harden scored nine straight points to draw Houston within three with 29 seconds left. But his potential tying 3-pointer was short on the left side as time expired.
The starless-Clippers earned their second win over one of the NBA's top teams, having beaten the Thunder, who played without Russell Westbrook on Friday night.
Reserves Lou Williams and rookie Shai Gilgeous-Alexander added 12 points each for the Clippers.
Clippers owner Steve Ballmer exhorted the crowd to "Get up!" during a timeout with 3:17 remaining in the game, waving his arms with a fierce look on his face.
Harden was subjected to some smothering defense by Patrick Beverley in the game's opening minutes. Harden went down after inadvertently getting hit in the head by Beverley and the Rockets called timeout. Another time, Harden was on a drive to the basket when Beverley committed a hard foul that knocked down the Rockets star.
Trailing by four, the Clippers closed the third on a 19-6 run to lead 93-83. Mbah a Moute had eight points and Harrell added four. Harrell tipped the ball away from P.J. Tucker on the final play and scored, drawing the foul and shimmying his way into high-fives with two courtside fans.
Gallinari scored 11 of the Clippers' first 20 points of the third, countering Eric Gordon, who had 10 points early in the period starting in place of Paul.
Tip-ins
Rockets: Besides his suspension, Paul was fined a total of $491,782 for his role in the fracas. Paul wasn't at Staples Center on Sunday. ... They lost in the second game of their first back-to-back of the season. The Rockets were 10-3 in such situations last season.
Clippers: They ended a two-game skid to the Rockets.