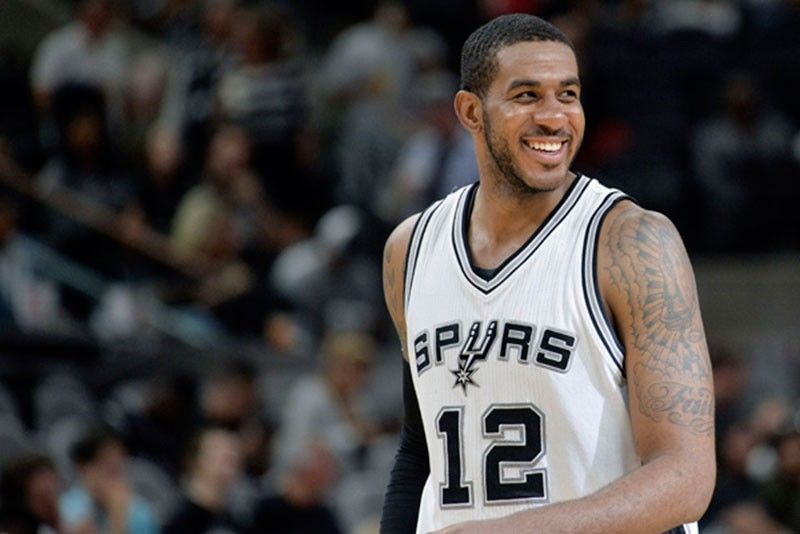 Aldridge powers Spurs to vital win over Magic
SAN ANTONIO — Kawhi Leonard is still out, but the Spurs welcomed back the confidence and edge they needed to snap a three-game skid.
LaMarcus Aldridge scored 24 points and San Antonio never trailed after the opening minutes, holding the Orlando Magic to their season's lowest point total in a 108-72 victory on Tuesday night (Wednesday Manila time).
"Got to keep it, got to hone in on it, embrace it and use it for motivation," Aldridge said of the Spurs' frustration. "We're fighting for our (playoff) lives right now. So, guys have to use that frustration of losing so many in a row and just come out, just leave it all out there."
San Antonio is still without Leonard, who missed his 59th game of the season while battling right quadriceps tendinopathy. Leonard's injury is a key reason the Spurs are in the unusual position of fighting for a playoff berth after spending much of the previous two decades battling for a top three seed.
San Antonio cannot move any higher than ninth in the West following victories Tuesday by sixth-seeded New Orleans, the seventh-place Los Angeles Clippers and eighth-place Utah. Denver can remain in ninth place ahead of the Spurs with a win over the Los Angeles Lakers.
"It's always good to get a win," said Danny Green, one of six Spurs in double figures. "Hopefully, it's a turning point moving in the right direction for us. Hopefully build some rhythm, some chemistry, some confidence. Different vibe, atmosphere so we can turn it around."
Following consecutive losses to the West's best in Golden State, Oklahoma City and Houston, San Antonio took advantage of an Orlando team that has now lost five straight.
"They obviously came in very motivated," Magic coach Frank Vogel said.
The Spurs have allowed 110.4 points in going 3-8 in its previous 11 games but returned to their defensive foundation for just their second home win in five games.
"Our defense fell down there for a period of time, and it's what we have to do," San Antonio coach Gregg Popovich said. "We're not going to score on some nights, but the defense has to sustain us. We've got to get back to being one of the better teams in the league on D. We were for most of the year and then we kind of lost it."
The Spurs raced to their largest lead at halftime, 62-37, and extended that 25-point cushion to a 39-point advantage entering the fourth quarter.
Dejounte Murray gave the Spurs their first double-digit lead at 37-26 by stealing a pass intended for Shelvin Mack, dribbling behind his back to avoid Mack's recovery and then racing downcourt for a layup with 8 minutes left in the first half.
Three minutes later, Patty Mills stole the inbounds pass and hit a 3-pointer after getting the ball back from Kyle Anderson for a 50-29 lead.
Mills finished with 13 points and Murray, Danny Green and Pau Gasol each had 11.
Nikola Vucevic and Jonathon Simmons each had 10 points for the Magic, which has lost 12 of 14.