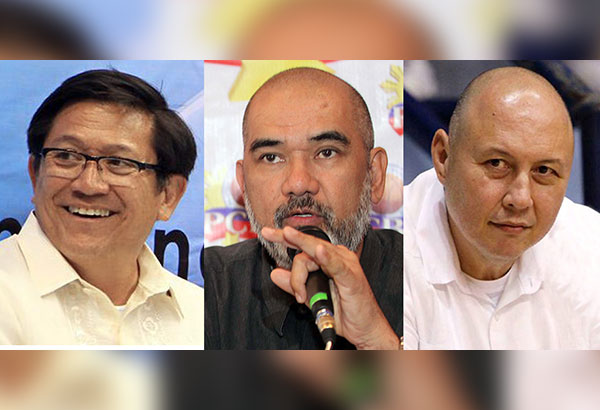 Jolly Gomez, Joel Banal, Chito Loyzaga. SPIN.PH
PBA body to lead search for commish
MANILA, Philippines — A special committee made up of members of the PBA board is likely to be formed to lead the search for the next PBA chief who will succeed resigned commissioner Chito Narvasa.
If this is approved, the search committee will consider the credentials of possible aspirants and make a shortlist of candidates to be presented to the board.
In the proposed scheme, the two rival blocs which figured on the issue of Narvasa's tenure will have representatives in the special committee.
It could be a three-man or five-man group.The would-be PBA commissioner will need a two-thirds vote (eight) to get an official mandate as the 10th chieftain of the league after Leo Prieto, Mariano Yenko, Rudy Salud, Rey Marquez, Jun Bernardino, Noli Eala, Sonny Barrios, Chito Salud and Narvasa.
Narvasa is serving as league commissioner only until Dec. 31 then PBA external affairs and media bureau chief Willie Marcial takes over as officer-in-charge.
A number of names have already been mentioned as possible candidates. Former Philippine Sports Commission board member Jolly Gomez is said to be one of those being considered for the job.
Names also mentioned right after the board resolved their impasse were lawyers Ariel Magno, Rebo Saguisag and Charlie Cuna.
Then there are Joel Banal, Chito Loyzaga and media man Bill Velasco.
Banal is a former champion player and coach who has an MBA degree and runs a school in Pasig.
Loyzaga is also a former champion player who had served as commissioner of the defunct Metropolitan Basketball Association and the PSC.
Velasco, a Philippine STAR sports columnist, used to sit on the PBA TV panel and made a PBA documentary in 2015, with interviews of the most important figures in the first four decades of the league.