Mean and Green: Archers sweep Eagles, return as UAAP champs
December 8, 2016 | 12:00am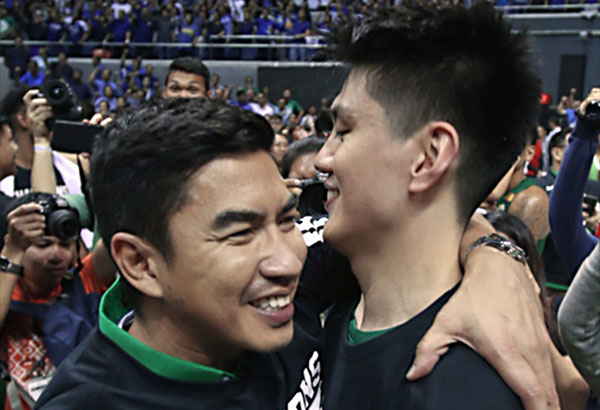 MANILA, Philippines – La Salle's powerhouse Archers validated their pre-season billing as the expected green-eyed ruler of the league, sweeping archrival Ateneo Eagles, 79-72, to return as UAAP LXXIX champions before a huge crowd at the Smart Araneta Coliseum last night.
Looking every inch the mean machine that has asserted its might against the opposition all season long, the top seeded squad virtually completed a wire-to-wire title-clinching triumph and complete their 2-0 sweep of the Eagles in their best-of-three series.
The Archers led by as many as 14 points and quashed the final uprising of the Blue Eagles with clutch plays from their 1-2 punch – Season MVP Ben Mbala and Finals MVP Jeron Teng, who came up with 28 points, including 19 in the first half – to clinch their first title since 2013 before a roaring crowd of 17,495.
And winning it all at the expense of their bitter nemesis Blue Eagles made the feat even the more special and sweeter for the Green Archers.
"Mahirap, siempre it was against Ateneo. Iyun ang nagpahirap dun (Playing against Ateneo made it a lot tougher). Game-wise, we're confident gawin lang ang game plan, alam naming magiging positive ang resulta," said DLSU coach Aldin Ayo, who scored a personal feat of winning titles both the NCAA (with Letran) and UAAP titles in successive years.
"Kaya lang because of the hype, baka magbago approach ng mga bata, baka may mga mangyari na hindi naming kontrolado (We were worried over the hype since there may be situations not under our control). But we're thankful we're able to pull it through," he added.
Playing catch-up most of the way, Ateneo managed to threaten to within four at 69-73 with still 1:35 left. But Mbala struck hard, knocking down a huge bucket then intercepting Ateneo's inbounds pass in the next play to earn a trip to the stripe that paved the way for freebies that he calmly sank for a fresh eight-point cushion.
Rafael Verano had knocked down a trey but Teng and Thomas Torres restored a 79-72 lead with back-to-back splits as the DLSU gallery chanted "Animo, La Salle, beat Ateneo."
As white confetti burst out from the confetti machine and rained the court, DLSU savored the perfect ending in the competition it was heavily tipped to dominate from the start.
"We just embraced the pressure all season long," said Ayo.
Teng also finished with three rebounds, two assists and a steal in a masterful valedictory for La Salle.
"Right from the start, gusto ko ibigay ang best ko, ito ang last game ko, I wanna go all-out," said Teng, who bowed out with two UAAP crowns in his collection.
Mbala, who was unleashed in the season after three years in the freezer, posted 18-10, his 17th straight double-double this year.
Mike Nieto led the way with 18 for Ateneo, a young side that accelerated its growth rate and came in as surprising runners-up to the heavily-favored La Salle.