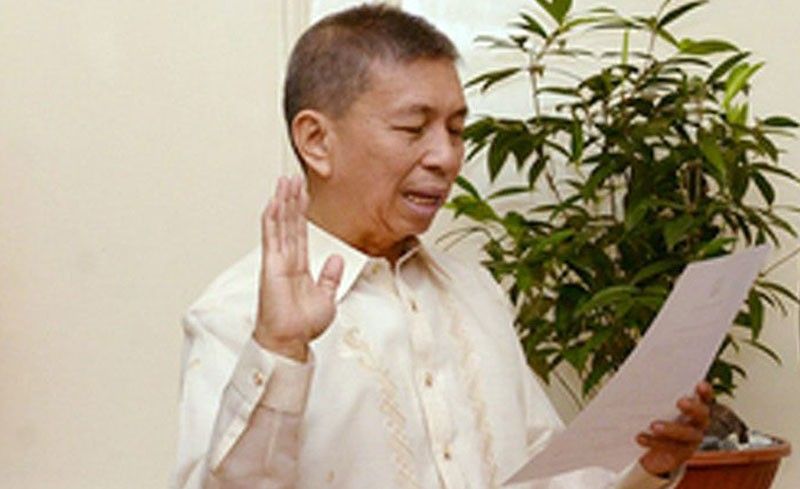 Sandigan Justice Reynaldo Cruz dies at 64
MANILA, Philippines — Associate Justice Reynaldo Cruz, a senior member of the anti-graft court Sandiganbayan died on Friday. He was 64 years old.
Cruz died of pneumonia at past noon, Sandiganbayan Presiding Justice Amparo Cabotaje-Tang confirmed to reporters.
"It's Justice Rey Cruz who died. Please pray for him," Tang said in a text message confirming the initial information.
Cruz was a senior member of the Sandiganbayan Fourth Division.
He formerly served as an undersecretary at the Malacañang's Office of the Executive Secretary during the term of former president Benigno Aquino III.
He was appointed by Aquino to the anti-graft court on Jan. 20, 2016 and was supposed to serve until July 8, 2025.
Cruz was among the justices who convicted former Laguna governor Emilio Ramon "ER" Ejercito of graft over a supposed anomalous insurance deal for tourists and boatmen during his term as Pagsanjan mayor.
Cruz and the other members of the Fourth Division also pressed law enforcers to arrest the four co-accused of former president Joseph Estrada in a decade-old P4.1 billion plunder case.
Cruz also voted for the preventive suspension of Surigao del Sur Rep. Prospero Pichay Jr. for a graft case over alleged anomalous acquisition of a thrift bank during his term as chairman of the Local Water Utilities Administration.
Cruz, however, also concurred in the controversial 3-2 ruling granting bail to former senator Jinggoy Estrada in connection with the latter's plunder case over the pork barrel scam.
Cruz also voted for the dismissal of graft and usurpation cases against Aquino, former Philippine National Police chief Alan Purisima and former PNP- Special Action Force director Getulio Napeñas Jr. in connection with the 2015 Mamasapano incident.
Cruz's passing opens up a slot at the Sandiganbayan, a special court that tries criminal and civil cases against former and incumbent government officials.