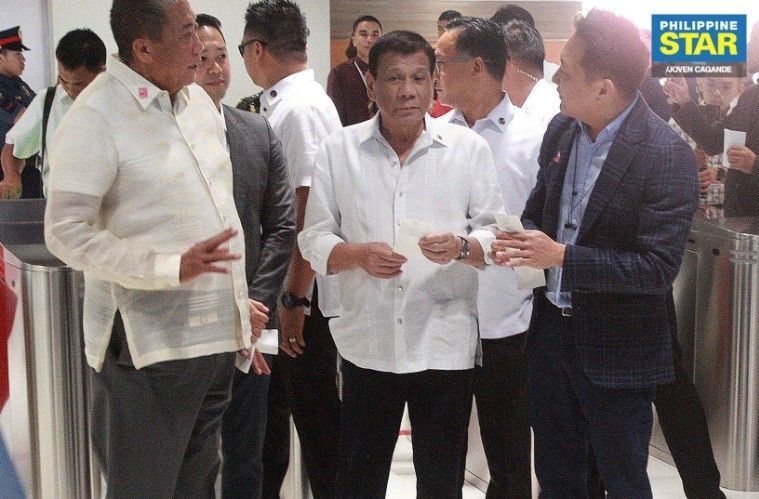 President Rodrigo Duterte arrives at the Parañaque Integrated Terminal Exchange to deliver his inaugural speech
The Philippine Star
Duterte inaugurates Parañaque Integrated Terminal Exchange
MANILA, Philippines — President Rodrigo Duterte on Monday inaugurated the Parañaque Integrated Terminal Exchange, a flagship project under the "Build, Build, Build" infrastructure program
The PITX — located along Diosdado Macapagal Boulevard — was built to ease traffic within Metro Manila, and improve the commute from Cavite and Batangas to Metro Manila.
READ: Country's first landport ready to roll

Duterte, known for his long-winded off-script speeches, kept his address on Monday afternoon brief, and his extemporaneous comments to a minimum. "I am proud that they made this structure that will serve the Filipino people," Duterte said in a mix of Filipino and English.
Construction on the PITX, a public-private partnership project with Megawide, began in 2015.
The terminal was built with airport-like features like digital displays of schedules of bus trips, online booking, WiFi, charging stations, and shower rooms, among others.
"I am directing the Department of Transportation and Megawide to implement necessary measures to make sure all vehicles using PITX comply with environmental standards," Duterte said.
The PITX has a carrying capacity of about 100,000 passengers daily.
"PITX will help ease traffic by limiting provincial buses plying Metro Manila's roads," Duterte said. "Specifically along Roxas Boulevard and the EDSA-TAFT area."
The terminal will provide "seamless" connections to other modes of transportation from provincial to city buses, taxis, jeeps and UV express shuttles.
According to the PPP website, the project cost an estimated P2.6 billion.
Duterte said that Department of Transportation (DOTr) Secretary Arthur Tugade assured him that there was no corruption in the construction of the PITX and the he "believes" him.
Megawide also operates the new resort-style international terminal of the Mactan Cebu International Airport, which was also inaugurated by Duterte last July.