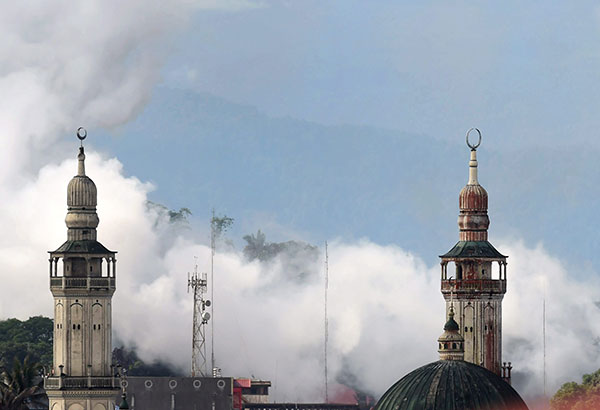 Citing his visit to the city with President Duterte last week, Lorenzana said his initial estimate of P50 billion to cover the repair and construction of government and private infrastructure would not suffice. AFP/File
'P50 B not enough for Marawi rehab'
MANILA, Philippines — More than P50 billion is needed to rehabilitate Marawi, Defense Secretary and Task Force Bangon Marawi chairman Delfin Lorenzana said yesterday.
Citing his visit to the city with President Duterte last week, Lorenzana said his initial estimate of P50 billion to cover the repair and construction of government and private infrastructure would not suffice.
"I think P50 billion is not enough. Talagang grabe 'yung destruction. When the fighting stops…I will bring you there.You will see how damaged the area is," he told a press briefing at Malacañang.
Lorenzana said foreign governments have so far pledged around P2 billion. He said Australia pledged P1 billion; China, P85 million; the European Union, P49 million; Japan and Thailand, P100 million each and the United States, P730 million.
As of Sept. 12, Lorenzana said the defense department also received P13.3 million for soldiers wounded in action. He said P992,840 of the amount was donated to internally displaced persons.
Lorenzana said construction of transitory shelters for evacuees has started.
"The subcommittee on housing convened last Sept. 13 to discuss the provision of water supply in the transitional shelter sites," he said.
Supplemental budget
Lorenzana said the defense department requested a supplemental budget of P1.9 billion to replenish the supplies, including ammunition, of soldiers in Marawi.
He said post-conflict assessment groups are inspecting the cleared areas to determine the budget needed for rehabilitation.
The Department of Public Works and Highways and Army engineers are also helping in the planning for Marawi's roadmap for rehabilitation.
Ratholes
Meanwhile, the military adjusted its strategy to flush out remaining Maute militants holed out in Marawi.
Col. Romeo Brawner, Joint Task Force Marawi deputy commander, said the discovery of running trenches and ratholes, which connect to several structures including mosques, changed the tempo of their operations in defeating the terrorists.
Brawner said air strikes would remain their primary option.
The fighting in Marawi, which entered its 116th day yesterday, has left 671 militants dead. The military also recovered 672 firearms from the terrorists.
At least 149 soldiers have been killed and 1,530 others wounded in the encounters. – With Roel Pareño