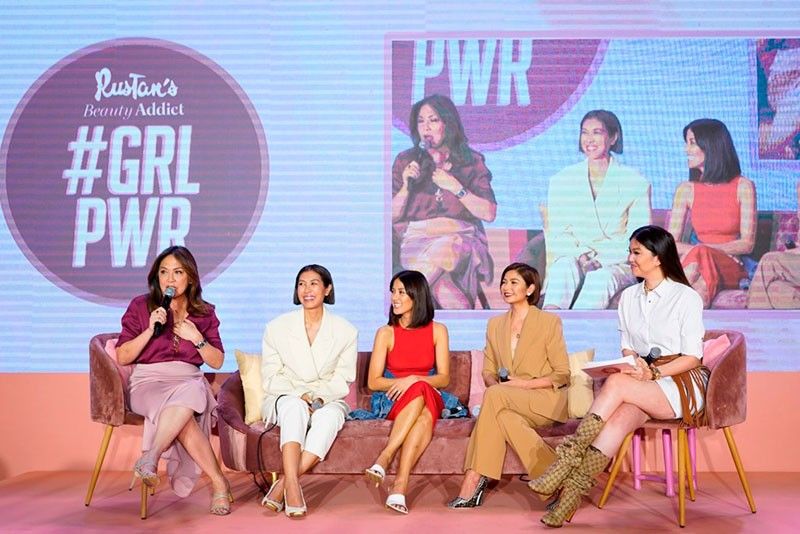 TV journalist Karen Davila; TV host Paano Ba 'To creator, She Talks Asia co-founder and PhilStar columnist Bianca Gonzalez; stylist and entrepreneur Liz Uy; Happy Skin Cosmetics co-founder, author and PhilStar columnist Rissa Mananquil-Trillo; and host Bianca Valerio
What changes do women want to see?
MANILA, Philippines — To celebrate International Women's Month, Rustan's recently staged an inspirational conversation called "Her Voice Matters: Be Heard! Be You!" part of its four-day "#GRLPWR: Be The Change You Want To See" event in Shangri-La Plaza Mall for members of the department store's beauty rewards program, Rustan's Beauty Addict. However, the beauty talk took a more introspective turn.
Led by broadcast journalist Karen Davila; TV host, writer and Paano Ba 'To creator Bianca Gonzalez; Happy Skin cosmetics co-founder, author and STAR columnist Rissa Trillo; and stylist and entrepreneur Liz Uy; and hosted by Bianca Valerio, what started out as a talk about finding your personal style expanded into empowering women from the inside. They all agree on the importance of where you spend and save your energy. For these four superwomen, self-care isn't a selfish act, but a way to recharge for your passions and for the people that bring value to your life. Here are my favorite takeaways, and I hope they inspire you too.
Rissa Trillo: "Your time for yourself should be as equally important as a business meeting."
"You have to put it in your calendar, mark it in your schedule — time that you devote for yourself. You're like a candle with a flame; don't ever let anyone put out your fire. You have to make a list of your priorities. If you can't decide for yourself what is really number one, two, and three in your life, you will always be scrambling to say yes to everyone. You have to know what comes first, so that you'll know how to manage your energy, your time, your weekdays and your weekends. It's very unfair to the people you love when you come home and pigang-piga ka na. So that's why you have to guard your energy levels and avoid being burnt out. Don't be afraid to say no because it's for something better — it's for yourself, your family and your home."
Karen Davila: "It's important to have people who love you for who you are."
"There's a study that came out recently on people who have the best lives, or who age the happiest. And it turns out, in this study, what's number one is having deep and meaningful friendships. Isn't that amazing? I once asked Lance Gokongwei, how does he do it? He's a CEO with a family, and he has to meet so many business people. And he said, 'Well, at some point, something's gotta give.' Mostly it's socials, unless socials is your job. But I want to talk about the deep and meaningful friendships because when you come out on TV or you have some degree of fame, many people end up having new friends, and I think that's good, but it's not completely good for the soul if you don't have your old friends. You need people to keep you grounded. It's a different (level of) semantics when it's the people who knew you before who are still with you today."
Bianca Gonzalez: "You can have it all, but not at the same time."
"More than managing my time, I've learned how to manage my energy. Everyone shares these articles, 'What the top CEOs do,' lagi may meditation. But I've tried so many different apps. I tried journaling. What works for me is if I have to be up by a certain time, I make sure to wake up an hour before that so I can enjoy a cup of coffee para magising ang diwa and not be at a rushed pace. I also recharge in between commitments, like when I'm on my way to work, or from work to a social commitment."
Liz Uy: "Take it one day at a time and delegate."
"I have a daily organizer. I'm old school; I don't want to put everything on my phone and become distracted by Instagram. Every day, I write down my to-do list. What I don't accomplish today, I put it in a new list for a new day. I'm also very good at delegating. Every day, I talk to my Stylized (her celebrity fashion styling) team, my Moodbake (cookies) team, and my household. Chill lang ako, I don't panic. You become more efficient by having a great team with you."
* * *
Rustan's The Beauty Source remains open in Rustan's Cebu as well as rustans-thebeautysource.com. Rustan's in Makati, Shangri-La, Gateway, and Alabang are temporarily closed in compliance with the General Community Quarantine.