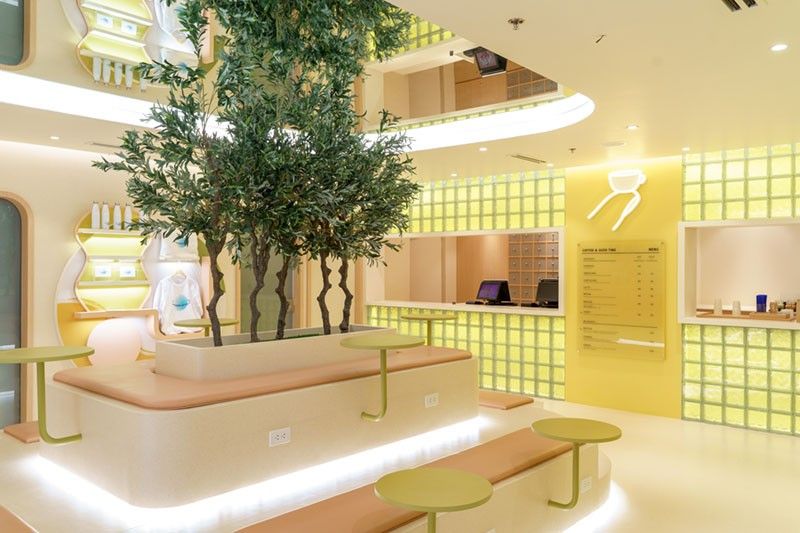 Watering hole: Find a comfy spot in the middle of this immersive concept store to relax with a cup of specialty coffee (P60) by Cup Point.
An eye for an immersive concept store
MANILA, Philippines — If there's anything local fashion and lifestyle brand Sunnies is awesome at, it's creating products and concept stores that are visually appealing and downright cute. Now imagine a space where all their most talked-about brands Sunnies Studios, Sunnies Specs Optical, Sunnies Face and Cup Point housed in a 260-square-meter retail space in one of the largest malls in Ortigas. Enter: #SUNNIESWORLD.
The new maze-like store format will give audiences an immersive lifestyle experience featuring exclusive product assortments, limited-edition merch, a watering hole where you can hang out and order Cup Point's specialty coffee and milkshakes while waiting to get your prescription glasses done in just 19 minutes from the in-house prescription lab.
The flagship store found at the Mega Fashion Hall is inspired by modernist architecture, as seen in the soft corners, organic shapes and the highlight of their storefront, the limestone discovery table. The space itself is designed to encourage free movement and playfulness and you will quickly find yourself slipping into different portals that showcase each of the brand's identities. No corner is safe from a selfie, not even the ceiling, as the team behind this celebrated brand made sure that every single spot is photo-op ready.
This dream-like space boasts dreamy pastel hues and soft diffused lighting for the most visually satisfying shopping experience.
* * *
Sunnies World is at 3/F Mega Fashion Hall, SM Megamall, Ortigas.