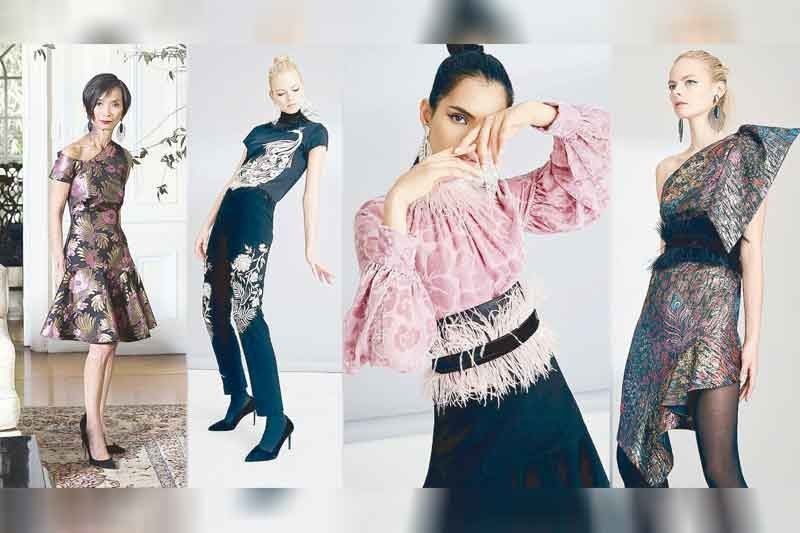 Josie Natori (left): This collection is great for me because I have something I can wear. I'm enjoying wearing patterns."
Josie Natori is getting younger
MANILA, Philippines — The peacock emerges as the seasonal icon for Josie Natori's fall ready-to-wear collection, but it's not like the peacock we know in the digital age. This is not the peacock that wears outlandish, impractical, at times throwaway clothing outside fashion shows to bait the paparazzi — yet she manages to turn as many heads and leaves a lasting impression.
The peacock is a creature defined by beauty and historically a symbol of wealth, beauty and rebirth. For fall, Josie translates this into fine ostrich feathers applied on obi belts and as trimming on hemlines, beaded satin bomber jackets, peacock feather chandelier earrings and bib necklaces. Rich craftsmanship and bespoke details address the modern woman's needs with an introduction of casual separates. Key silhouettes include asymmetrical tiered skirts and dresses, all-over lace blouses, and embellished T-shirts. One-shoulder styles ranging from tops to dresses and jumpsuits add an element of modernity. In softly tailored twill, cotton poplin and knits in velvet and cashmere blends, it contrasts with dressier satins, velvet devoré and signature silk in gilded mink green with duchess rose and fanciful pops of color in orchid pink, persimmon and imperial violet. We see the peacock's spectrum of colors in metallic jacquard prints, executed in an embroidered lightweight twill duster coat and all-over embroidered statement coats.
YSTYLE: It's something I can visualize my mom wearing, but I can also wear it. Was there a deliberate decision to go younger in terms of design?
JOSIE NATORI: I'm happy to hear that. You know what? We have to keep evolving. We can't stay stuck. Your lifestyle and whatever appeals to you is very different from your mom's. If I was just gonna keep selling to your mama, I wouldn't have business in the next 10 years, right? Now I'm curious. Show me which pieces appeal to you.
The silk slip dresses and the asymmetrical tiered dresses immediately caught my eye. And the silk slip-ons!
The slip-ons match the clothes. Fabulous, right? Your mother would probably choose a caftan or a matching set, and you would make it your own with the fine ostrich feather obi belt — but it's sold out already! You can also wear it with the peacock beaded satin bomber jacket.
What new things did you try in this collection?
Asymmetric is something different but like the caftans, they also show movement. This collection is great for me because I have something I can wear. I'm enjoying wearing patterns. I wear mostly black, which is why I made black in many silhouettes. If I wear color, it's really strong, like chartreuse for spring or a deep orange or burnt orange. Creating the jacquards for me has been a great experience. We were inspired by over 50 years of archives collected from all over the world. We did something like this jacquard last year, but for fall, it has a metallic finish. Isn't that cool? Yet when you wear it, it's really light.
How do you stay inspired?
I've been doing this for 41 years and everything moves so fast. Right now, I'm working on spring 2020. I'm a musician, I guess. It is like creating a song where I never play the same note twice. I always try to find a new sound. And that's what's kept me going. It's a very tough business and you have to love it to be in it. We're always experimenting with new fabrics. There are base codes but we have an amazing team that constantly scours for new fabrics. For example, the lingerie, everything has to be yummy. So we're constantly looking for different combinations of yarn to make something comfy and cozy.
How important is it for the Josie Natori and Natori brands that they are made in the Philippines?
Seventy percent of our collections are made here and I'm very proud of that. Filipinos are so creative. It's first nature to us; we're born with it. When they do the sewing in the factories, you see that they love it and they take pride in it. The fact that this is made in the Philippines is something I'm so proud of. I work with Arnel Papa for the accessories. Isn't that beautiful? You can't make something so beautiful without that kind of love.
And you can wear it forever!
Yes. It should have a timeless look. I feel now your generation has a better appreciation of quality.
* * *
Josie Natori is exclusively available in Rustan's Makati, Shangri-La and Cebu. Follow @rustansph.