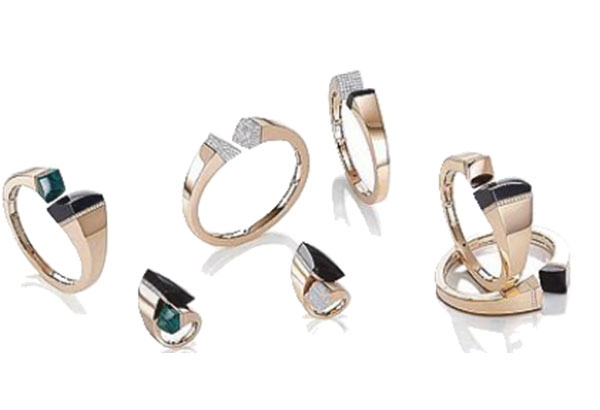 Palladian neo-classical architecture was Roberto Coin's inspiration for the asymmetric shape of the Sauvage Prive collection.
Wearable positive energy for the new year
Since 1996, each Roberto Coin piece has been set with a small ruby on the inverse so it directly touches the skin of the wearer — a discreet signature that stems from the Ancient Egyptian belief of using it as an amulet. "It gives you long life, happiness and good health," says Roberto Coin Asia Pacific head of sales Philip Grima.
The Venetian fine jeweler's experimental latest launch is the architectural and geometric oeuvre Sauvage Prive and precious stones are a notable addition. Black jade is an etheric bodyguard, a stone of protection against energy vampires, while malachite aids successful business relationships. "The use of black jade is unusual. We are only one of the major jewelers working with this material," Grima points out.
Another iteration is made by pairing the protection stone turquoise — the talisman of kings, shamans and warriors — with calming white jade that brings peace, harmony and luck, laden with pave diamonds.
"There is something very karmic about all gemstones," he elaborates. "They help you with your ails and your energy and so on. Personally, I'm not a great believer in wearing it as a talisman, per se. But I believe that the energy that existed in nature concentrated into how these gemstones were formed — there's bound to be some level of discharge from them, if you like."
But, he emphasizes, "The important thing with wearing a piece that you find so beautiful is how it makes you feel. You feel good, you feel positive energy.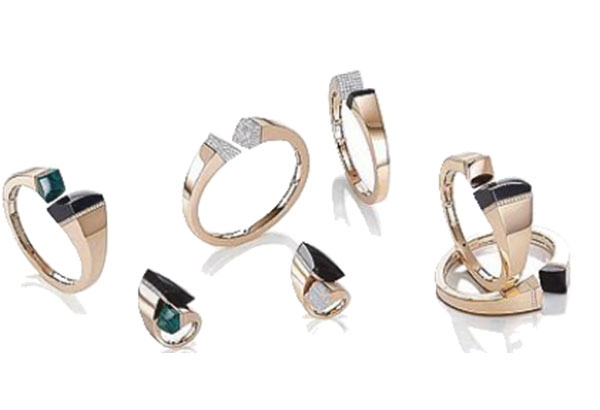 Modern energy: Black jade, malachite, and pave diamonds in 18K gold bangle.
"Mr. Coin wanted to come up with a juxtaposition of forms contrasting dimensions and elements. Something between architectural and sculptural. Everything asymmetrical. No logic, if you like, to the form. Something that looks so natural but in reality it took time to come up with," Grima explains.
Is the collection meant to court a younger market, a trend in the luxury market? "From my age, everybody is younger," Grima jokes. Coming up with as many as 600 unique designs in a year, Roberto Coin has always been about having something for every style and individual, but Sauvage Prive gets its own launch because it's not specifically targeted according to age or style, but rather according to the wearer's spirit. "People who are more confident in their taste — edgier, bold and ready to make a statement.
"We use diamonds in all our jewelry, but we're not using emeralds, rubies and sapphires in our fine jewelry in the classical conservative sense; rather fine jewelry in the Italian sense, which is design, many times more bold and showy but in a way that uses materials that allow us to be more elaborate in our design," Grima differentiates the Sauvage Prive inspired by Italian architect Andre Palladio's take on neo-classical architecture.
Since Roberto Coin joined Rustan's in 2004, Grima has seen the Filipina as one such wearer. "The taste and the kind of product we're able to sell here as a trend is quite different to what we sell to the rest of Asia. Your history of Spanish and American influence gives a different feeling. It's more Latin than Chinese, for instance. Being Latin as a brand, we feel a certain commonality," he says.
* * *
In the Philippines, Roberto Coin is available in Rustan's Makati, Rustan's Shangri-La, Rustan's Cebu, and Newport Mall in Resorts World. Follow @RustansPh on Facebook, Twitter, and Instagram for updates.