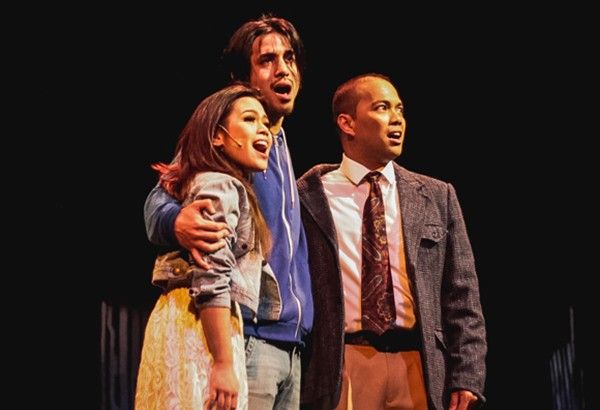 Three's a crowd: Tick, Tick…Boom! stars Tanya Manalang, Jef Flores, and Ariel Reonal.
MANILA, Philippines - It's hard to work in a job you hate, but even harder to chase down an elusive dream. That's the impression I got at the start of Tick, Tick… Boom!, the new musical staged by 9Works Theatrical. An eerie ticking-bomb sound plays in the background as the protagonist Jon (Jef Flores) talks about the pressure of giving up his dreams of becoming a composer for musical theater. He compares himself to his successful roommate Michael (Ariel Reonal), who has a cushy job in Manhattan. Jon's girlfriend Susan (Tanya Manalang) is a dance teacher who pleads with him to trade in their New York life for a quieter one in the suburbs. Of course, this would derail his dreams of making it on Broadway — and so begins his journey towards realizing the true purpose of his musical talents.
And while that is the scary part of this show — the realization that your quarter-life issues are relatable even to someone back in 1990 — it's also a nice peek into the mind of a theater icon. Tick, Tick… Boom! happens to be an autobiography of sorts. Apart from being a multi-awarded musical, it was written and created by Jonathan Larson — the same guy who created Rent. After Larson's death in 1996, the show was brought Off-Broadway and developed into a three-character show (it was originally intended to be a rock monologue.)
Tick, Tick… Boom! is explicitly about Larson's life, and moments within the play hint at what inspired Larson to write his beloved Broadway musical. Did we hope that Jon's character would start playing the first few notes of Seasons of Love? Of course, because we're total suckers for 525,600 minutes, but the original songs in Tick, Tick… Boom! (Green Green Dress is a personal fave) echo the same punchiness, emotion and rawness that later made Rent such an enduring favorite. And, most importantly, the whole cast is made up of just three very talented actors.
That is probably my favorite part of this show: the way Flores, Reonal and Manalang played off one another's strengths to produce a stellar ensemble performance. Consider that Reonal and Manalang had to play multiple characters throughout, and Flores was pretty much in every scene with no intermission. They managed to switch from high emotions to pure comedy with the simple addition of a scarf or a leopard coat. It helps that they work so well as a team onstage — even as they switch characters within a scene (to portray a busy restaurant), it still feels natural.
So come for the existential crisis, but stay for the pure heart that they put into producing this show. Because while Jon begins his story with a strong sense of bleakness, he does realize that passions cannot be tempered quite so easily. And this show, in every respect, proves just that.
* * *
Tick, Tick… Boom! has a limited run at the Carlos P. Romulo Auditorium, RCBC Plaza, until Oct. 23. For tickets and information, follow @9wtonline on Instagram and visit them on Facebook /9workstheatrical.