First Swissôtel property in Philippines puts spotlight on locality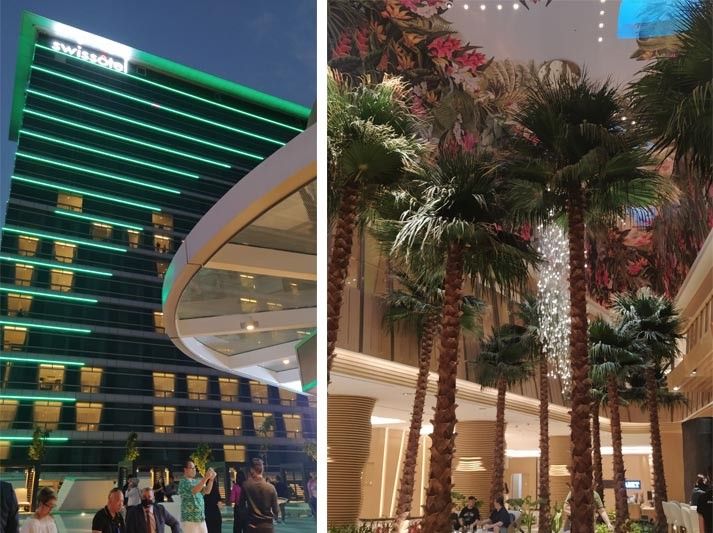 MANILA, Philippines — Swiss hospitality is one of the most renowned in the world, with Swiss hotels and chains becoming top destinations in their respective locations.
Among the many hotels hailing from Switzerland, Swissôtel is coveted for its comfort and luxury, and of course, that genuine brand of Swiss hospitality.
Here in the Philippines, Swissôtel elevates the experience with the soft opening of its first property at Clark Freeport and Special Economic Zone. It does so by putting spotlight on the locality.
This is evident the moment guests arrive. Kapampangans and hotel staff from neighboring towns welcome every guest with warmth and joy—from the lobby as they hand cold towels up to their rooms where they give friendly explanation of the amenities. They leave with a promise that they will be present to serve their needs.
"Vitality of the body, mind and soul is the mantra we live by, and this doesn't only apply to our guests but also to our team members and partners," Swissôtel Clark General Manager Tarek Aouini told Philstar.com.
"As one of the locators in Clark Freeport Zone, we hire local talents from Pampanga without exception, including people from the indigenous Aeta community. We also have differently-abled Heartists (this is how we call our colleagues and team members) as part of our advocacy of diversity, inclusivity and equality," Aouini proudly revealed.
The hotel houses 372 beautiful and contemporary guest rooms and suites in 22 levels. Modern comforts include a full rainshower system in the bathroom, a Nespresso coffeemaker, a big television, lights and curtains with automatic controls at bedside. The mountain range wall accent behind the headboard is an homage to Swiss Alps.
At the dining outlets, wait staff happily get orders of guests, and soon, serve exquisite international cuisine prepared and cooked using locally sourced, fresh ingredients.
Being located at Angeles City, Pampanga, the hotel takes advantage of culinary talents and ingredients.
"We source most, if not all, of our raw materials locally. Our team visits farms and other vendors to ensure quality and sustainability," Aouini said. "Pampanga is the culinary capital of the Philippines, and infusing Swiss hospitality with Filipino creativity and ingenuity will help us convey our vision and purpose to the community."
The hotel will carry 10 dining outlets that feature diverse culinary concepts. Already open is the specialty restaurant, Markt. Inspired by the roots of Swissôtel, it serves European cuisine and grilled dishes in a colourful market setting.
The Atrium now serves afternoon tea, snacks, drinks and cocktails amidst a relaxing atmosphere, while dessert bar Oma's satisfies sweet tooth with freshly baked pastries and signature ice cream in a playful and dynamic setting.
At the poolside, Swiss Tropic lets loungers enjoy refreshing drinks, comfort food and small bites.
More restaurants will open beginning second quarter of the year, including Ristorante Di Verona, which will give a modern twist on classic Italian cuisine.
Well-being is also an integral part of the Swissôtel Clark experience through the Pürovel Spa & Sport. Visit Pürovel Sport for workouts using high-quality gym equipment. The spa will provide a range of revitalizing treatments when it opens in third quarter.
Other facilities include a kid's pool, the Swiss Executive Lounge and five meeting rooms. Design-wise, the hotel incorporates a modern take on Swiss design elements and architectural touches, for a truly rejuvenating stay.
Overall, the Swissôtel Clark's opening is poised to help the community bounce bank, in time for the reopening of tourism in the country.
"Swissôtel is a luxury brand under Accor which has over 4,500 hotels worldwide. Having another global brand in Clark puts the destination on the map especially that we have allocated resources to market the destination," Aouini enthused.
He also noted Accor's strong loyalty program, Accor Live Limitless (ALL). As this allows guests to earn points when they stay or dine, the more they are encouraged to visit Accor's chain of hotels.
Aouini is confident that Swissôtel Clark can tap ALL members as a new market, and thereby provide a new destination for them.
"We are thrilled to welcome guests to experience Swissôtel Clark, the largest hotel in Northern Metro Manila. As the first Swissôtel property in the Philippines, we are proud to deliver Swiss vitality, complemented with local Filipino hospitality," Aouini ended.
For more information, visit Swissotel.com/clark. For reservations, e-mail [email protected] or call +63 45 306 2000.