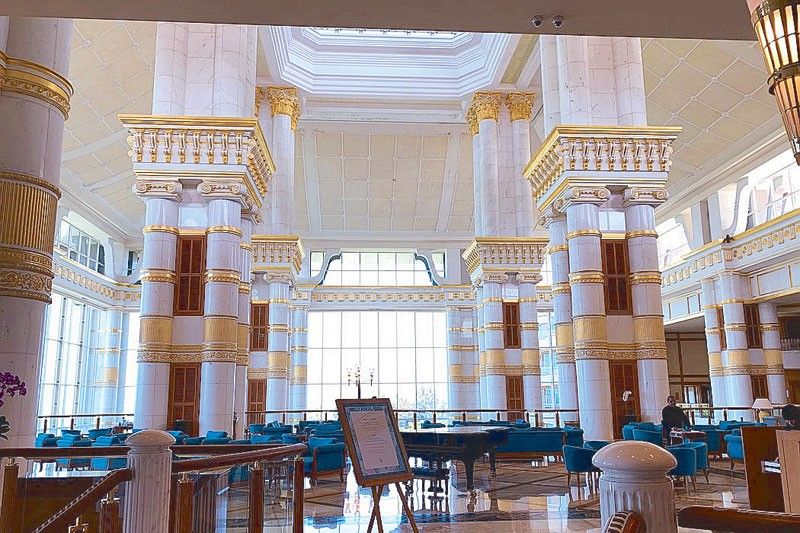 One of the several opulent lobbies at The Empire Brunei.
Chit U. Juan
(The Philippine Star) - February 23, 2020 - 12:00am
Back to this surprisingly quiet, modern and safe city. It was also apparently safe from COVID-19 as no one wore masks!
Brunei is a small state by size but big enough for its 400,000 population of English-speaking, well-educated citizens.
The laws are simple. No smoking and no alcohol except in the privacy of your home. So the air is clean, there are no brawls in bars because there are no bars! One Filipino relates that the citizens are taught to be less materialistic but more prayerful. There are no fashion houses but many watch and phone stores.
And there is so much greenery, because this used to be forest and there is still a lot of natural vegetation. The buildings, most of them – proudly – built and designed by Filipinos, are in the midst of so much verdant surroundings, it is almost like a Singapore, except it is less busy.
"There was a time we had 500 architects in our firm," says Anthony Castillo, who has been living here for 27 years. He has built many homes and even retail locations like the 19th Jollibee store that is coming up. Yes, Jollibee is the market leader in quick service restaurants. Again a proud Pinoy brand.
Another Filipino who has been in Brunei over 25 years is Liezl Casibang, who runs the Roasted Sip Roastery cafés. She counts many Filipinos among her staff at her three locations. They, however, find it easy to work with locals while also recruiting many Filipinos who comprise about 20,000 overseas Filipino workers (OFWs) now in the tiny but rich state.
As I write this, I am waiting for the closed period of 12-2 p.m. on Fridays where everyone must NOT work. It is time for rest and prayer. Even the hotel restaurant is closed. By law, no establishment may open for business during these two hours on Fridays, which is the day of worship and prayer for the predominantly Muslim population.
There is hardly any traffic, even with the amount of vehicles in the country. Luxury brands like Mercedes, BMW, Lexus and Audi dominate the parking lots. Petrol or gasoline is cheaper than bottled water. It used to be 56 Brunei cents for a gallon and soon will be 80 Brunei cents but still cheaper than Evian water!
One other interesting observation is the temperature inside buildings like hotels. It's maintained at a very cold 16 degrees. Maybe it is also because of the affordable cost of energy. So as a warning, you will need a wrap or a jacket all the time.
Asian food
The local savory or sweet delicacy is called ambuyat. It is tapioca flour mixed and blended with water to make a sticky paste that is twirled on the top of a bamboo chopstick and then dipped in a medley of sauces: durian, mango and a sambal for spice. I mixed all except durian and found a wonderful blend of sweet-savory. The food is largely similar to Malaysia and Singapore – some spicy, with some Chinese and Indian influence but generally Southeast Asian.
I stayed with the standard favorites: chicken curry, nasi goreng, nasi lemak and vegetables like sayur lodeh (vegetables in coconut milk). Even for breakfast, the curry and murtabak were standard fare.
Brunei was a surprise for me. I can even now invite friends to come with me on my next visit. We dropped by the luxurious Empire Brunei, a six-star hotel built along the South China Sea. It's got several lobbies overlooking the water and its own retail arcade. You could stay here and not bother to go downtown.
The other attractions are: the Water Village or Kampong Ayer which this time I just saw at night and from a nice restaurant across it. The mosques are huge and there is one "small" mosque that can accommodate 4,000 people in the complex where the royal family stays – it's just for the use of the staff of the royals.
Legend has it that Magellan's fleet passed Brunei on their way out of the Philippines. That is how close we are to this ASEAN neighbor. It is only a two-hour flight like going to Mindanao.
What to do in Brunei
Play golf. I think they have night golf as well.
Stay at the Empire and relax. Chill.
Visit their cafés and restaurants for local fare. Even hotels serve good Arabica coffee, imported from Singapore using ASEAN coffee beans. That's how I know their standards are high for coffee. And there are cafés that serve bespoke coffee like Roasted Sip, which I visited during my short stay.
Visit the mosques, although women must wear a head scarf as in most religious places.
And if you feel like going out of the country for lunch, Malaysia is a mere 40-minute drive from the city center. The roads are all well-paved and there is hardly any build up of traffic.
For a breath of fresh air and a respite from alcohol and cigarettes, Brunei may be a good detox weekend for some. It also is a good way to learn about the Muslim culture and religious practices, for us to better understand each others' faiths. There even is an Islamic school for toddlers or children of pre-school age. There they learn values and important beliefs of their faith. It was started by Dr. Mona who is a UK-educated teacher and a pioneer in an enrichment program focused on the Islamic education of children.
There are also entrepreneurs in information technology making bespoke software business solutions; an entrepreneur running a music school and a neuroscientist running a healthy restaurant and café. These young women entrepreneurs were educated either in the UK or Australia and have brought back their business ideas for use in their native Brunei.
And if Brunei is not your weekend destination, it can also be your professional option for a career in the teaching or medical professions. They recruit teachers, doctors, engineers and almost every kind of professional from the Philippines.
If that should be your choice, you will never feel homesick as almost every place has a Filipino staff and there are 20,000 more kababayans who will make you feel at home.