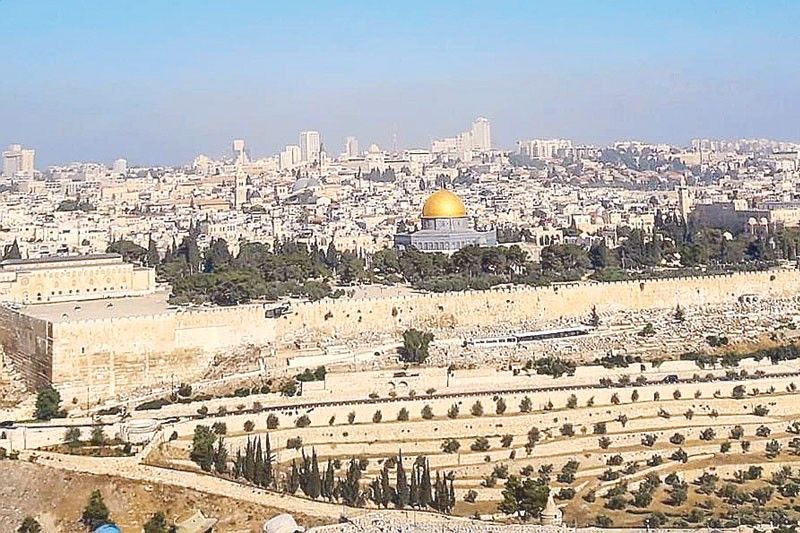 Jerusalem as seen from the Garden of Gethsemane.
Israel eyes more Filipino tourists
Israel is eyeing to sustain the strong interest from Filipino tourists, driven by the strong tourism ties as well as the potential direct flight between the two countries.
In an interview, Israel Tourism director general Amir Halevi said almost 35,000 Filipino tourists visited Israel in 2019.
"Hopefully, we will continue this wonderful momentum where we have more and more Filipinos to come to Israel," Halevi said, adding that the Philippine market has continued to grow in recent years.
The tourism director general was recently in the Philippines for a two-day visit, wherein he met with tourism officials as well as representatives from airlines.
"That's why we are here because we really think there is wonderful potential here. Very strong ties, a good relationship between the two countries," Halevi said.
"We hope that we can work together and make more and more Filipinos traveling to Israel and from Israel to the Philippines," he added.
During his visit, Halevi met with Philippine tourism Secretary Bernadette Romulo-Puyat to discuss further cooperation between the two countries.
"We have wonderful cooperation. She visited Israel last year and met our minister for tourism. We really think that together we can break the record year after year," he added.
In line with further attracting more Filipinos, Halevi said he is hopeful of the launch of a direct flight between Manila and Tel Aviv.
"We hope we can continue the momentum and that's why we are working on a direct flight between Manila and Tel Aviv and this will give another boost for the traffic," he said.
Moreover, the tourism director said the launching of a direct flight will also benefit the Philippine tourism sector as the interest from the Israeli market for the Philippines remains strong.
"The Philippines is a very strong brand in Israel due to the wonderful Philippine community that we have in Israel. They are like part of the Israel family and this will further enhance that with the direct flights," Halevi said.
"The number of Israelis that will travel to the Philippines will increase – you can double it year after year," he added.
Based on data from the Department of Tourism (DOT), the number of tourist arrivals from Israel grew 13.17 percent from January to November 2019 to 20,764 from 18,347 arrivals in the same period the year before.