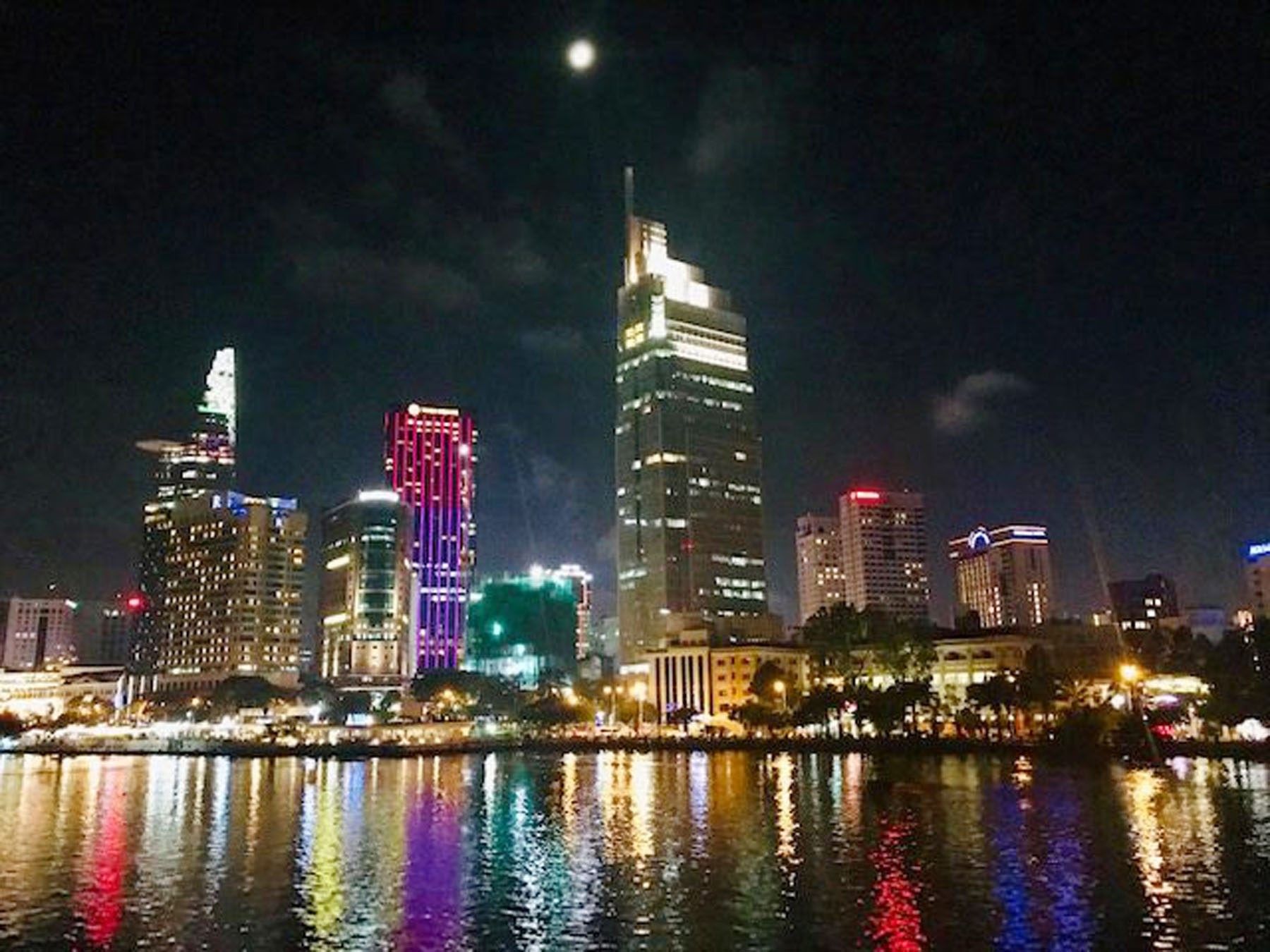 When you talk about Saigon, most Filipinos are familiar with Miss Saigon, the Cameron Mackintosh musical that starred Lea Salonga as a Vietnamese woman who falls in love with an American soldier. Its portrayal of the Vietnam War and the fall of Saigon was one of my introductions to that particular slice of history, along with films like Apocalypse Now, The Deer Hunter and Platoon.
Consequently, Vietnam has always been surrounded by Hollywood mystique and West End mythmaking for me.
Saigon is now known as Ho Chi Minh City (HCMC), named after the communist leader who took over after the fall in 1975. But many of the locals still call HCMC Saigon, and anyone who's remotely curious about history — or even just encountered Vietnam through its wonderful food and coffee — would wonder about Saigon and what it's like now.
Imagine my surprise to find that, in the span of 44 years postwar, Ho Chi Minh City has rebuilt itself to become Vietnam's center of business and commerce. With a population of over 10 million, it's Vietnam's biggest city, and a progressive, rapidly modernizing metropolis that is positioning itself as an attractive MICE and medical tourism destination.
"We want to promote MICE tourism and the new infrastructure projects that we have," says HCMC Department of Tourism director Le Truong Hien Hoa. "The new trend of tourism is the solo traveler, the startup, and corporate and medical tourism."
Last year Vietnam had 7.5 million international visitors from China, Korea and Japan, followed by America and Europe. This year they're aiming for over 9 million, not only from Asia but also potential markets like the Middle East.
"Ho Chi Minh City is like the gateway to the whole of Vietnam," Hoa says, so more hotels and convention centers are being built. "The economy of Vietnam is from Ho Chi Minh City; that's why the government wants to focus on MICE tourism and also promote investment and trade in HCMC."
The Saigon Exhibition and Convention Center (SECC), home of Vietnam's first and biggest international travel fair, the International Travel Expo (ITE), will be expanded in 2020, and a new airport will be operational in the next five years. "The current airport (Tan Son Nhat) is traffic now," notes Hoa. "The new airport and new highway can support a lot of Ho Chi Minh City in the future."
But the best reasons to visit HCMC are historical sites like the Cu Chi Tunnels, bargain shopping at Ben Thanh Market, delicious but healthy Vietnamese food and their wondrous coffee, which has spawned a thriving café culture.
WHAT TO SEE
Cu Chi Tunnels. The best, fastest way to get to Cu Chi is via Les Rives, a travel operator that conducts its river tours via speedboat. The luxe service includes an English-speaking guide, trays of fresh tropical fruit and soft drinks onboard, eco-friendly glass water bottles that you can keep refilling from the boat's dispensers, arriving at Cu Chi in a mere hour — way ahead of the madding crowd — free entrance, and a hearty Vietnamese lunch after the tour. (https://lesrivesexperience.com/)
When you get to Cu Chi everyone's herded into a room to watch a film that portrays the war from the Vietnamese perspective, lauding "American Killer Heroes" among the Viet Cong (VC), which should make American tourists squirm but is eye-opening for someone raised on Hollywood movies.
Our guide showed us the well-camouflaged holes, trenches and underground bunkers that lead to the 250-km-long network of tunnels in which the VC hid and lived, avoiding detection from enemy troops. Cu Chi was built over 25 years ever since Vietnam's war against the French; the network was expanded for the war against the Americans.
Our guide showed us various VC booby traps that were all horrible ways to die: camouflaged holes or doors all lined by long spikes. Then we went down into a hole that was already widened a foot in each direction and it was still a tight squeeze. The next day all my leg muscles were sore from the crouching.
Then we had a snack of tapioca sticks dipped in ground peanut and coconut sugar before a hearty Vietnamese lunch of vegetable soup, breaded fish fillets, curried chicken, fried spring rolls, chicken cashew and steamed rice. (http://en.diadaocuchi.com.vn/)
Saigon Notre Dame Cathedral. Located in the French quarter is Saigon's version of France's Notre Dame, made entirely of materials imported from France. In 2005, the Mary, Queen of Peace statue fronting the French-colonial basilica was reported to have shed tears, making it a popular Catholic pilgrimage site.
Nearby is the Buu Dien Old Central Post Office, the biggest post office in Vietnam and a famous destination all over the world. Constructed at the end of the 19th century by famed architect Gustave Eiffel, it merges French architecture with Indochinese soul and inside is a stamp collector's dream, with its many stamp vendors
The War Remnants Museum. Despite the bland name, this is a fascinating and visceral look at the entire course of the "American war," from its cause (the US government was afraid of the "Domino Effect" — that all Southeast Asia would fall under Communist rule) to its shocking aftermath.
Aware that America was losing the war, then-US President Lyndon B. Johnson decided to bombard most of the Vietnamese countryside with chemical weapons like napalm and Agent Orange (which takes 100 years to disappear from the soil). The result: decimated forests and agriculture, deformed babies, and unspeakable atrocities against the Vietnamese that are hardly ever shown in the western media. My tears started welling up in the Agent Orange room, and a Pinay friend of mine wept openly at the graphic photographs. Not for the faint-hearted.
Can Gio Mangrove Forest. Known as the "green lungs" of Ho Chi Minh City, this forest was named a UNESCO protected site in 2000. We got there in an hour and a half by Les Rives boat (they also offer a sunset cruise around Saigon River and a two-to-three-day Mekong Delta cruise). First we climbed a tower to take in the forest canopy, which attracts birds like grand egrets. Then we took a relaxing boat cruise around the mangrove forest, where you can spot purple crabs and bats nesting in the trees.
Can Gio also has free-ranging monkeys and black pigs that they feed for your entertainment, but the most compelling reason to visit is the crocodile tour in the wild. We rode a very well-protected boat that plies a river full of them. You can feed them raw chicken from fishing rods, and the way the crocs leap out of the water and snap their jaws around your bait are experiences you won't soon forget.
WHERE TO EAT
Ky Uc Café and Restaurant. This breakfast and brunch place is a must-visit, not only for the delicious coffee but also for the quaint premises, which the owners refurbished and filled with memorabilia, including vintage cars and a whole floor dedicated to motorbikes. There are also rooms designed for private functions. (https://www.facebook.com/kyuccaferestaurant/)
Saigon Sensation. This dinner cruise is the best way to take in Ho Chi Minh's colorful skyline at night. The food is good, the photo ops are plentiful and you can karaoke to your heart's content. (http://saigonsensation.vn/en/)
Soul Ben Thanh Restaurant & Bar. Across the street from the famous market is this charming resto within a heritage building, where the food is excellent and full of Vietnamese soul. Try dishes like prawn-pomelo salad, a Vietnamese omelet with red and green peppers and shrimp, and a sour vegetable soup with star fruit (balimbing) and okra that seems to be the Vietnamese version of sinigang. (https://soulbenthanh.com/en/home/)
ROS Yacht Club. Located next to Bach Dang Harbor, where you catch the Les Rives boats for the Cu Chi and mangrove tours, this alfresco restaurant is good for Asian cuisine and mixology. The food is pan-Asian, with an emphasis on Vietnamese food, and the cocktails are modern, innovative and locally flavored. (www.rossaigon.vn)
WHERE TO SHOP
Ben Thanh Market. Though we didn't have time to check it out, Ben Thanh is renowned for its bargain shopping on everything from handicrafts to apparel. The hawker stalls are also the best place to sample Vietnamese street food. (http://www.chobenthanh.org.vn/)
Phuongnam Lacquerware Factory. Lacquer is derived from tree resin in North Vietnam. If lacquer-ware is your thing, this factory-cum-showroom, where they show you the meticulous step-by-step of how they create jewel boxes, cabinets and intricate artwork, is the perfect place to score a souvenir. (26A Tu Xuong, Phuong 7, Quan 3, Ho Chi Minh, tel. +84 789 185 589)
WHERE TO STAY
Vinpearl Luxury Landmark 81. Eighty-one refers to the number of floors in this landmark high-rise hotel, the tallest in Vietnam. The rooms are luxuriously appointed yet very reasonably priced, the views are spectacular and the breakfast buffet is worth waking up for. Every day I couldn't do without my pho, sticky rice rolls and silky black coffee. (https://www.vinpearl.com/landmark81/en/homepage/)
* * *
Follow the author @theresejamoragarceau on Instagram and Facebook.