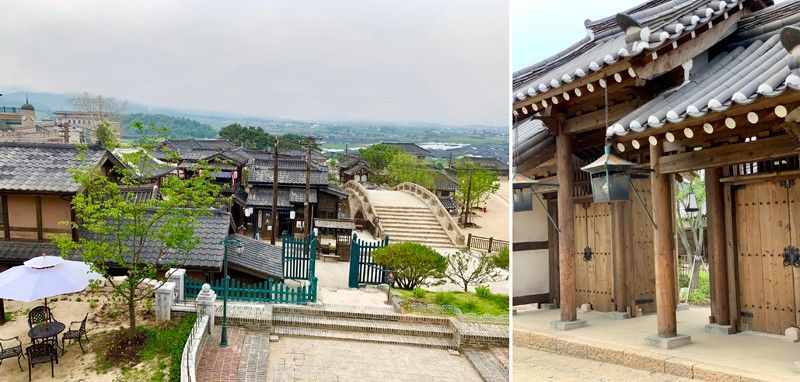 The story of Korea: Fans of Mr. Sunshine can now relive this love story that traverses history, class struggle and war at Sunshine Studio, an open shooting set where 70 percent of the K-drama was filmed. The studio is part of Sunshine Land in Nonsan, Chungcheongnam-do province, two hours from Seoul.
Photos by Tanya Lara
A ray of (Mr.) Sunshine and the miracle of two bags of flour in South Korea
At Sunshine Studio, you can sit in the pavilion where Ae-shin of 'Mr. Sunshine' reads newsletters and says, 'All of us, each in our way, was living through the rapidly changing Joseon.' It applies to modern-day Korea as well.
Let's do it. Love. With me. Let's do it together," says Eugene, confessing his love to Ae-shin for the first time in a scene from Mr. Sunshine, one of South Korea's most successful and critically acclaimed historical drama, released in 2018 on Netflix.
Fans of K-dramas and especially Mr. Sunshine can now relive the moving scenes of this love story that traverses history, class struggle and war at Sunshine Studio, an open shooting set where most of the K-drama was filmed.
Located in Sunshine Land in Nonsan in the province of Chungcheongnam-do or two hours from Seoul, the studio is part of a vast cultural space that includes another filming site, as well as a military experience center with combat and survival games.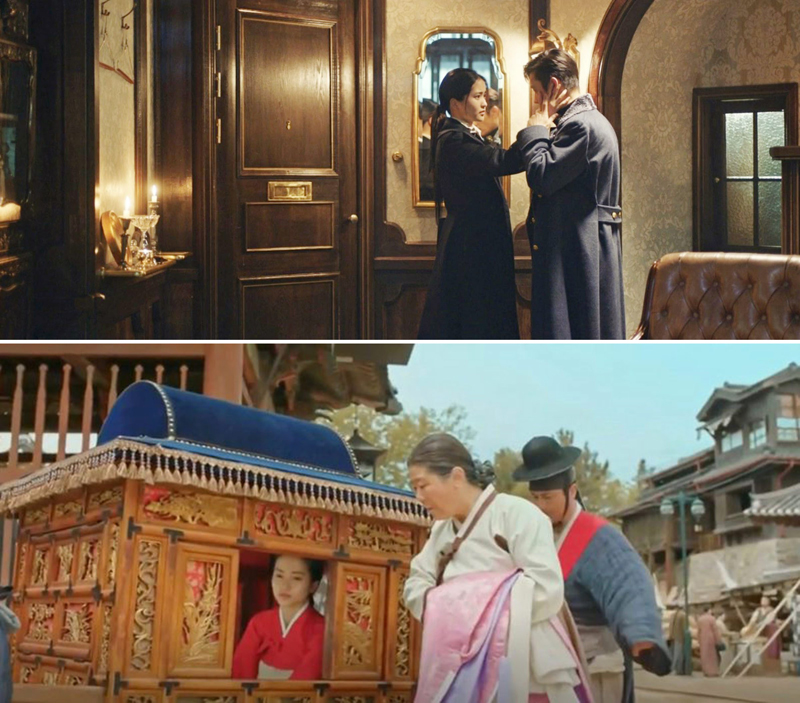 Scenes shot at Sunshine Studio, set in the early 1900s as the drama focuses on activists fighting for Korea's independence. You can rent costumes that range from traditional to modern hanboks and other period clothing.
The other set, called Drama and Movie Filming Site, is designed as a mid-1950s city after the Korean War, a period when it was trying to get back to normal with 20th century buildings and props including banners with anti-Communist phrases. It's a nostalgic walk through postwar Korea.
Sunshine Studio, on the other hand, goes back further in time as Mr. Sunshine covers the invasion of Korea by US warships in 1871 and the volunteer soldiers before the Japanese colonial era.
We are told by the studio manager that it was built here — construction lasted a year — because of Nonsan's landscape, this patch of land without tall buildings and modern structures that they would have had to painstakingly erase for such a period drama. It seemed it was less costly to build an early 1900s city than to CGI unwanted scenes out.
In one of the open traditional Korean pavilions in the studio, actress Kin Tae-ri playing the female lead Ae-shin sits on the floor reading newsletters, a habit her grandfather disapproves of. She says, "Yesterday seemed like a distant past, today felt unfamiliar and tomorrow was terrifying. It was a time of turbulence. All of us, each in our way, was living through the rapidly changing Joseon."
If Mr. Sunshine is a drama filled with moral questions and tears, Sunshine Studio is filled with fun, sunshine and endless opportunities for taking pictures. Walking down the set filled with period architecture, bridges and roads, and storefronts, you get the feeling of being back in time — not just being on a filming set.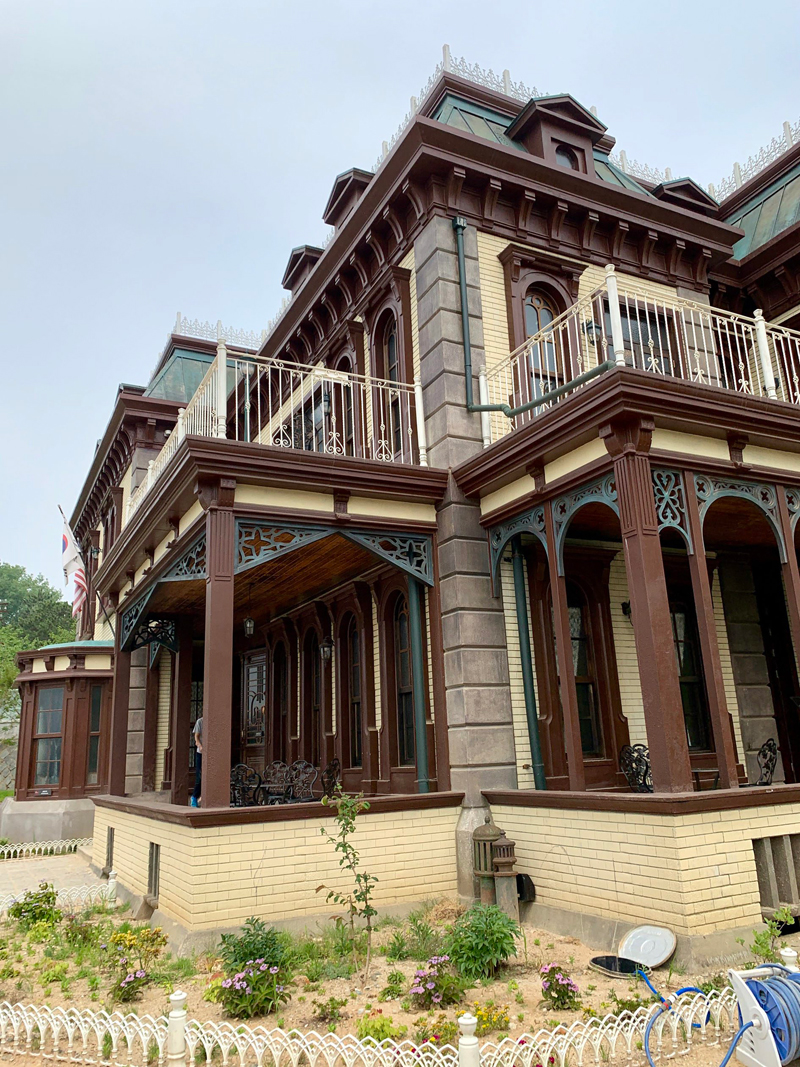 Glory Hotel on the drama is now a coffee shop, serving the same coffee and pastries to the cast during shooting.
It helps set the ambience and mood that you can wear costumes from the different eras that the drama encompassed, like the traditional hanbok or the clothing worn during the Joseon period to its modern iteration, is a dress and a skirt. Costumes also include Japanese kimonos and 1920s western clothing.
The park receives about 30,000 visitors a month and not all of them are Mr. Sunshine fans. It's so much fun dressing in period costumes in such surroundings, especially for Mr. Sunshine fans because they can identify the set pieces that appeared in the 15-episode drama. But seeing the drama is not a requirement to have fun here.
The Korean Tourism Office wants to introduce Filipino travelers to different parts of the country, thus we visited the province of Chungcheongnam-do where the set is located, as well as a church where Pope Francis celebrated Mass when he visited in 2014, a famous bakery, a folk museum and other sites they think Filipinos will find interesting.
One of the most famous bakeries in all of South Korea is called Sung-Simdang Cake Boutique, where Pope Francis bought a loaf of focaccia bread during his visit. But this bakery's fame precedes the Pope's.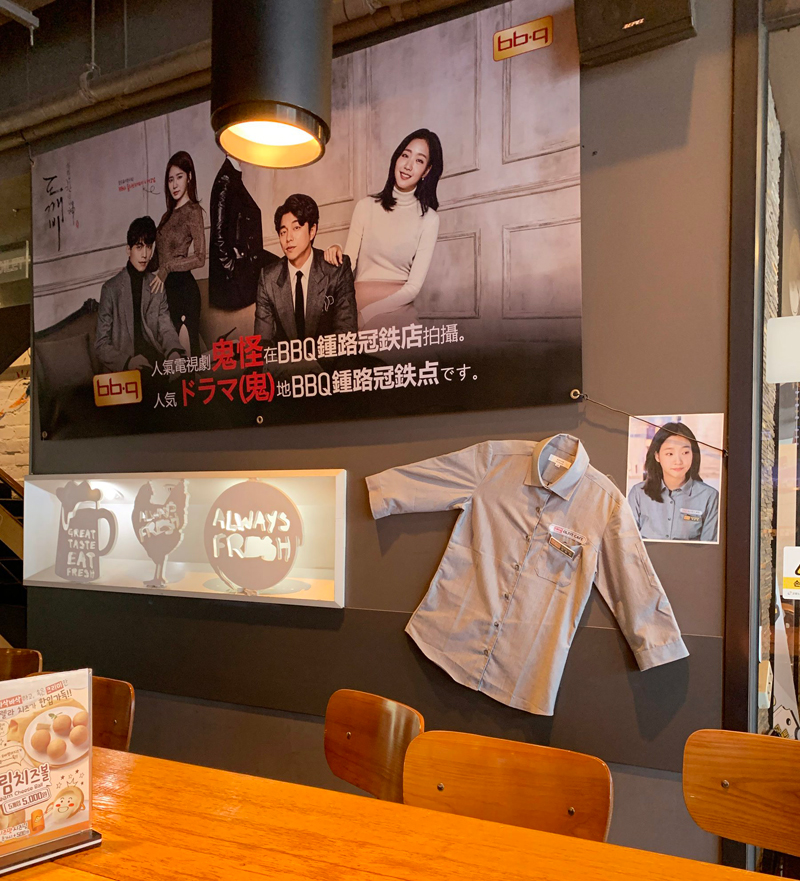 BBQ Premium Chicken is where some scenes from the fantasy drama Goblin were shot. It also has amazing chicken.
Opened 1956, this small bakery was specializing (and struggling to keep open) in white bread filled with red beans. Located across the Daeheungdong Catholic Church in Daejeon, the priest once donated two bags of flour, which he blessed before giving it to the owner and original baker.
After that, business just took off. Maybe it was because the red-bean bread was just really good, maybe because the flour used was "blessed," but for whichever reason the story is called "the miracle of the two bags of flour."
The owner wanted to give thanks and so he started to donate a portion of the sales each month to various charities. It's a practice that continues even as the original family sold the business.
Today, the bakery has two branches, split between breads and pastries, on the same street in Daejeon, and donates about P875,656 to charities every month.
Also in Nonsan is the Myeongjae Old Mansion, which is a typical nobleman's mansion in the region. This is how the upper class lived during the Chosun dynasty. Here, we learned of Korean tea ceremony as taught by a tea master.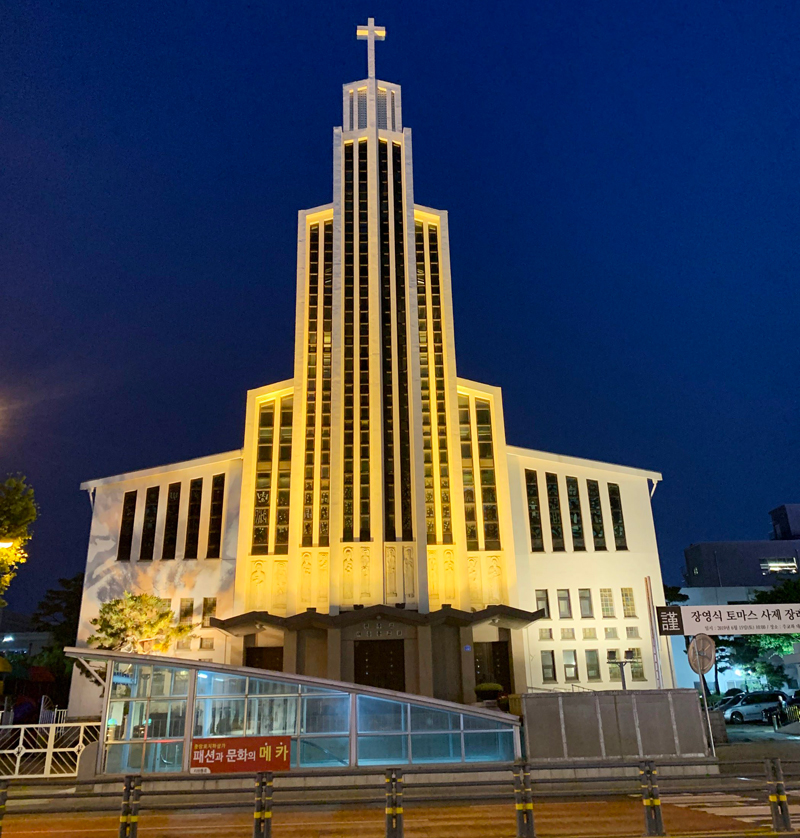 Daeheungdong Catholic Church in Daejeon, which donated the two bags of flour to the bakery across the street.
Time seems to slow down here in every way — from the way the tea is prepared, served and sipped to the way the afternoon drags slowly. Or maybe it's just the ambience of the place — a pond to one side, gardens, a green farm and the architecture of a long lost era that lasted five centuries.
We have one day in Seoul, South Korea's vibrant city where every street has beauty stores filled with tourists buying facial masks and browsing over the many local skincare and cosmetic brands.
From Tony Moly to Innisfree to the free-for-all Olive Young (their equivalent to Sephora), it feels like we're trying to crack a national (open) secret to Korean women's flawless skin.
The meandering streets of Seoul's old district, which houses traditional houses called hanoks, is better seen and explained to you on a pedicab operated by university students.
Artee Pedicab was started in 2012 by three young men from Boston, Massachusetts. "They pedaled day and night for a year and eventually won the National Tourism Venture Competition with their first pedicab tour service in Bukchon in 2013."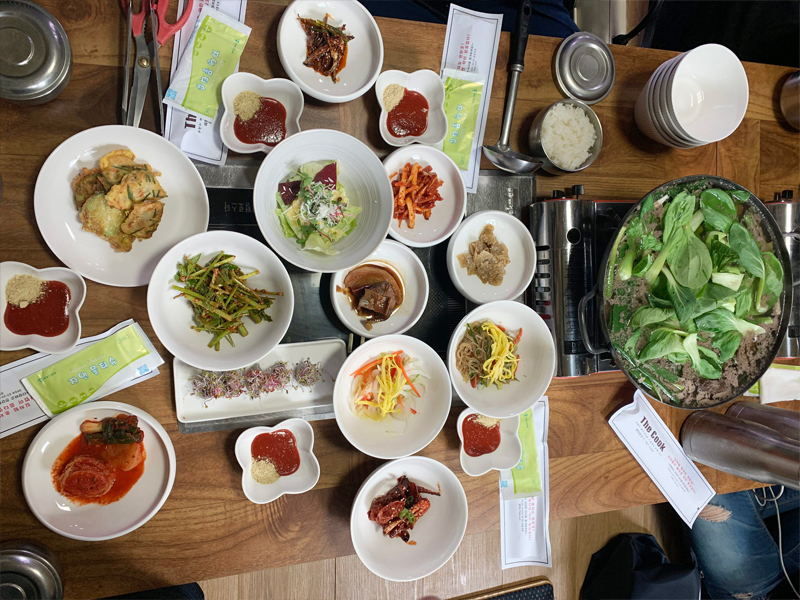 A traditional Korean meal is always a feast.
The tour takes you through the nooks and crannies of the 600-year-old capital like the old Bukchon Village, considered an open-air museum within a city. And because the pedicabs are operated by young students, they can get you up to speed on the latest K-pop happenings and places popular with the local sub-cultures.
Seoul is filled with cafes made popular by their cuteness or reference to K-dramas. BBQ Premium Chicken restaurant has amazing chicken (try the parmesan-crusted), but also very popular as a shooting location for the K-drama Goblin or Guardian: The Lonely and Great God, a story about a goblin who must find his human bride — who happens to be working at BBQ Premium Chicken.
It took me 11 years to go back to South Korea since my days at Seoul National University, when going out of the campus meant we first had to walk to the Naksungdae station.
Back then getting to know Korean pop culture pretty much meant you had to travel to Seoul, but today their culture is all over the world — and going to Seoul feels like a pilgrimage.
* * *
Visit the author' travel blog at www.findingmyway.net. Follow her on Twitter and Instagram @iamtanyalara.