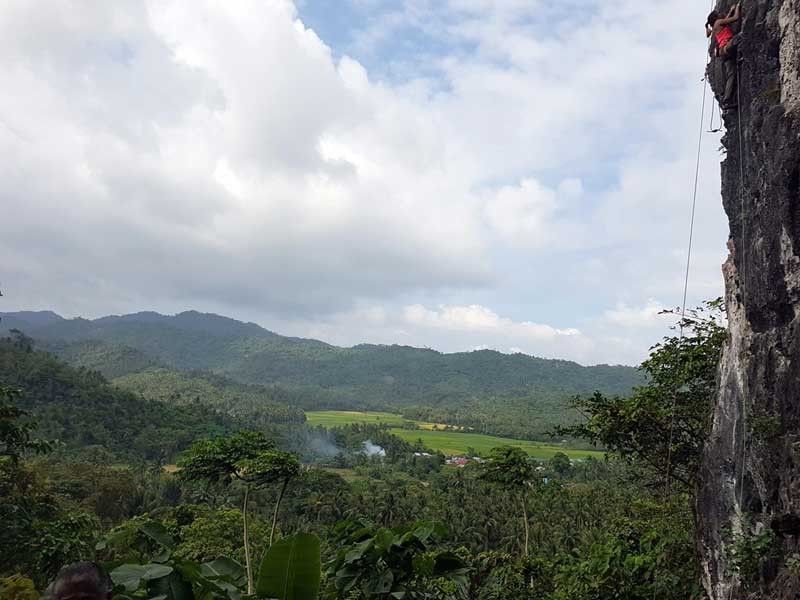 The North Wall offers a magnificent view.
Atimonan high: Lessons from the rocks
Joyce Tiu
(The Philippine Star) - October 21, 2018 - 12:00am
MANILA, Philippines — I had an awesome weekend. Super awesome! I spent it rock climbing in Atimonan, Quezon.
We left the city at 3 a.m. and had breakfast in Lucena just before sunrise. We arrived in Atimonan and were on site by 7 a.m. A couple of groups were already there. Our first wall was called Acid Wall – and it's easy to see why. The coaches set up a couple of routes while we chatted and harnessed up. When that was done, I was first up.
It was difficult! My arms were pumped and I was not even halfway through the route. I didn't finish and whined to the coaches, "I thought this was easy? You guys told me this is easy. This is really hard!" They laughed. I had a rest and took the time to adjust my mental prep. Also, taped my fingers because the rock formations were so sharp.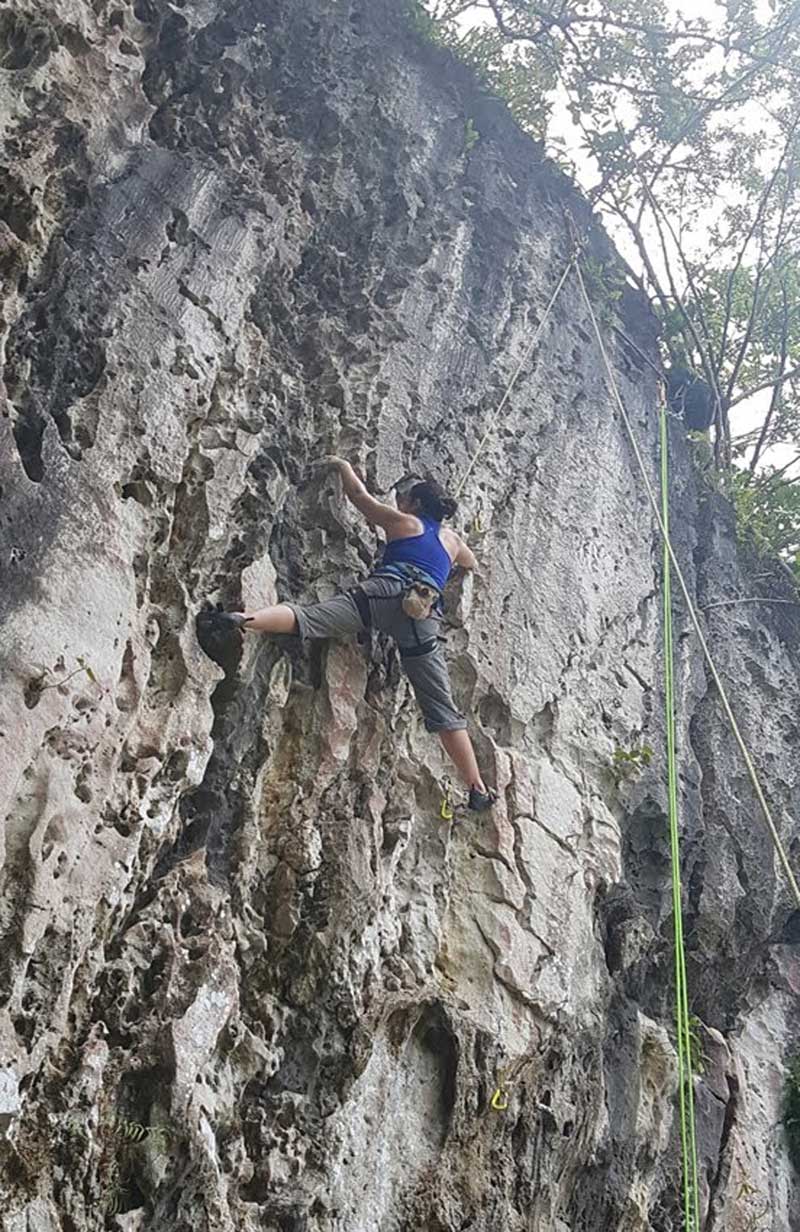 The author goes up the Acid Wall.
While I was waiting for the lines to be free again, there was a new one set up lower down on the Windy Wall. Coach Bri told me it's also not easy, but I should be able to do it. The top half of the route is a slab; the route is called Slab of Mhax. I got up half way without much difficulty, then came the slab. Really, it's just a slab, and there are no decent holds. To get up, you really need balance: Mantling one hand on the bottom, pushing down while stepping up on one foot. I've done it plenty of times, but always with the top hand having a good hold for safety.
I was scared. If my hand or my foot slipped, my face would slam into the rock. I really couldn't afford an uglier face or plastic surgery for a better one; so it took me a long time making my way up. I was sweating profusely and my legs were cramping from being on my toes so long. I had to breathe and tell myself I could do it. I had to trust my shoes, my footing, my hands and my balance. It took me almost 30 minutes, but I reached the top.
I watched the video of the climb and heard the coach telling another climber that it was a difficult route. I felt relieved when I heard that; I wasn't just being a baby!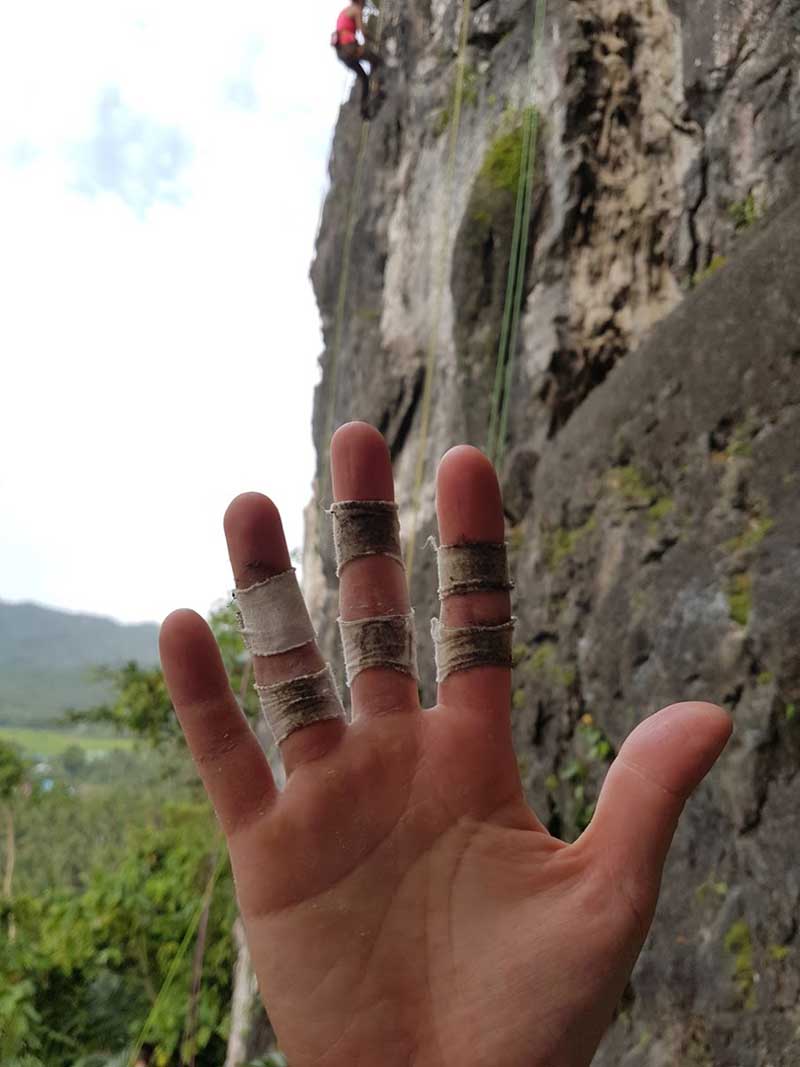 Fingers taped to protect against the sharp edges.
After that, I went back to Acid Wall and tried a new route. I finished it much quicker than the previous one. Then I tried the first route again, a couple more times. I made it to the crux, but still could not finish. There was just a crack to hold on to to get up the last bit and I couldn't do it. I shall train some more to get that next time.
After a quick lunch break – tortang talong and sinigang – we took down our ropes and moved to the North Wall. They said I'd love it – high walls and nice view. We walked around the rock and the coaches did not exaggerate. It was massive and beautiful.
I finished three routes fairly comfortably and the last one, the longest one, called Unfinished Business, I finished too, but with a couple of brief rest stops. That last route got me so dirty; it was a new route so the rocks weren't as clean, so much debris kept falling all over me.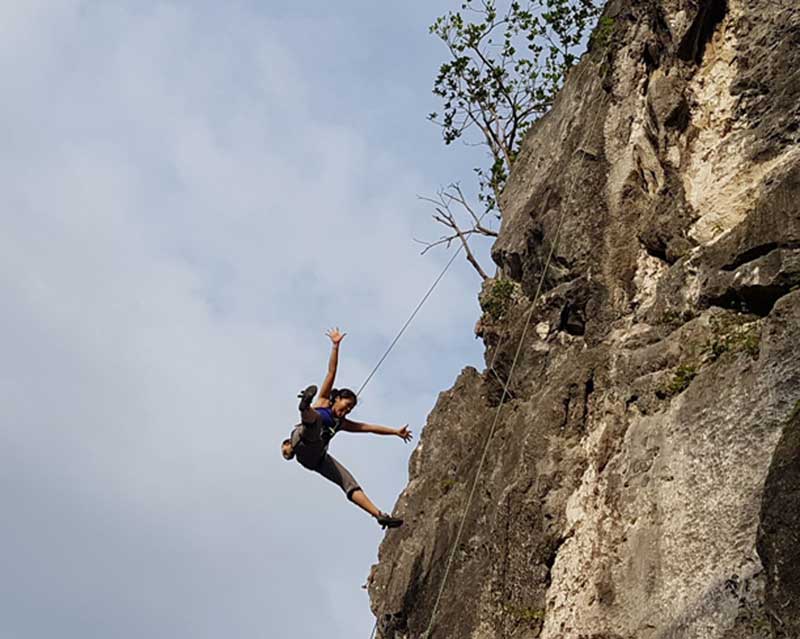 Jump for joy, rock climbing style.
Outdoor climbing is so different from indoor. One can't just go for a hold that looks good because looks are always deceiving. Movements need to be controlled and precise to avoid injuries and/or accidents. Every step of the way I'm constantly feeling around looking for a decent hold. Sometimes the holds are so small only fingertips can hold on. Sometimes it's way inside the rock and the opening to it is so small. Sometimes it's big, but everything is almost always sharp.
Scrapes and scratches are a reality in outdoor climbing. One should never use the knee or shin to get up. I always wanted to make sure that if I lose my footing or my hold, my face or head wouldn't hit the rock. Have to be careful with swings as well, making sure to watch out for protruding rocks. There are so many more elements to pay attention to when climbing outdoors, which often makes me panic and tire myself out too quickly. I need to consciously stop and take a few deep breaths to calm down and just take it one move at a time.
I love climbing. It helps me keep balanced, keeps me breathing, makes me strong physically and mentally. It requires not just strength but, more importantly, endurance. It teaches me that sometimes I have to go for it and sometimes take it slow and controlled. It reminds me to be patient. It makes me work hard. It always challenges me. It proves that fear is just in the mind. It shows me over and over again that nothing is impossible. It's individual yet it attracts the most wonderful people who become the climbing family.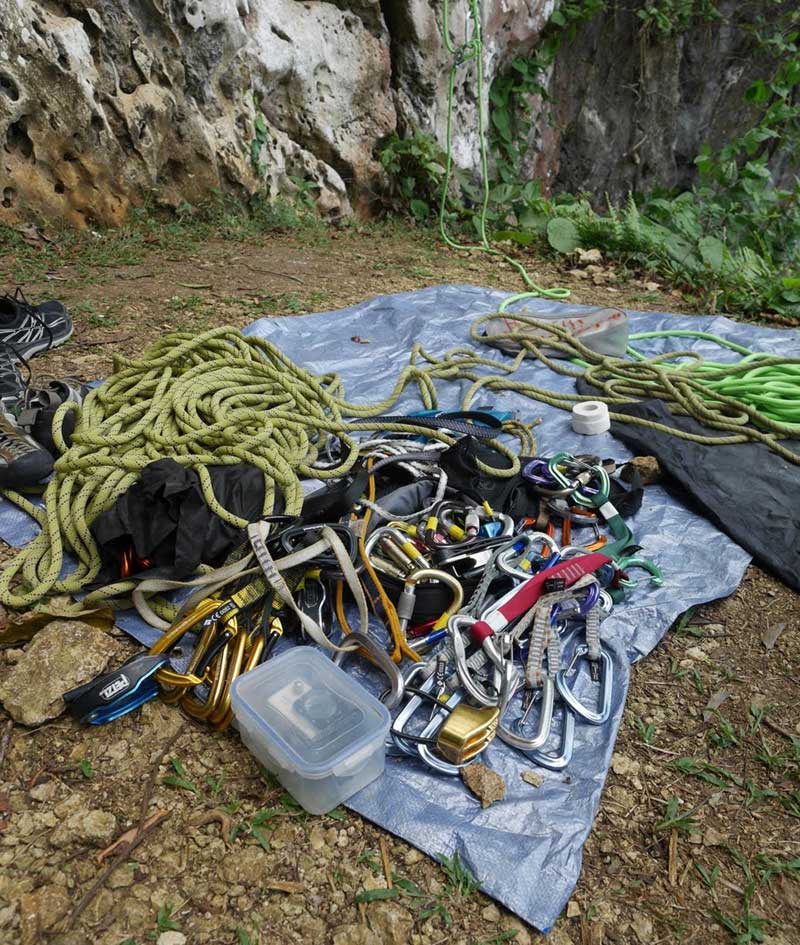 Trust your climbing gear, trust yourself...and trust the universe.
I enjoyed the down times. It was inspiring to watch other people climb, especially the seasoned ones. They were so graceful; each move completed with such lightness and ease. They made the hard moves look do-able.
It was a perfect day in Atimonan despite many imperfections. We were so lucky with the weather because it had been raining in the area and the week before, it was pouring. It was crowded but we made new friends and was still able to climb to our hearts' content.
Atimonan was a reminder to trust and never give up. In climbing, especially in outdoor, trust is put to the test. It's important to trust the group, trust the coaches, trust the equipment, trust your shoes, trust yourself and trust the universe! I am so incredibly grateful for this weekend. Unforgettable!