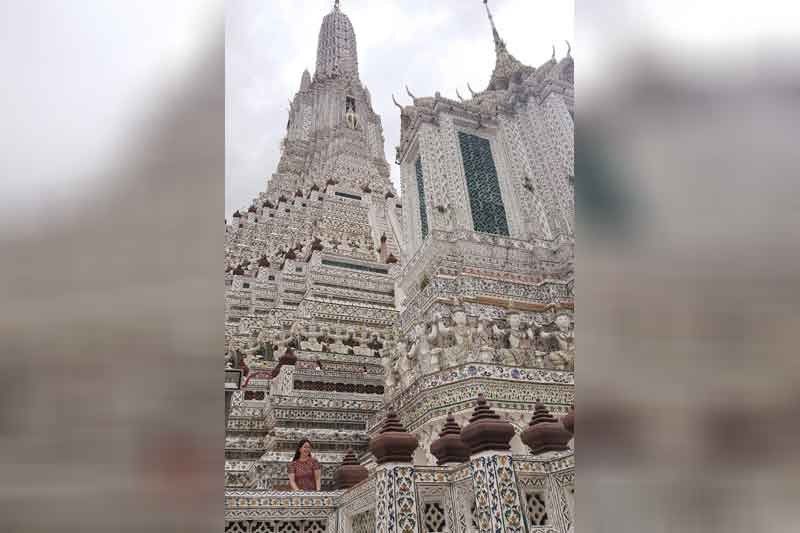 The magnifi cent Wat Arun.
MANILA, Philippines — There's certainly more to Bangkok than the Chatuchak weekend market and pad thai. Thailand has a lot to offer art enthusiasts, history geeks and nature lovers.
From an outdoor museum to a theme park restaurant, these destinations are best enjoyed when traveling with friends or family.
If you are up for a not-so-usual Thailand experience, include the following attractions on your next trip to this amazing country.
Ancient City
An hour's drive from Bangkok and around 50 minutes from Suvarnabhumi Airport is Muang Boran or Ancient City. Built 54 years ago by Thai millionaire and patron of culture Lek Viriyahphant, the Ancient City was aimed at encouraging citizens to learn about their history and to make national traditions and culture known to the world.
For 700 baht, you can tour the 128-hectare attraction, which features replicas of dozens of major Thai landmarks. It's like seeing the whole of Thailand in a day. The replicas here are as huge and stunning as the real ones. Given its vast size, it is better to rent a golf cart or a bike or take the tram to go around the park.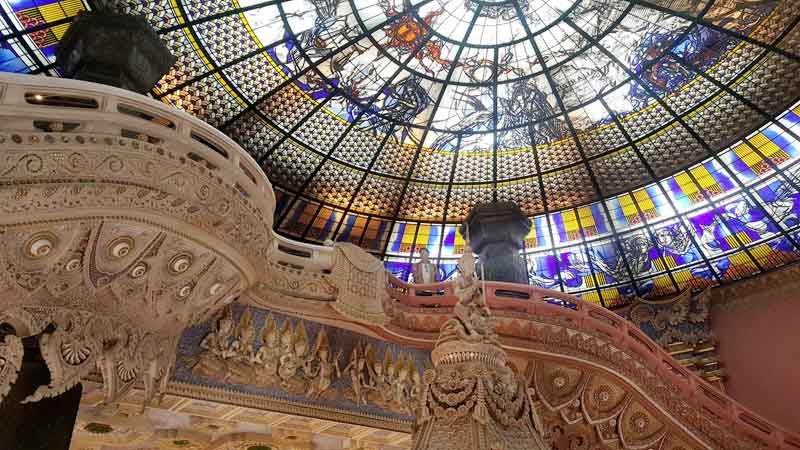 Inside Erawan Museum
Among the recommended attractions are the Old Market Town, the Floating Market, the Sanphet Prasat Palace, the Pavilion of the Enlightened and the Bodhisattva Avalokitesavara (Kuan-Yin) Performing a Miracle.
Erawan Museum
Located in Samut Prakan province just nine kilometers from Ancient City, the Erawan Museum will surely amaze art aficionados.
The museum, also a brainchild of Lek Viriyahphant, is famous for its giant bronze three-headed elephant statue, imposing at 29 meters high, 39 meters long and weighing 250 tons.
Hidden under the gigantic bronze Airavata Erawan (elephant in Thai) sculpture is a three-story museum housing Viriyahphant's personal collection of antiques and sacred objects.
The first floor of the building displays Chinese vases from the Ming and Qing dynasties.
The second floor features ceramics, neilloware and jade as well as European pottery. The hall has a statue of Guanyin, the Chinese goddess with a thousand arms.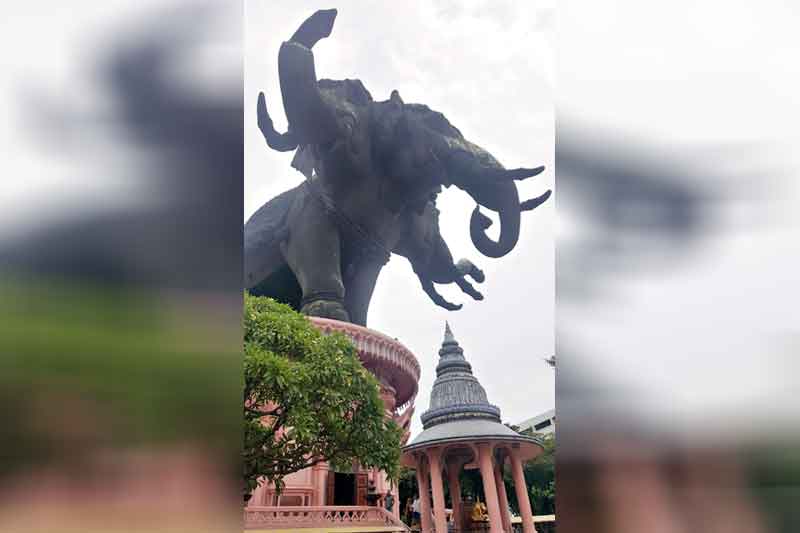 Erawan Museum's famous threeheaded elephant.
The top floor is adorned with exquisite art depicting the solar system and is where relics of ancient Buddha statues from several eras – including Lopburi, Ayutthaya, Lanna and Rattanakosin – are housed. The walls are decorated with paintings depicting the cosmos.
Admission to the museum is 300 baht for adults and 150 baht for children.
Chocolate Ville
This cute theme park restaurant offers a "European Village" ambiance, but get this – it is not a chocolate factory and really has nothing to do with chocolate.
Situated in the Bueng Kum District around 30 minutes from the city, it is best to visit Chocolate Ville at night when the entire village is lit up. You can enjoy the romantic view while being serenaded with music of famous European artists. This spacious park is a good alternative for those who want to stroll and dine somewhere in Bangkok but with less city vibe.
Apart from the romantic and laid-back ambiance, Chocolate Ville is also an Instragram-worthy place. Every corner has a selfie-worthy backdrop. It has a chapel, barn, clock tower, railway station and candy-colored shops.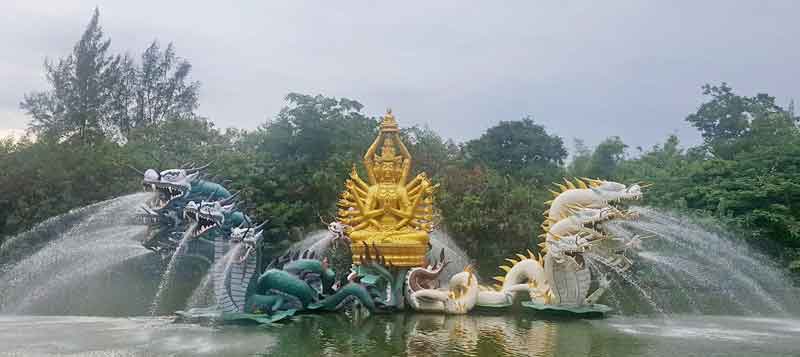 Bodhisattva Avalokitesavara (Kuan-Yin) Performing a Miracle at Ancient City.
Restaurants here offer both Western and Thai cuisines at very reasonable prices. It opens from 4 p.m. to midnight.
Wat Arun
Located on the west bank of the Chao Phraya River, Wat Arun, a famous Thai landmark, can be reached either by Arun Amarin Road or by boat from Tha Tien Pier, near Wat Pho. This Buddhist temple is named after Aruna, the Indian god of dawn.
The 79-meter high pagoda-style monument is decorated with ceramic tiles and fragments of multi-colored porcelain. The statuary is also fully adorned with mosaic.
You can ascend the very steep stairs of the main prang to get a magnificent view of the Chao Phraya river.
Many Thonburi canal tours such as the Chao Phraya River Express boat tour can take tourists to this notable piece of architecture. While taking the Chao Praya River Tour, you can also see traditional Thai homes and small temples built along the river, which give the city the name "Venice of the East."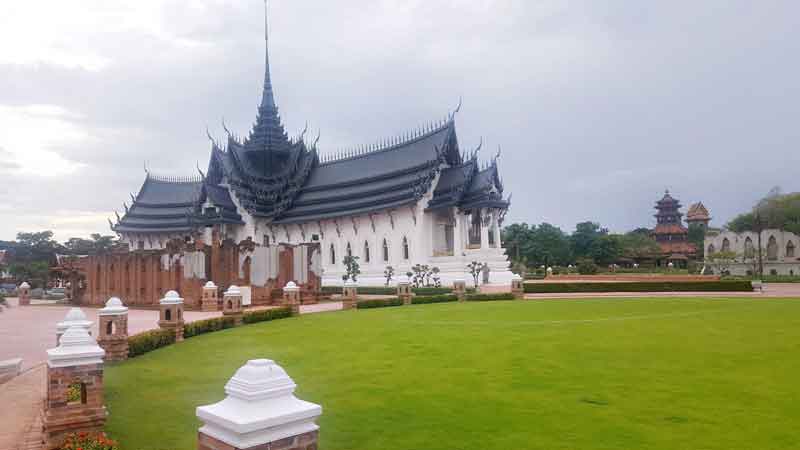 A replica of Sanphet Prasat palace in Ancient City.
The temple is open to the public daily from 8.30 a.m. to 5.30 p.m. Admission is 30 baht for foreigners and free for Thai citizens.
Philippine Airlines flies from Manila to Bangkok three times daily and from Cebu to Bangkok daily.
Make your more than three-hour flight from Manila to Bangkok comfortable with PAL's tri-class A330-300, which offers additional inflight services for economy passengers.
You can fully relax with its 18-inch width seats with six-inch recline. Each seat is also equipped with 10.1-inch touch screen monitor and USB port.
Check out philippineairlines.com for flight schedules and special promos.