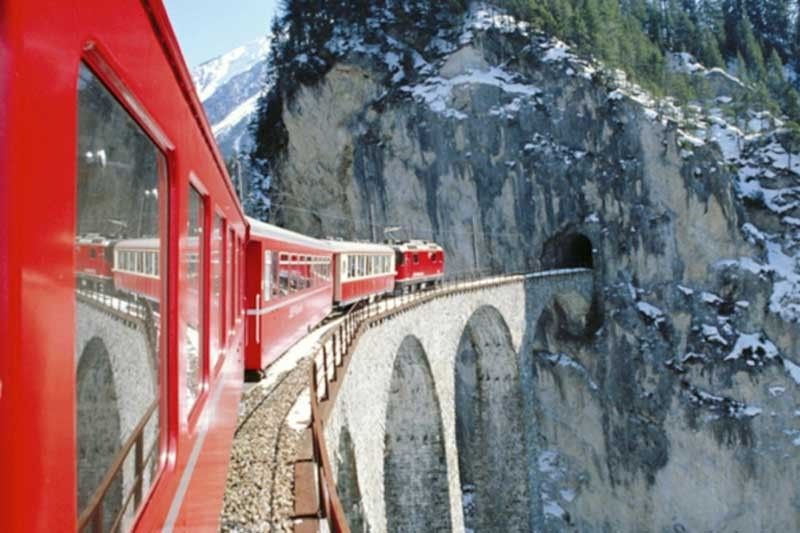 The Glacier Express is not for the faint-hearted.
Don't look for spam or longganisa
Part two
Shocking Switzerland
MANILA, Philippines — Like a lot of swiss cities, lucerne is situated on a largish lake. One thing you can do in Lucerne is take a Lake Lucerne cruise. In fact, Lucerne probably offers the nicest lake cruises in the country, with snow-capped Alps prominently visible on all sides. At least they were visible until global warming.
However, absolutely THE thing to do in this city is go see the Weeping Lion, which is unaffected by global warming. This is a gigantic carving on a granite mountainside, and it depicts – surprise! – a weeping lion. The lion has been speared and is about to die. The work commemorates the 600 or so Swiss OFW soldiers who died protecting Louis XVI when the mobs stormed Versailles, but nevermind the history. When you look at the lion, you can feel its pain, in a way that few sculptures of any kind can convey. Keep your Henry Moores and your Rodins – if you have any empathy for animals, the Weeping Lion is the most moving, gut-wrenching sculpture you are ever likely to see. It's only a short walk from the northern shore.
The Famous Swiss Numbered Bank Accounts. Wherever you go in Switzerland, it seems as if you are never more than half a block from some bank you never heard of. If you ever saw either of the Thomas Crown Affair movies (or almost any Hollywood flick that depicts a Swiss bank), you might think that Swiss bankers accept cash (paper money) deposits, but they don't. And you might think there is such a thing as a secret numbered bank account, but there isn't.
At least not anymore, ever since the US Treasury started muscling the Swiss banks to reveal the names of their American clients.
I know this because when I flashed my wad of ten €50s at a friendly-looking neighborhood private bank, the new-accounts lady took back the free espresso she had rashly offered, and pointed me in the general direction of Lithuania.
The Famous Swiss Railway System. Most of what you've heard about the Swiss and their trains is true. Yes, Swiss trains almost always run on time; if one is even two minutes late leaving a station, there are profuse apologies and several hara-kiris. (Philippine airports should immediately start imposing hara-kiris, and let's see how fast our on-time record improves.)
Yes, someone will check your ticket; the ticket vending machines are not easy to use (a lot of them don't have English translation), but better than dealing with an irate conductor.
If you do ever go to Switzerland, it is quite likely you will eventually ride on a train, so here is a tip to make your journey go more smoothly. First, never put your feet on the seats, or a tough-talking conductor will let you have it. Second, when that happens it does absolutely no good to pretend you don't understand any German, French, Italian or English.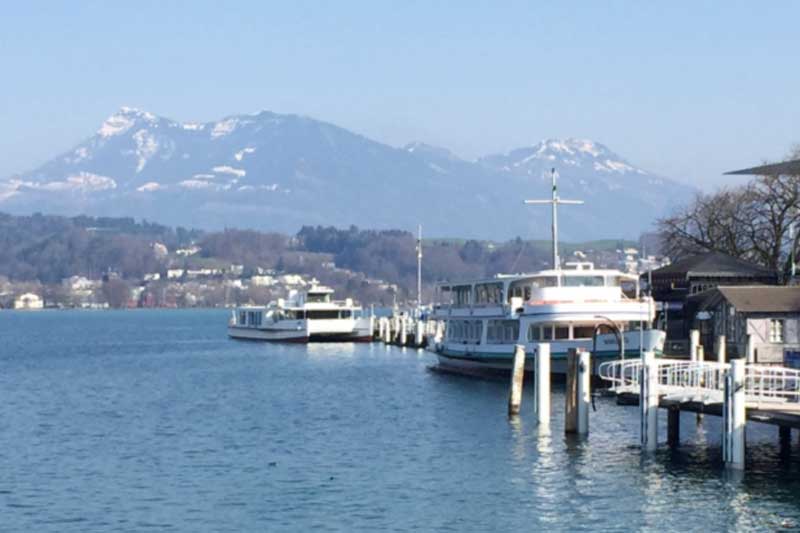 Lucerne has possibly the best lake cruising in all of Switzerland. But, like everywhere else in the world, the glaciers are disappearing. Go soon.
By the way, the thrifty Swiss make their own sandwiches at home before embarking on train journeys. Do the same. And clean up after yourself.
Zurich Confidential. Historically in terms of its economy, Zurich (tsoo-rish) has been up, down and sideways. It profited from the growth of craft guilds in medieval times and the explosion of railroad-building in the 19th century. But it was also on the losing side of many wars fought between different Swiss factions.
Before the Swiss invented Neutrality and the joys of making chocolate, they were actually a pretty warlike people. Cantons (sort of provinces) were regularly going to war against each other, sowing intrigues and ganging up on weaker cantons. In fact, probably half of Switzerland today didn't want to join the Swiss Confederation at all, but just got beaten into submission or bullied into signing the Articles of Confederation. Now each canton claims Switzerland was their very own invention.
Anyway, Zurich today is the country's financial center (though as I noted before, you can find a private bank around every corner of every village). Zurich's post-WW2 prosperity sprang from its bankers having catered to Nazis during the war, as well as just pocketing the bank deposits of Jews who died in the Holocaust. But don't tell anyone I told you.
Considering how large it is and how well-known, there is actually almost nothing to do in Zurich except meet your Swiss banker. The famous Bahnhofstrasse was once the world's chic-est shopping street, but long ago fell into dowdiness. The most exciting restaurant in town today is the Zeughauskeller (you can do it!: tsoyg-house-keller), which serves sausages, pork knuckles and, if memory serves, Wiener Schnitzel, all solid German and Austrian dishes. No one ever accused the Swiss of being culinarily adventurous.
And, speaking of non-adventurous…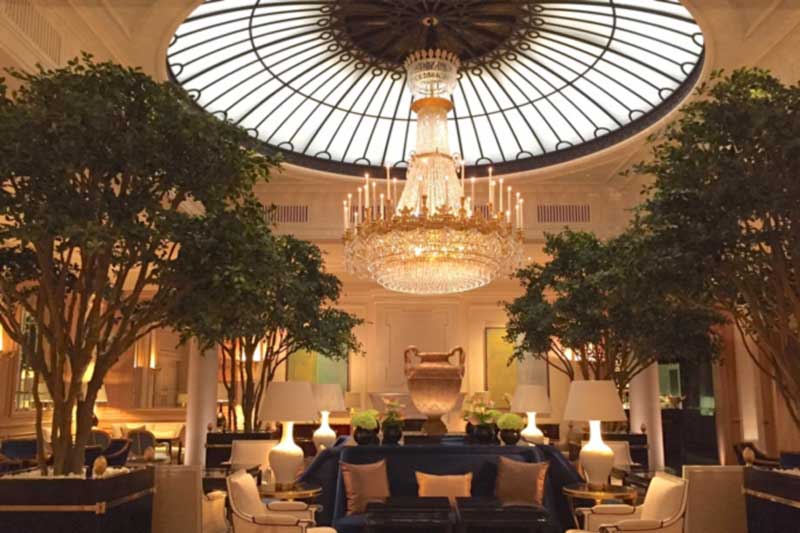 There is not much to do in Zurich except count money and have cocktails at the
Baur

au Lac Hotel's lounge.
The Breakfast of Champions. In Switzerland it doesn't matter which hotel you are in; in every city, every village and every hotel or facsimile thereof, Swiss breakfast is as dependable as a Swiss watch. It's as if the food was 3D-printed in some secret lab and then teleported every morning to every inn and hotel. Swiss breakfast has farmer's bread with a seed crust, smoked salmon, ham and salami, fruits in syrup, cheese batons, something that in their opinion is bacon, and "scrambled eggs" that are a clever combination of leftover boiled eggs, new whole eggs and food coloring. You would think they would try longganisa or Spam for a change, but nothing doing.
Emergency eats in Switzerland. Let's say that, for whatever reason, you wind up in Switzerland anyway, and cavil at restaurant bills that start at SwF30 per head and swiftly head north. Do not despair. In every major Swiss city, at intervals of about 300 meters, you can find a supermarket. They don't look like supermarkets from the outside, so here are the names you must recognize: Coop, Migros and Manor. Coop and Migros are just about everywhere, while Manor is much rarer (though there is a really big one in Geneva and another in Basel).
Because I like you, here is some assorted advice about Swiss food products. As I said last week, the Swiss prefer their Coke with very little fizz. The Swiss have not heard of Spam or any product remotely resembling it. Moreover, the Swiss do not know how to make potato chips.
So here are the things you need to snatch up in Swiss supermarkets: French butter. French paté. French wine. German cheese (specifically, Cambozola, which is Germany's most outstanding contribution to world cuisine other than the frankfurter). Italian ham. English biscuits. Spanish oranges and almonds. And, if you have children, American granola.
Buck up. You'll survive.
* * *
The author is resident shareholder at Plantation Bay Resort & Spa in Cebu.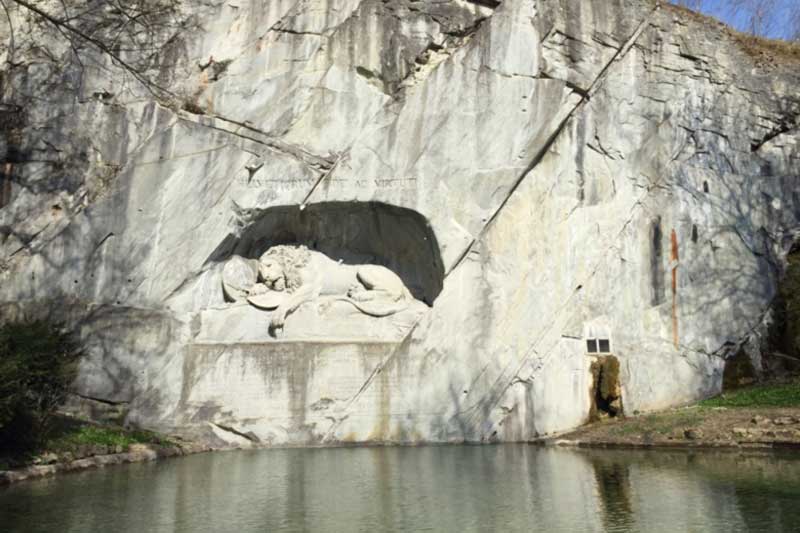 The Weeping Lion is a gigantic sculpture just a few steps from the town center of Lucerne.