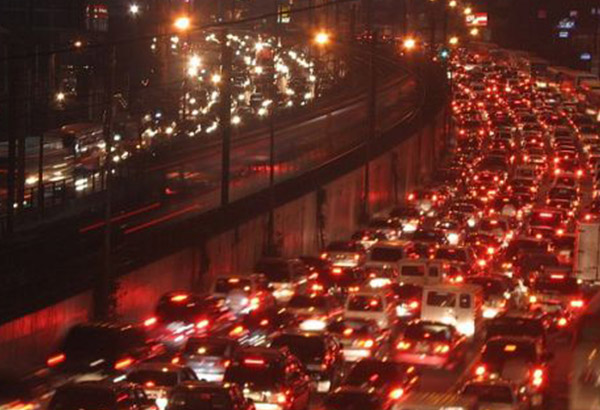 Metro Manila traffic mess costs P3.5 billion daily, according to Japan International Cooperation Agency.
WATCH: Uber unveils plans to help ease Manila traffic
MANILA, Philippines — In celebration of its fourth anniversary in the Philippines, transport network vehicle service Uber reveals how it has helped ease traffic congestion in the Philippines.
Metro Manila traffic mess costs P3.5 billion daily, according to the Japan International Cooperation Agency.
Yves Gonzalez, Uber Philippines' Public Policy Head, said that since entering the Philippines four years ago, the company has helped ease Metro Manila traffic by making ridesharing a lifestyle for many.
By booking in a vehicle service like Uber, almost 90 percent of Uber's riders said they feel they do not need to bring their car anymore, while among those who do not have a car, 75 percent said they do not need to own a car anymore, Gonzalez said.
"We believe that the way we can really make an impact on congestion is when we convince everyone that they really don't need to bring or own an individual car because ride sharing is the best way to go around Metro Manila and Cebu as well," he enthused.
According to him, the biggest challenge of congestion in Metro Manila is that the proportion for car ownership is one car per person. He said a Boston consulting group study says that Metro Manila can reduce one million private cars if ride sharing is really a part of the government's policies.
He said that their company believes that by putting four to 40 people to use one vehicle, it can solve traffic congestion.
Cat Avelino, Uber Philippines' Head of Communications, said that while their car pooling service is one of the highest rated in the Uber network all over the world, with 40 percent of their clients in Manila using it, ride sharing is still not fully embraced by Filipinos due to reliability — when a rider uses the app and is unable to book, the rider would be compelled to bring a car.
She explained that the inability to book is because of heavy traffic — it takes an Uber driver longer to meet his quota, therefore the fares are higher because the trips are longer.
Gonzalez said their company is constantly working with the government through their program Uber Movement, which aims to provide the Department of Public Works and Highways with data derived from daily Uber trips, to help in urban planning to help solve Manila's traffic problem.
"We are continuously working with the government, so the government can realize the advantages of ride sharing…Through these, we hope to achieve 85 to 95 percent reliability like in US, Australia and Singapore," Gonzalez noted. — Video by Deni Rose M. Afinidad-Bernardo, editing by Kat Leandicho
RELATED: WATCH: Uber explains how they protect partner drivers