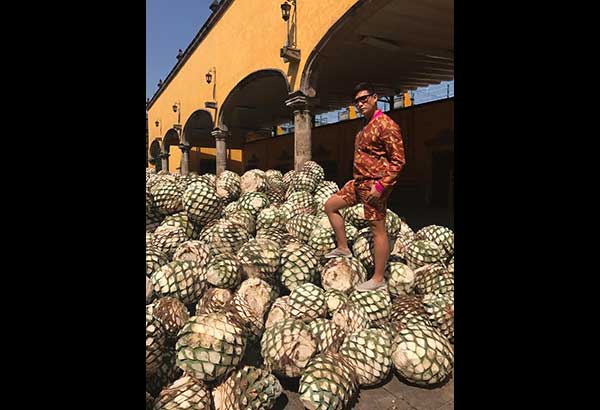 Agave, Maria! On top of the raw material before it gets to be the tequila that we all love and enjoy
A love letter to Tequila, Mexico
SUPREMO
-
Tim Yap
(The Philippine Star) - August 26, 2017 - 4:00pm
I made sure to have zero expectations on this particular trip. People have so much to say about Mexico — the good, the bad and the ugly. And I understand that completely — the outside world has always had opinions of the Philippines — even those who've never been here to speak of it firsthand. So we of all people should know how it goes. We live in a world of first impressions and social media expressions. But I didn't want to hear any of it. I wanted to experience the place with open eyes and an open mind.
Fast forward to my being aboard the Jose Cuervo Express from Guadalajara to Jalisco, off to a little town called Tequila. Yes, there is a town called Tequila, I told myself, as our train went past fields of agave, the plant responsible for producing that invigorating, golden, craze-inducing drink that has become synonymous with Mexico and many an unforgettable (or wish you could be forgotten) night.
It somehow always starts the same way. Someone brings out the shots. You say no... in the beginning. Then, out of curiosity whether faux or real, peer pressure, or your own free will, you see yourself chugging that shot. Somehow, things start getting more fun, and people and everything else becomes louder. You are louder. And then the next thing you know, it's you who's distributing the shots. The night becomes a series of fun flashbacks that you only realize with a smile the next day when you wake up.
I tried my darnedest to steer away from this behavior the whole time I was in Mexico. I wanted to absorb as much culture, meet all sorts of people and eat all the Mexican food that is humanly possible. I think I was able to check off all of the above, and more. A shot or two or three of Jose Cuervo always made the moment rise to the occasion. Hey, I even learned how to sip it the way Mexicans do.
Guadalajara to Guadalupe
I went ahead on my own to explore Mexico City. The interesting mix of high-low co-existing in seeming harmony in a highly textured and colorful city was fascinating, to say the least. Guadalajara was next on my list, as this was the place where people say you'll get to experience the real Mexico. It's also where the Mexican Miss Universe winners are from (I don't know how I know that tidbit, but I do!) Here, I meet up with Jose Cuervo's Team Philippines — a motley crew of tequila-loving Pinoys from diverse industries out to seize each moment of life.
Seize each day we did, and each night, too. Cultural walks in the morning from museum to mall to Mayan relic centers to markets to Marian churches to leisurely strolls hopping from parks to authentic and fusion restaurants and bars and dance clubs at night. Our hosts, the Jose Cuervo Mexico team, lost no time in having us experience their culture and their people, warm and fun-loving till the last drop. I was also very fortunate to have travel mates who had wanderlust etched into their souls. I couldn't have asked for a better travel-and-tequila group.
In Tequila town, we were given the walk-through of how tequila is made. From soil to bottle, showing the journey of how the humble agave is harvested, processed, fermented and brought to our tables and shelves as Jose Cuervo's finest. It was an eye-opening tour, handled with care like fine wine and passed on from one generation to the next. This was, after all, Mexico's prized product to the world.
"Mi casa es tu casa" often spilled from the mouths of our Mexican hosts. But somehow I knew they really meant it. From the welcome reception to every planned breakfast, lunch, dinner and party to the fiesta at Casa Cuervo that was a fitting finale for the trip — the Mexican people's distinct sense of hospitality shone through. Whether we were doing our limbo rocks, train dances, or shot-after-shot with newfound friends and strangers, nothing bonded us like good times armed with that transparent liquid that embodied the Mexican spirit.
I'll raise a shot glass to that. Viva Mexico, indeed.
* * *
More adventures @officialtimyap on Instagram and Twitter.