An amazing artwork called Amarela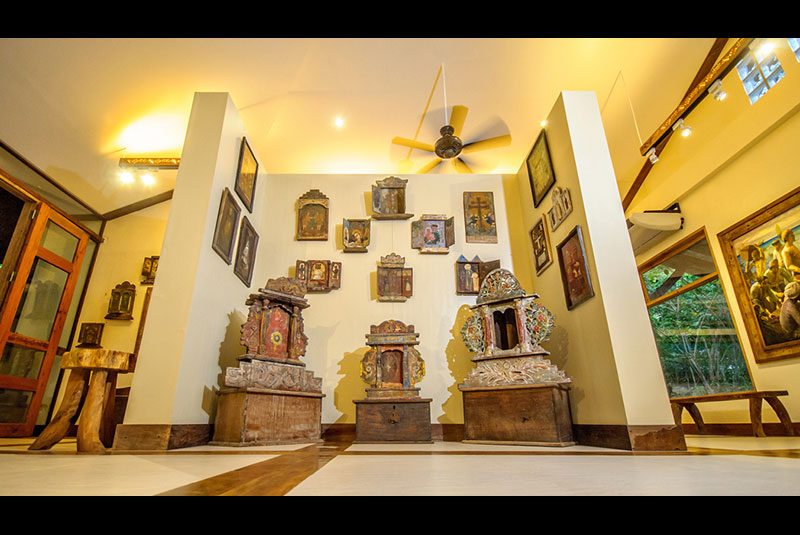 Amarela is a paradise on earth. Blessed with a mesmerizing setting, Amarela resort is situated on top of a gentle slope with an expansive view of the cascading sea and surrounded by lush vegetation. The resort's beachfront is part of the longest strip of white sandy beach in Panglao Island, Bohol. The province of Bohol is a prime eco-cultural destination with wonderfully diverse flora and fauna. Taking all of these into account, it is only natural that Amarela is a strong advocate of preserving the environment.
My sisters Jaqui Boncan and Michelle Soliven and I enjoyed this resort during a recent visit. Over a hearty lunch of chicken curry, pumpkin soup and grilled prawns, we learned a lot of wonderful things about this property and the rich history behind it.
Officially opened in May 2006, Amarela is something that was created by chance, necessity and a lot of prayer. Resort owner, lawyer Lucas "Doy" Nunag, a native Boholano who has spent most of his university and working years in Manila, is currently the chairman of the Bohol Tourism Council. His family would visit Bohol almost every year so the property where Amarela is was earmarked for a vacation house. However, as he retired in 2004 and began planning, he found out that the area was designated as a tourism estate. This meant that only income-generating tourist establishments could be developed on the lot. The general consensus among the family was to convert the house they initially had in mind into a small inn, sort of like a bed and breakfast.
"It was a complete leap of faith — no one in my family had any business or hospitality background. This was also going to be the first resort project of our architect, Rosario Vasquez-Victorino, who had previously designed our past two houses in Manila," says Doy.
He adds, "While conceptualizing the resort, my family and I thought about what people look for while on vacation at a beach as well as what we've seen in our travels. We realized that, at that time, there wasn't a resort that incorporated Bohol's rich heritage and culture in its design and operation. We agreed that we would aim to create a place that would allow guests to truly experience Bohol holistically, not just through their outdoor activities but also in the resort itself. The kids had some more modern conveniences in mind — a TV in every room and an extensive library of DVDs and books. We built on the library over the years largely from donations from family, friends and even some guests who would bequeath us the books they brought with them."
Amarela Resort has been an advocate for local art and culture since its inception. Doy has been collecting art pieces and antique décor, old implements and furniture from Bohol since he was a practicing lawyer. When Amarela was conceptualized, an opportunity was presented­ — to create a venue where Boholano heritage, art and culture could be preserved and showcased. The resort could be a venue for people to truly experience local flavor through artistry and craftsmanship.
The resort structure itself bears old wood accents such as balusters, latticework, windows and doors, from old houses around the island. Antique artifacts such as wooden altars, household objects and furniture, and local paintings are prominently displayed, adding color and character to the guest experience.
Doy shares that much of the design of Amarela's main house was jumpstarted when he acquired old hardwood from a house located along the way to the town where he was born. "It was the home of a famed sculptor and I distinctly remember that during Christmas, the former owners used to display a beautiful wooden nativity scene for all to enjoy. Most of the main building's decorative elements were taken from that house — large wooden doors, wooden shutters, balusters and flooring. After this, we realized that using reclaimed old wood not only gave the house the Boholano spirit we were aiming for, but it also repurposed the incredibly durable and beautiful old hardwood, which would have been used for kindling in local bakeries. We also found old furniture, some in need of repair. As it happens, Antequera, my hometown, is known for its craftsmanship in woodworking and weaving. My brother found a talented carpenter, whose day job was driving a habal-habal motorcycle, who agreed to help us with the refurbishment of old furniture as well as craft new furniture using traditional designs."
The décor was also inspired by objects that had history and beauty — art and antiques. "I started collecting local art and antiques as a young lawyer, inspired by the partners at my law firm who would use artwork from their personal collections to adorn our office. My family decided that a majority of these pieces should be displayed in the resort to allow guests to appreciate Filipino and Boholano art and craftsmanship. The antiques were also a great way of showcasing the history and traditions of Bohol especially since a lot of high-quality antiques originate from there."
A number of paintings and sculpture from local artists have also been added to the collection. Notable among these are the works of the late Hermogena "Nene" Lungay, who was a classmate of National Artists Napoleon Abueva and Jose Joya. Her lovely works showcase old Boholano traditions as well as delicate renderings of local fruit and flowers.
Another prominent Bohol-based artist whose works are on display at Amarela is Guy Custodio, who has revived the traditional "Bohol School" painting style. Guy usually paints religious themes on old recycled molave hardwood.
The third Boholano artist whose works are featured in Amarela is Sherwin Tutor whose subjects are Bohol historical events done in highly detailed figurative style.
Amarela created an art gallery on the property to showcase its collection of local art, antiques and artifacts. This is a strong commitment to the promotion and appreciation of local art as well as the preservation of Boholano culture and heritage.
"Our advocacy for environmental conservation started from the beginning. During construction, we made sure to keep most of the plants and trees in the property; since then we've managed to add more endemic plants to the property and created our own herb and vegetable garden in the process," he says.
He adds that green practices have been incorporated into Amarela's operations since its inception. During its construction, great care was taken to preserve existing trees and vegetation. This led to ensuring that the habitat of local birds, butterflies and other animals were conserved. Recycled wood retrieved from demolished old houses on the island was utilized in building the resort's structures as well as decorative accents. Antique tables, chairs and artifacts were given a new home. Public areas were built with energy efficiency in mind, maximizing the use of natural light and the sea breeze. A reed bed was created to naturally process and recycle wastewater from the bathrooms and kitchen for use in watering the landscape. Other initiatives include the use of solar heating, and use of energy-efficient fixtures, rainwater collection and waste management. The resort also manages its own backyard garden where herbs, vegetables and some fruit are grown utilizing natural methods such as fertilizing with compost and vermicast. The produce is used in many of the dishes offered in the restaurant.
A major feature of Amarela that makes it truly Boholano is its 100 percent local staff, many of whom are residents of the nearby barangays. Amarela's staff truly showcases the warmth and hospitality that the province is famous for. They are all so very hardworking and kind-hearted. "We are so lucky that we still have a number of people who have been with us since the beginning. Truly, it is our people who make our Amarela and our guest experience so memorable."
Amarela, the only two-time ASEAN Green Hotel Award recipient in Bohol, is also the only resort in Bohol that has an extensive collection of books and DVDs (more than 2,000 titles) that guests can borrow for free.
Like a true paradise, Amarela will tease your senses to no end. Summer may be over but the resort will warmly welcome you to a world all its own.
You cannot resist Amarela's charm. You can only give in.
* * *
For more information, call Amarela at 0917-774-7200. Look for Ms. Nadine.
E-mail the author at [email protected].
Bohol Tourism Office Governor's Mansion Complex CPG Avenue, Tagbilaran City: (038) 501-9786 or (038) 412-3666, www.boholtourismph.com