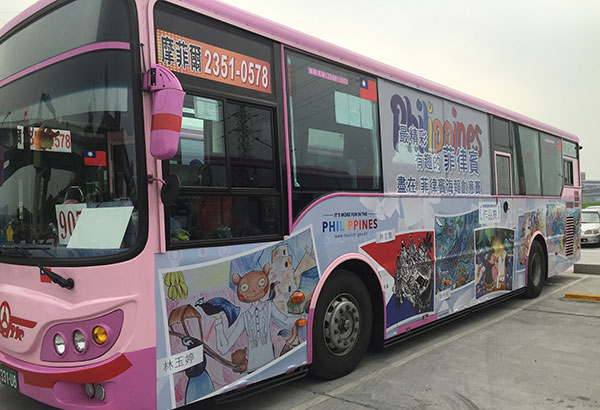 MOBILE POSTER. Buses in Taipei feature artworks on the Philippines.
Philippines 'invades' Taipei
MANILA, Philippines - Hundreds of public utility buses in Taipei began sporting last week artwork depicting the Philippines' culture and tourist attractions to entice Taiwan nationals to visit the country.
Manila Economic and Cultural Office resident representative Angelito Banayo said the bus advertisement project in Taipei launched last May 1 is aimed at promoting the country as a major tourist destination for Taiwan nationals.
The artworks used were from Taiwanese artists who won the Department of Tourism (DOT)'s poster art competition last year.
"As iconic as the taxis in London, we believe that the city buses in Taipei are effective advertisement tools for our enhanced tourism campaign," Banayo said.
MECO director for tourism affairs Hazel Javier said the winning artworks were also printed in the Taipei City "Easy Card," Taiwan's widely-used convenience and transportation card system, and displayed as posters in city train coaches.
Javier said the DOT has recorded a 28.8 percent spike in Taiwan tourist arrivals to the Philippines from January to March this year compared to the same period last year.
The DOT embarked on the project after the Taiwan government implemented its "southbound policy" to boost economic, trade and cultural relations with Southeast Asian nations and India.
One of MECO's main thrusts this year would be promoting the country's abundance of "sun, sand and sea" to attract Taiwanese vacationers.
The bus ad project also served as the kick off for other activities leading to the commemoration of Philippine Independence Day on June 12.
Shangri-La's Far Eastern Hotel will be featuring Filipino gastronomic delights in its daily buffet offerings starting June 1 while Philippine food products will be displayed at the annual Taipei Food Show from June 21 to 24.