Should you invest in art?
Do you invest in art? If we say that only around 1% of Filipinos invests in the stock market, an even smaller percentage invests in art.
Why is art investment not popular?
1. It is perceived as too high end, a luxury.
2. It is perceived as high risk.
3. It is not very liquid.
4. It is not regulated.
5. It may have high transaction costs if one considers buying/selling through galleries or auctions.
6. It is at the mercy of unpredictable public taste.
All of the above are enough to turn off the regular Filipino who is facing challenges to make both ends meet in his third world country. This is unfortunate because we have an abundance of talented Filipino artists in our midst.
Our family's art journey
When I was a young girl, I also enjoyed doing art – coloring, sketching, but no genius in me came out.
When I gave up my investment banking career to become a full-time homemaker, I found myself enrolling at the University of the Philippines (UP) and my classmates were young Fine Arts students. I took up subjects in Painting and Photography and enjoined it.
My husband, Marvin, liked my water color pieces. I also got into black and white photography and even remodeled our kitchen to be a Black and White Kitchen. I took photos using good-old film in the UP studio. I designed the cabinet doors together with Rolin Panels, a modular cabinet maker which was just starting then. We made the back of the cabinet door to be like picture frames so I could change the photos as the boys got older. (Note: I never changed the photos, maybe subconsciously preserving their younger years? In fact, I'm doing a kitchen remodel now, also with Rolin, and I'm keeping these photos!) I have sketches here and there displayed in our bedroom and in my writing office in Katipunan.
We also encouraged the boys to do art. In fact, my oldest son Martin's seventh birthday party was a "High FQ" celebration because he prepared dozens of his art pieces which we displayed all over the house for the guests to purchase. He wrote in his home-made invitation something like this, "Instead of gifts, you may wish to join the auction of my art pieces on display. I will use the funds to buy my Sega console." (The background of this was that we had reservations buying him this toy that he really wanted, and we came up with this creative compromise. To know more about it, read Chapter 6: Money Matters of "Raising Pinoy Boys"). Today, if he has time, he is still our best family video maker.
Youngest son, Anton, would sometimes do art as well and requested me to display his pieces on our walls. Today, he is fascinated by sunsets and takes a lot of such photos that he shares on his IG doremifausto.
Middle-born, Enrique's art is more into music. I have been using three of his songs: "New Journey" for my FQwentuhan and Money Lessons videos; "Next Time" for my Childhood Money Memory workshop exercises; and "For Mama", the background music of my poem Be There and also used as our Silver Wedding March performed by the Pasamba Orchestra.
The Honey's art is playing the piano, which he does when he tries to relax.
When it comes to investment in art by the real artists, we may be considered light-weight, or maybe even feather weight.
We first bought three oil paintings for the house back in the 1990s. Of the three artists, I am able to locate one of them to have pieces being auctioned here and abroad, but I think still below the million-peso mark.
In 2013, The Honey gifted me with a commissioned Orlina. We got to know Ramon Orlina and his adorable Malaysian wide Lay Ann. Last we heard, the shortest waiting time for a piece is now two years, and it seems like the value of the piece has multiplied over 10 times.
In 2014, I gifted the Honey with a Michael Cacnio piece, also commissioned to commemorate our Silver Wedding Anniversary. Mike happens to be the brother of my high school batchmate, Abie, and we also met his tall and attractive wife Tess. I am sure that piece has also multiplied in value many times if I'm going to base it on the hammered price of the pieces auctioned recently at the Leon Gallery. His work is being imitated by other sculptors but the original is still the best.
A side note: These great artists' wives, Lay Ann Orlina and Tess Cacnio, are both in charge of the pricing of their art pieces. You cannot talk to the artists themselves when it comes to the pricing and I think this arrangement works like magic and has contributed to their success.
As we finish up our home renovation, it's a joy to look around for art pieces that can give those soulful final touches that we can also consider as investments. Art expert Maritess Pineda is giving us advice on this. Her son Carlo is the president of Art House, a creative multi-channel platform that helps budding artists reach a wider audience. It recently held Hulma, an exhibit for three Filipino sculptors – Anita Del Rosario, Jef Albea, and Enon de Belen. We also attended an art auction recently at Leon Gallery and I was floored to witness an archaic wooden bench that started at P2,000,000 and just got higher and higher, until it was hammered at P17,000,000! Huwaw, right?

Aside from paintings and sculptures, I also consider some of my furniture pieces as art – those made by Kenneth Cobonpue and Claude Tayag. Even the wooden pieces we got from Baguio by unnamed craftsmen seem to have soul that makes you want to keep them forever.
In the next few days, we plan to visit other artists. I'm looking forward to this.
Is it worth including art as an asset class in your portfolio?
Aside from the monetary return we get from our art investments, should we decide to sell them, I think the returns also comes from the satisfaction of enjoying the pieces. I do believe that art feeds the soul. Really, when you're in a mall with art galleries, try to spend time looking at the pieces leisurely, it's free to look and stare at them and enjoy.
I'm hoping that someday, someone would put up an "airbnb" for art. It might be perceived as risky but I'm sure we will find solutions to mitigate the risks. Whoever thought that owners of beautiful homes would be willing to have their places used by strangers? I have been convincing someone to do this and I hope she gives it a try. Wouldn't it be great if art pieces collected by someone can be enjoyed by more people?
To go back to the question, "Is it worth including art as an asset class in your portfolio?" let's put it this way:
First, make sure all your debts are paid, your emergency fund is in place, and your retirement nest egg is being funded.
Then consider having art in your portfolio. Art is a store of value that generates decent returns. Despite the six disadvantages stated above, an advantage that is worth noting is this: It has a low correlation with stocks and bonds, and therefore, greatly helps in diversification, an important tenet in investing that we should always remember.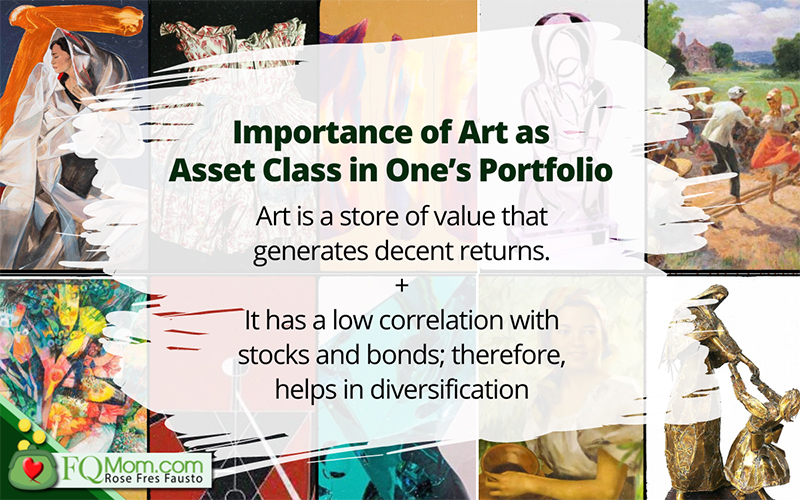 Let's talk more about art on Thursday
Do you remember Raymond Lauchengco? Yes, he was one of the main stars in the iconic movie (especially of our time) "Bagets"! During the pandemic, he found himself a new passion and occupation. He is now a prolific sculptor and also teaches Kintsugi, the Japanese art of putting broken pieces back together with gold. This is not just artistic but also poetic and philosophical because it reminds us of being human. So, join us in this conversation entitled "Bagets to Paets."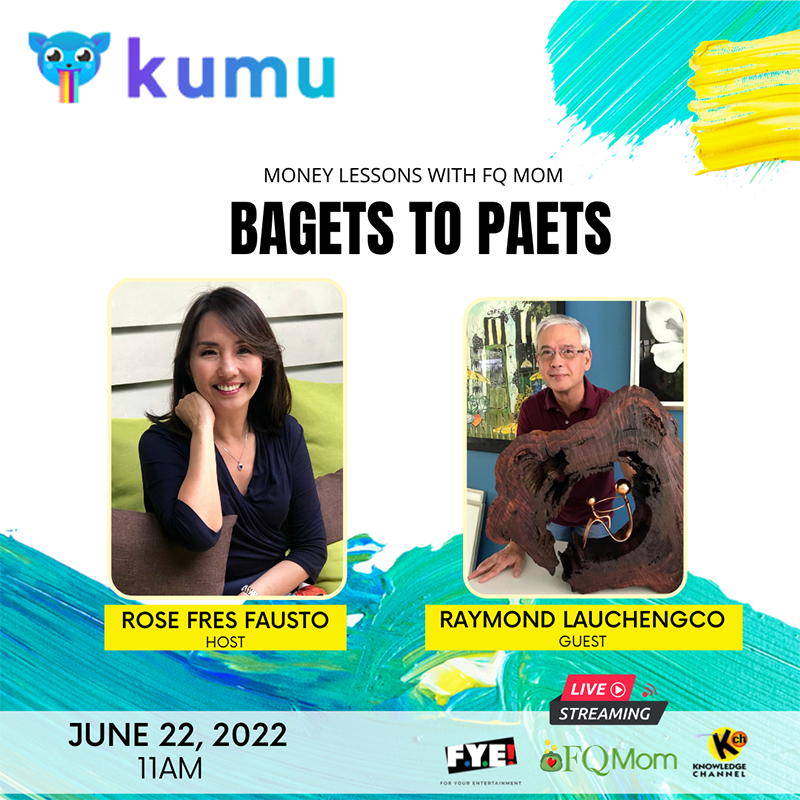 ANNOUNCEMENTS
1. To learn more about your money behavior, get your copy of FQ Books and for your loved ones too. The principles you will learn from here are not only applicable in your financial life but all the other important aspects of your life. https://fqmom.com/bookstore/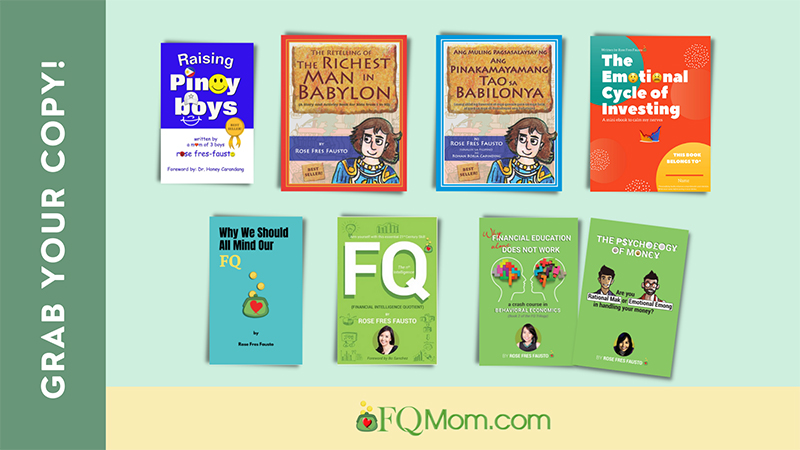 To know more about "FQ Book 2", watch this short video.


2. How good are you with money? Do you want to know your FQ score? Take the FQ test and get hold of your finances now. Scan the QR code or click the link http://fqmom.com/dev-fqtest/app/#/questionnaire.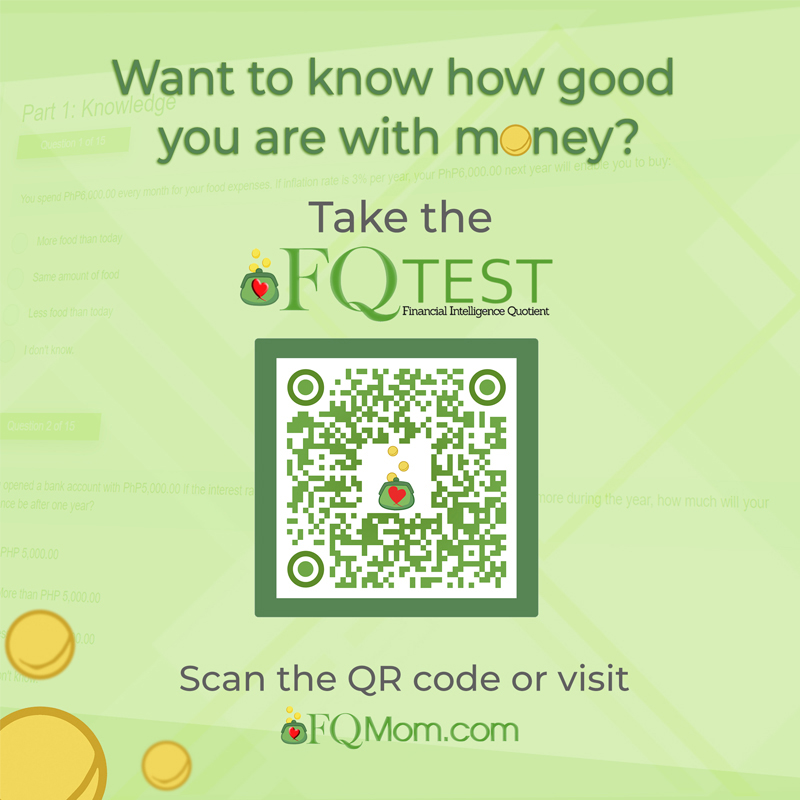 This article is also published in FQMom.com.

Attributions: Images from Askart, Artsy, MutualArt, The Food Alphabet, Invaluable, Leon Exchange, Loopme Philippines, Crown Asia, Charlies Art Angel, Christies