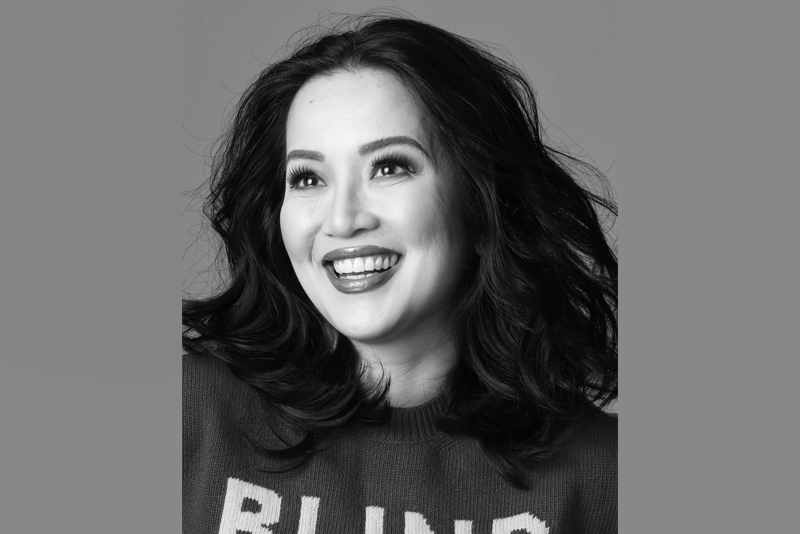 Kris Aquino feels at home in the digital space, chancing upon a place where she can completely be in her element.Photo by Mark Nicdao, Styling by Kim and Boop Yap, Makeup by RB Chanco, Hair by Jonathan Velasco
There's no stopping Kris Aquino now
Kara Ortiga
(The Philippine Star) - February 17, 2018 - 12:00am
'This is all self-made, built from the ground up. It wasn't supported by a network, it didn't come funded by a big conglomerate. At the end of the day, if you're going to start something, it starts with a vision — but that vision will only work if you're willing to put in the work.'
MANILA, Philippines — Even when she isn't feeling at the top of her game, Kris Aquino will muster up the strength to commit to a packed workday. On a Wednesday afternoon, about a week before her birthday, her home is filled with carnation balloons, pink roses, and cupcakes. Every corner of the house has people running about: a hardworking production crew, staff from her company KCAP (Kris C. Aquino Productions), the help that keeps the household maintained and managed, and her two sons. Everyone is comfortable and familiar with one another, filling the entire space with lots of energy and warmth. But no one can command the room to be quiet like Kris Aquino making her grand entrance.
Since launching her social media platform with finance guru Nicko Falcis, Kris's comeback to rule public conversation via online has been both entertaining for viewers, and impressive for business strategists. Content creators are left scratching their heads. Her vlog posts on YouTube reap thousands of views in an instant — her highest rating yet, a video featuring a branded content tie-up with PLDT Home, tours us through her house across three episodes, and racks up a total of 14 million views.
The digital sphere has opened a whole new world for Kris, and it has also opened Kris up to a whole new world. For her audience, it means offering a more intimate look at her life without the limitations of TV. Here, her social media team is free to put in all the stuff that networks usually edit out: the in-between moments, the snarky side comments, her interactions with the team that keeps her together: Jack,RB, Jonathan, and Bincai; the candor and the honesty, and even her humorous back-and-forth with Bimb — it's all there. In a sense, we finally see what helps put together an iconic image such as hers. (Answer: quite a number of people.)
Kris says, "The millennials get me. I think I'm self-aware enough, and I'm so comfortable in my own skin that I don't care about memes anymore. Kasi they even call me the 'queen of all meme-media,' so okey na rin sakin yun. I think for this to work you have to have a good sense of humor. The transition was easy for me because I didn't have to change anything — kasi it would be hard if you're used to being (a celebrity) in this cookie-cutter form… but I've always been like this. The truth is with social media: it is really about what is authentic to you."
In a time when traditional media struggles to find its footing in modern day communications, shifting from the old ways to hustle toward the online realm is a tough endeavor, and those who succeed obviously put a lot of thought (and money) into the work. Kris's sudden viral-ability is not an exception — it's something that she and her team constantly work on. "I think it's so important that you show to other women that there is a reward in being dedicated, in doing the job, and in doing the homework. Because I wasn't just beautified and then here I am right now. There's so much reading and learning that goes into this — because every day I have to keep learning, because every day there's new information." Her encyclopedic knowledge and wide spectrum of taste for pop culture (from BTS, to Eminem, to Taylor Swift) can attest to this. And this is also probably why we find ourselves glued.
But she admits that she also had "first-comer advantage — I was the first to get into this game. And the only reason I was the first is that this was the only door open at that time. And I felt that if I did not give it one last shot, I would regret it for the rest of my life."
There is joy to be found in the queen's ruthless forthrightness, and there is reason to find pleasure peeking into her unapologetically superfluous lifestyle. It's almost uncharacteristic for our culture — to be so straightforward and to be so privileged. Which is maybe why it's also so riveting to see. "What I'm learning is pag pinilit ako to do something I'm not happy with, they also see it," she says, referring to her viewers. Meaning that when she's not being genuine on camera, "ang baba ng views. So now they (the company) learned: 'Kung ano nalang gusto niya, obviously magugustuhan ng tao.' Because I'm really transparent."
And this transparency, in a time of fake news, online vitriol, and cyber bullying is a breath of fresh air. Who would have the guts to do a "bag raid" episode — with not one, but three bags: an Hermès Birkin, a Goyard tote and a Louis Vuitton, complete with every necessity that would put a Girl Scout to shame? If people weren't watching because they were fans, they tuned in because she provided some exhilaration in a time of social media fatigue. And it helped that, sometimes, she would throw in a little bit of crazy.
Kris will admit that her TMI (too much information) nature works to her advantage because the audiences today can see through the BS. So that at least in terms of engagement, there is a semblance of something real. And it terms of endorsements, she just cuts to the chase, leaving both consumer and brands with less fluff to plow through. "I'm not going to fool everybody na what you're seeing is everything ha… what you're seeing is a cleansed, edited, and beautified version. And I think that's also why you like it."
Of course, this kind of braggadocio and self-awareness is a quality that comes with years of introspection. Something that a person constantly dealing with the spotlight has to arm herself with. "My mom sat me down when she became president, and she said, 'Your life is really going to change. And everything that you do will be under a microscope, and it will be magnified.' I remember distinctly that I was 15 or 16, and there was this one really cruel article, and I cried my eyes out. My mom didn't comfort me because she said, 'That's part of life. You have to toughen up. It's not going to be a bed of roses.' And when I started doing commercials and started acting, she said, 'It's going to get worse.' So from the very start, I was taught: if this is what you want your life to be, then you have no business complaining."
She hastens to add, "But if you really follow me, pumapalag ako pag fake. Apart for my disdain for subject-verb agreement, wrong grammar and wrong spelling — kasi may spellcheck, hello — if you're going to say lies about me, I have the right to defend myself."
Kris, who just turned 47 last Feb. 14, feels that she has a lot to be grateful for. "I had to go through what I went through from the last quarter of 2016 to mid-2017 for me to realize just how blessed I am. The best part of this job is that you have a chance to really make people feel good about themselves. I also realized that you can be a game changer, because I was able to prove that (my content) is not only entertaining, but also a viable business model."
As millennials now start to question the credibility of the influx of their very own influencers — perhaps it's the authority of people like Kris Aquino that they turn to, to save them from the humdrum. It is quite a feat: to be able to maintain your relevancy across generations.
"I always say to all of them," she says, pointing to her team of around 20 patiently surrounding us in her home. "Let's not take this for granted. And let's make sure we're on our toes and we give them something worth watching. I'm emphasizing the value of hard work, because this is all self-made. This was built from the ground up. It wasn't supported by a network, it didn't come funded by a big conglomerate. All of the branded partnerships came after I believed that this could be viable. So at the end of the day, if you're going to start something, it starts with a vision. You have to believe in a vision — but that vision will only work if you're willing to put in the work." It seems Kris feels at home on the internet, chancing upon a place where she can be completely in her element. She is grateful about the new page that she has turned for herself, and remains hopeful as she maximizes the new opportunities in this chapter in her life. "I opened this door," she says, "and I intend for it to stay open for a long time."