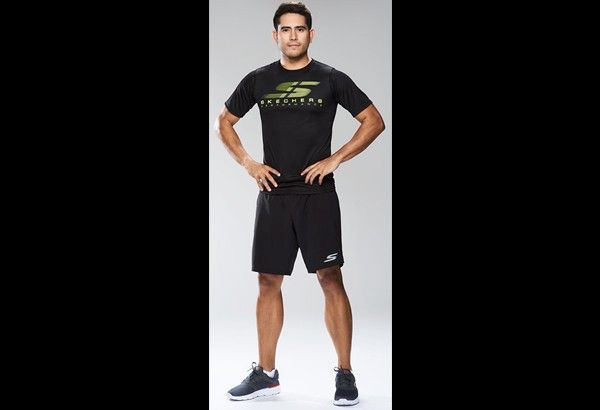 FEATURE: Gerald Anderson hits his stride
MANILA, Philippines - May mabigat ako na personal na dinadaanan," Gerald Anderson says, telling us how it all started. It was during the first quarter of 2016 and the showbiz headlines had nothing to report. It was an inner struggle; bouts of self-doubt. "The only thing na pumasok sa isip ko is tumakbo. So tumakbo ako." Was it a proverbial response to what his mind craved, to get away from it all? Quite the opposite. As his feet pounded the pavement, going the distance, Anderson emptied his mind and began to reshift his focus onto what really matters. He recalled, "Biglang nagka clarity." He came back with a list of goals.
It's not like the adrenaline rush is new to him. He's always had a natural athleticism to him and he's been playing basketball all his life. For somebody who once found running to be boring, unable to get past 3k, he has been running every day since, addicted to the natural high, moving up to biking, swimming, rounding up the three triathlon events he is now passionate about.
Supreme finds Gerald fresh off competing with the regional triathlon bests for the Powerman World Series in Clark ("I came in fourth place and then came in sixth place during the World Series in my age group," he shares), something he prepared for while filming the indie action-suspense AWOL and the early stages of taping for Ikaw Lang Ang Iibigin, his anticipated reunion with Kim Chiu. In the Kimerald reunion, Anderson plays an up-and-coming triathlete who trained in the school of hard knocks — diving for seashells, biking to wet markets to deliver the freshest catch, and then having to sprint to school right after, the urgency of survival his big motivator.
Most likely to succeed
You'd be hard-pressed to talk about Anderson as an actor without mentioning Chiu. The most popular guy in his school became the most popular guy in the reality show Pinoy Big Brother House Season 1, where it all began. He emerged as one of the winners, among the Big Three, launching his career with grand winner Chiu, his first love team partner-turned-secret girlfriend that was only confirmed after their breakup, she in tears. Their last project together was the 2012 romantic comedy 24/7 in Love. Fast-forward to the present, and all is well. Chiu is going strong with reel- and real-life boyfriend Xian Lim. Anderson is dating Bea Alonzo, bonding over a shared wanderlust.
But this reunion: Did he think it would happen again? "Our fans waited for this for so long. It's their time. Marami din ang excited and that positive energy comes back to us also. Ganado kami mag work."
He adds: "I just did one triathlon event, then the offer for the show came. It encouraged me. Dami ko na sinalihan right away."
He set his sights on his first marathon, the Skechers LA Marathon in March, his birthday month, as the Philippine representative. "I only ever participated in 10k runs and now I did 21k (during the World Series). I felt I could maybe do it," he shrugs. He has always used the American shoe brand for training, which Skechers saw in the last Powerman. The brand is currently trying to secure him as a local brand ambassador.
But with the long days and nights of taping, isn't it hard to manage both? "I can't imagine a day without running, para ko syang kape. I'm not functional without it," he says, running laps during breaks, biking whenever he can. As for the temptation to binge on set, he says, "Yung kagandahan sa triathlon is walang diet 'cause you're always burning food. You have to eat more, train all day long." But he has to hold off any fat-retaining sodium. He admits the mental preparation is hardest. "It's always the days before. I remember training with so many nerves but pag- dating sa event hindi na ako kinabahan. I would be so intimidated by all the pro athletes. But when you're prepared, kaya ko na 'to. That's where I get my confidence. I get excited at the starting line. Wala akong sisisihin kundi sarili ko. It's all up to me."
Team Player
Anderson is passionate about sports and it has never been just about getting fit. He grew up and learned about life on the court, playing team sports. He likens it to a microcosm of all human interaction. "Everything I know in life, even when I was starting out as an actor, I learned from sports — the sacrifices, the hard work, the necessary team work, I learned to apply that in my craft." He pauses, musing: "What's been interesting about sports and how similar it is to life in general is if I set a seemingly impossible goal, I put the work in, tapos malalampasan ko pa. Sometimes you don't reach your goal, but your goal is so high that even if hindi mo maabot yung goal mo may naabot ka parin."
He has his 2017 goals mapped out. "I want to establish myself as someone who takes everything a step further," he says. He wants to be cast in more films like AWOL where he portrays an ex-military officer on the run over foul play that happened to his troops. He wants to keep doing such roles, representing men that are rougher around the edges, something spurred by his supporting role in the 2013 crime thriller OTJ, sparring lines with Joel Torre under director Erik Matti, a story inspired by a real-life scandal. "A goal for me this year is to influence more action not for the sake of doing action but to give variety to the audience."
Animal advocacy
His real life is no less action-packed. Watching the news about rescue operations during Ondoy, then Yolanda, instead of complaining, Anderson thought of how he could do something about it with what he's good at. "Palaging kulang even if everyone is doing their best. We are a Third World country (and lack the necessary equipment)," he says. For three intense days, he trained with WASSAR (Water Search and Rescue) under the K-9 division. In July 2016, he was inducted as an auxiliary coast guard squadron lieutenant of the Philippine Coast Guard K-9 Search and Rescue Team together with his father Gerald Anderson, Sr. as captain and brother Ken Anderson as lieutenant. In partnership with his namesake foundation, he and K-9 units will be on call to assist in search and rescue operations in the event of a calamity.
As Anderson molds his path, he finds himself looking back at over a decade in the business but admits to being proudest of all he has started and set in place during the past year. "I wouldn't be able to do this without fame and fame isn't the end goal. Now I have this opportunity, I'm gonna do my best to inspire more people in different ways. I'm doing all this because when things got hard, I got inspired by Michael Jordan, Lebron James, by Lance Armstrong — you know, before the drugs," he says. Looking back to his teenage self, coming out of a reality show typecast, making a name for himself without a long-time love team, or even just early last year, a man battling personal demons. There's a long road ahead of Anderson and he's in it for the long haul; he's got his Skechers running shoes on.
* * *
Tweet the author @marbbiedoll.