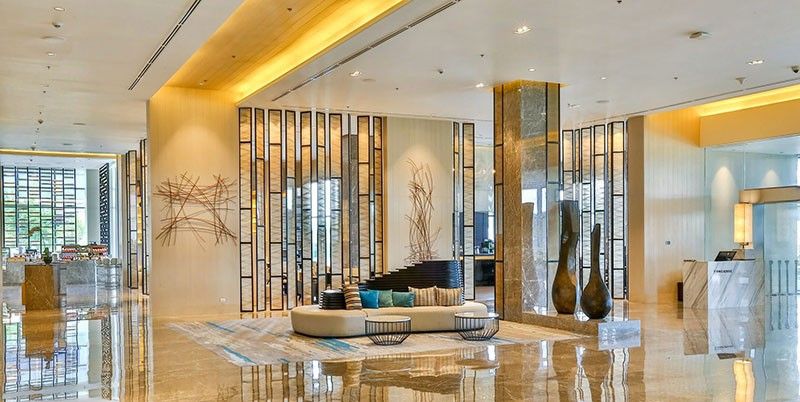 The lobby of Courtyard by Marriott Iloilo: The hotel is just a few minutes from the heritage churches and houses of Iloilo and a quick boat ride to the gorgeous beaches of Guimaras.
Photos by Ramon Tan Mangila
What's up, Iloilo? Mangoes, islands, & the new Courtyard by Marriott
MANILA, Philippines — You know you're in Iloilo when, at a poolside cocktail party in a new hotel, they're not just serving margaritas and mojitos but also batchoy soup in small cups. And guess what people from Manila are loving — the noodle-egg-innards soup that was invented by a Chinese cook in a hole in the wall in the city's La Paz district and is now famous nationwide.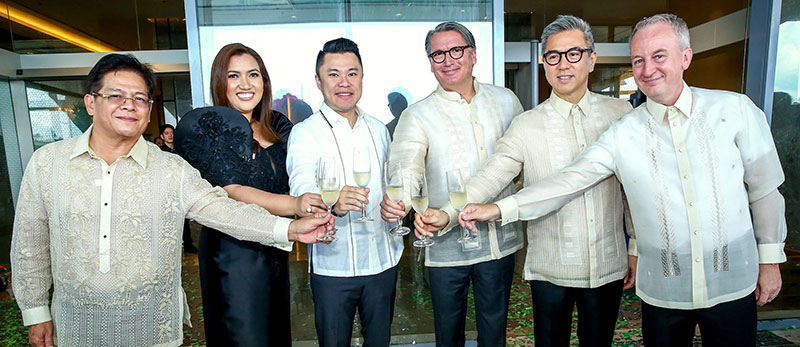 Iloilo Mayor Jose Espinosa III; Cleofe Albiso, GM of Courtyard by Marriott Iloilo; Kevin Tan, first vice president, Commercial Megaworld Corporation; Victor Clavell, area vice president, Luxury APEC & Bulgari APAC & Philippines; Kingson Sian, president, Traveller's International Hotel Group; Bruce Winton, Marriott cluster general manager
The whole city of Iloilo had a fiesta last week as it celebrated the opening of the new Courtyard by Marriott, the first in the Philippines and the first international hotel in Western Visayas.
Flying from Manila were Megaworld execs including Commercial Megaworld Corporation first vice president Kevin Tan, Traveller's International Hotel Group president Kingson Sian, Marriott Cluster GM Bruce Winton, as well as Iloilo Mayor Jose Espinosa III, and welcoming them all was Courtyard Iloilo general manager Cleofe Albiso.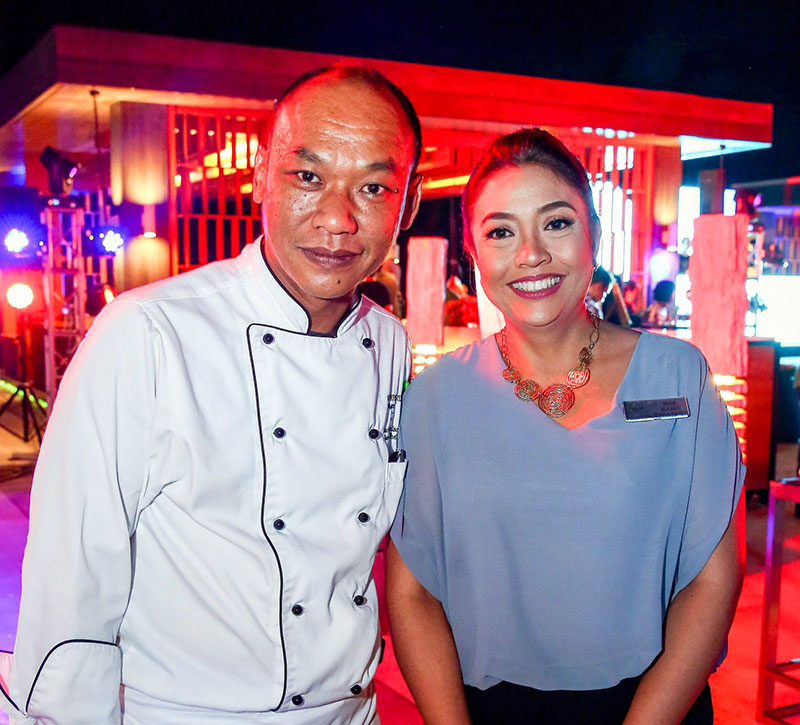 Executive chef Chachpol Suaisom and director of operations Maia Israel
Located at the 72-hectare Iloilo Business Park by Megaworld Corporation, it's a beautiful 15-story property with 326 rooms and suites, and only about 15 minutes from the ferry terminal that takes visitors to Guimaras island, which used to be part of Iloilo province.
Designed by P49Design and Associates, Thailand's foremost design firm, Courtyard Iloilo has a resort ambience and vertical elements softened by a neutral palette. Its rooms are large with comfortable beds and soft, almost calligraphy-like wall paintings, and four USB ports that allow you to charge your devices simultaneously.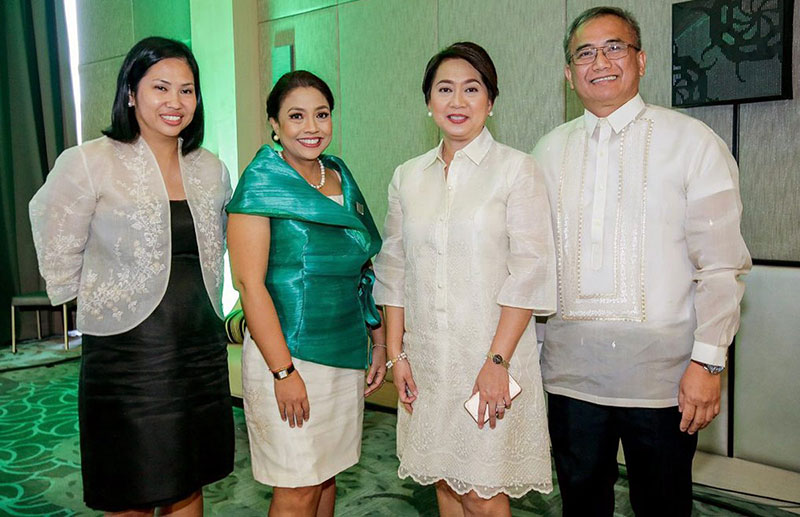 Marian Barnes, cluster director for human resources; Maia Israel, director of operations; Carmen Siongco, human resource manager; engineer Marcos Creencia, cluster director of engineering
The hotel uses a lot of natural materials, furnishings and accessories from Cebu and the Visayas. In fact, a lot of its staff are also from Cebu (and some from Manila), who have relocated to Iloilo with their families.
Right in front of the P4-billion Courtyard Iloilo is what used to be Iloilo airport's control tower. Yup, this is where the old airport used to be, and the runaway is the road that runs parallel to the hotel and goes into the heart of the business park, which has the Iloilo Museum of Contemporary Art, BPO buildings, residential towers, a mall with seven cinemas that's opening soon, and Iloilo Convention Center.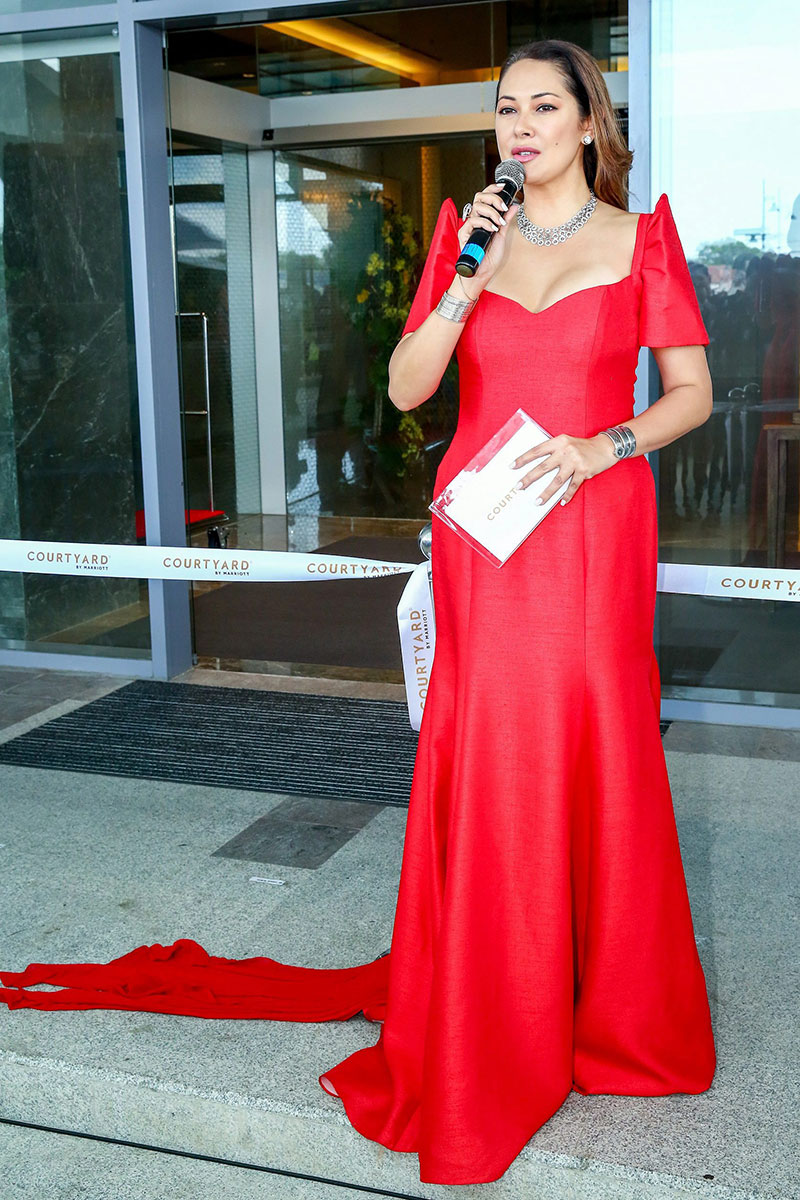 Actress Ruffa Gutierrez hosted the launch of Courtyard by Marriott.
Sian says, "This is all the vision of Dr. Andrew Tan. When we acquired the property in 2007 for P1.2 billion, we said we would commit P35 billion in the next 10 years to build Iloilo Business Park. You can see we we're true to our vision. I think the real proof of whether we are successful or not is that if you ask Ilonggos how they feel about it, they will tell you they are so proud of this project. They have embraced this development as their own, which in the end it is."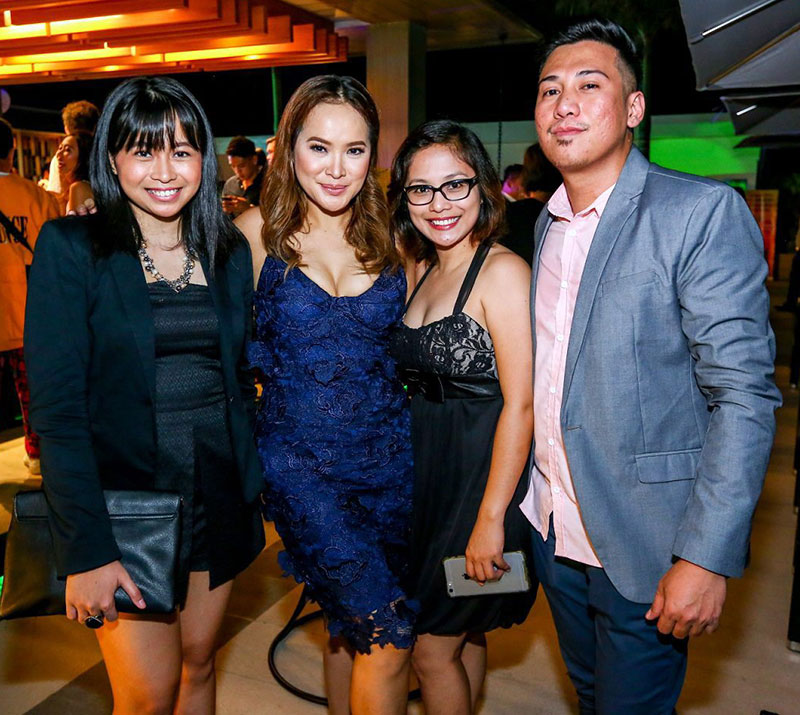 Hope Velasco, marketing communications officer, Marriott Manila; Michelle Garcia, cluster director, marketing communications; Abby Silva and Jaron Nepomuceno, senior artist of Marriott Manila
He adds that Tan's vision was to build a new township in Iloilo, "where people can congregate, bring in new ideas. People used to say, Ilonggos will not buy condominiums because they love their houses, but we're selling our eighth tower now. It proves that with the right development and components, which is live, work, play, and learn community, it will attract the right kind of people to be here. Some are overseas Filipinos, some are investing, some want to live in a place like this. There are also companies that have located here — call centers and banks that will build their regional centers."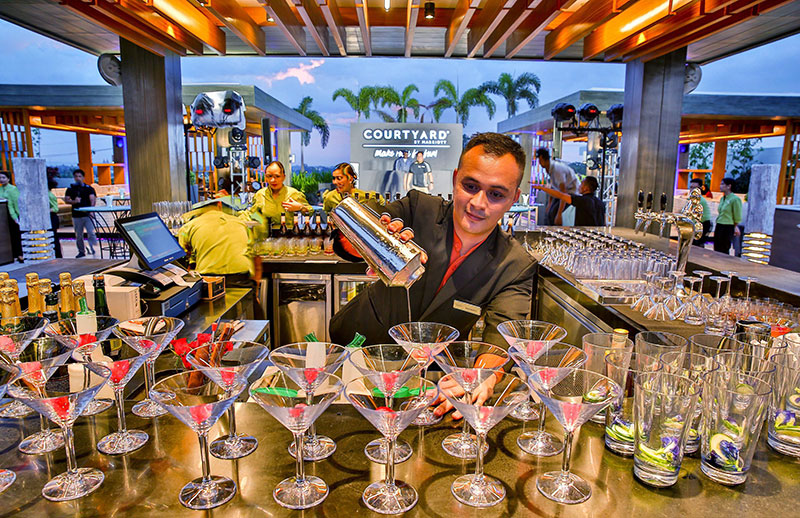 Pool party and fireworks welcome Courtyard to Iloilo.
On why the brand Courtyard by Marriott was chosen, Sian says, "We always look at the environment and location, and put the right kind of product at the right price and level so we can grow the business. Together with Marriott, we did the research and found out that Courtyard is the right brand."
Callette Nielsen, Courtyard VP and global brand manager, says, "From day one, Courtyard has prided itself as a brand that listens to business travelers. Today's technology has changed how people travel. Our guests want a room that has purpose and flexibility, which enables a seamless transition between relaxing and working. Courtyard is designed to offer them a relaxing and functional space to work the way they wan to, when they want to."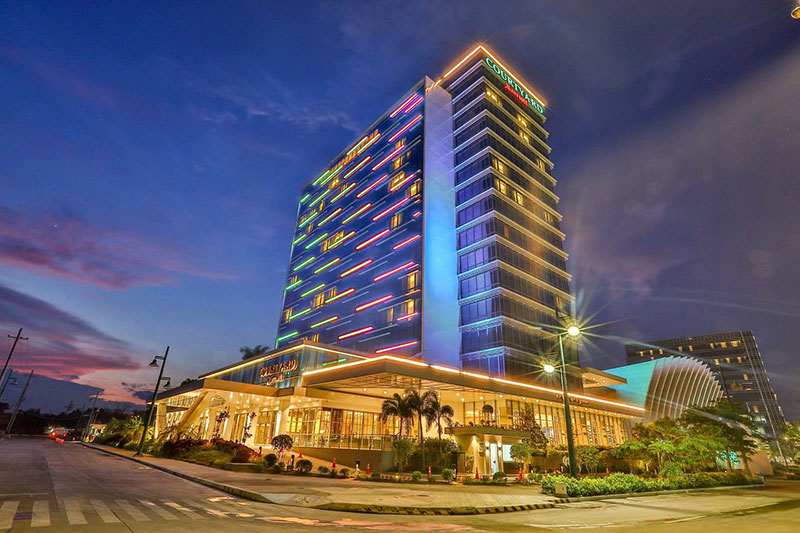 Courtyard Iloilo is where the old Iloilo airport was and what used to be the runaway is now a road running parallel to the hotel and leading to the heart of the business park.
I've stayed in several Courtyard hotels in North America and Asia, and I can honestly say this is by far the prettiest Courtyard I've seen.
Sian agrees, "The regional people from Asia came here and said this is possibly the best-looking Courtyard in the region. They just opened a new one in Singapore and they said this one is better. The point is, hindi natin tinipid ang mga Ilonggos."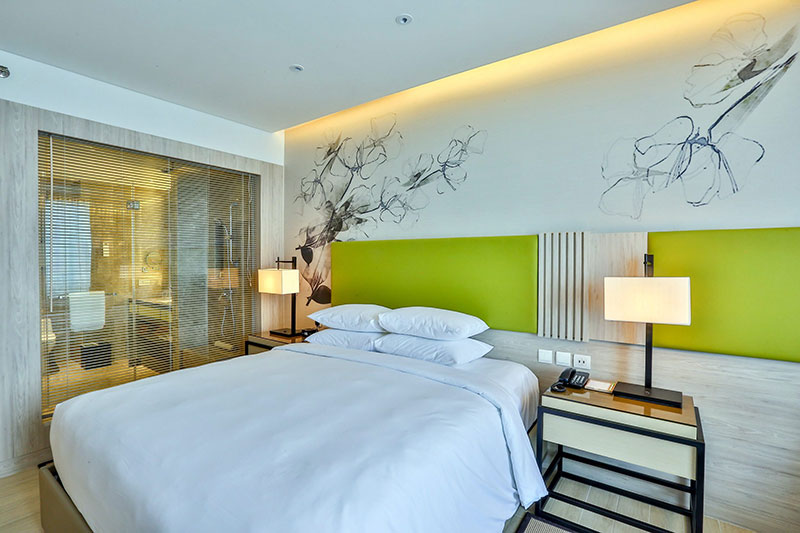 Green is the signature color of Courtyard and it's also now a practice in terms of recycling. The rooms are large, comfortable and have four USB outlets for simultaneous charging.
Courtyard Iloilo is also just minutes away from the city's historical churches, Jaro Cathedral and Molo Church, and heritage houses. And did I mention a short boat ride to the beaches of Guimaras?
On our second day in Iloilo, Marriott's communications team from Manila and Iloilo took us island hopping in Guimaras. We found deserted beaches with the clearest waters and white sand, the sweetest mangoes and Filipino dishes made Ilonggo style — sinigang with mango, anyone? — and snacks made with mangoes. And seriously, the mango shake here is the creamiest ever.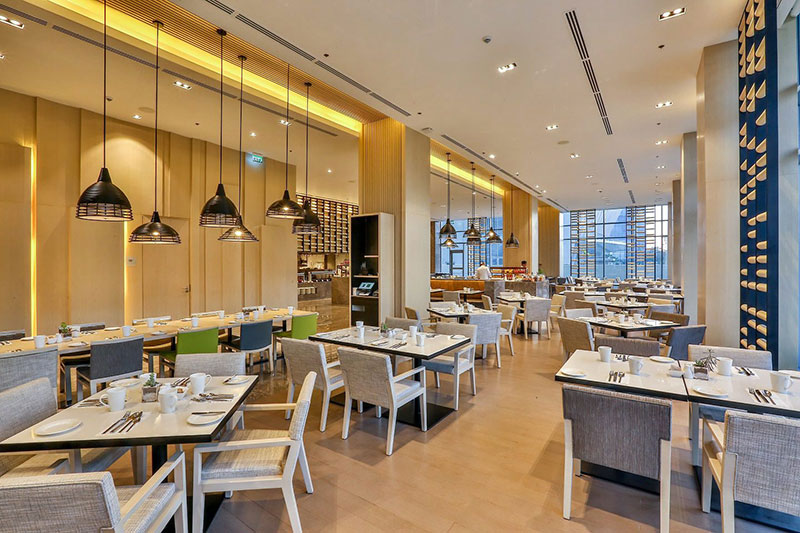 Runway Kitchen, the hotel's main restaurant
You know you're in Iloilo when you wish you could stay longer.
* * *
Check out the author's travel blog at www.findingmyway.net. Follow her on Instagram and Twitter @iamtanyalara.
Courtyard by Marriott Iloilo is located at Iloilo Business Park. For reservations, call (033) 330-7600 or book online at www.marriott.com/ilocy.