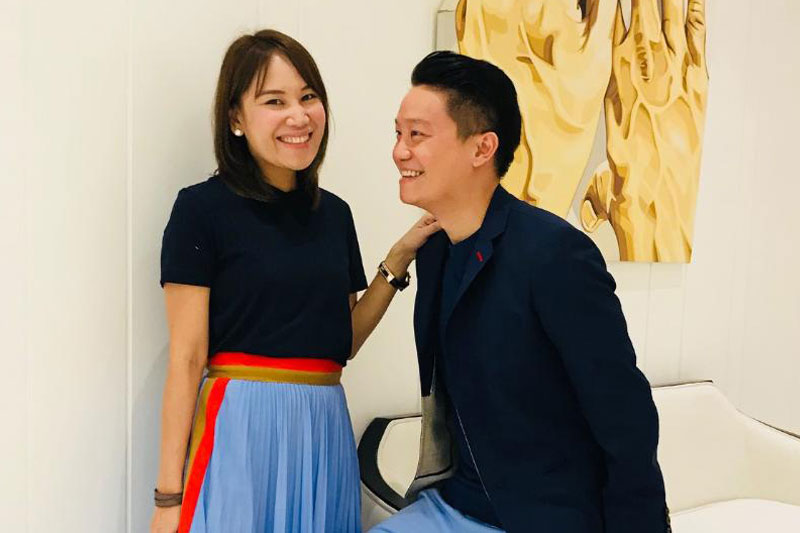 Dr. Z Teo and Dr. Aivee Teo de-stress from work by collecting art and travelling — often in matching outfits.
Prince William and Kate Middleton occasionally do it. And so do David and Victoria Beckham. Likewise, Brooklyn Beckham and Chloe Grace Moretz used to do it. Same with Justin Timberlake and Jessica Biel.
We're talking about twinning. Couples wearing identical or matching outfits. In fashion lingo, it was called "double exposure," couturier-turned -lifestyle savant Chito Vijandre says.
You see a lot of twinnings on Instagram. For Valentine's Day, you probably will see more. What's the idea here? One heart, one mind, one design ? Same outfit, same spirit? Love me, love my style?
Here are four couples with winning twinnings. What makes them wear stitches from the same fabric? Let's find out.
DR. Z & DR. AIVEE TEO: 'Togetherness makes us look and think alike.'
Dr. Z Teo and Dr. Aivee Aguilar-Teo are a couple whose names are synonymous with looking good and staying young.
The A-listers -- high society, screen celebrities, business personalities and politicians – trust in them . But while they're a top medical duo in rejuvenation, anti-aging and the dermatological industry, their story is more than just skin-deep.
They know how to love. They give part of themselves to others by conducting free clinics for the disadvantaged. And speaking of love, their love story is a heartwarming one that found its happy ending after a seven-year long-distance relationship that had them shuttling between the Philippines, Singapore (where Aivee spent a six-month fellowship at the National Skin Center in Singapore) and the UK (where Z took up medicine in Glasgow). Their union is a melding of two families — Z's parents run a chain of medical clinics in Singapore, while Aivee comes from a real estate and political family — so the couple and their three children divide their time between the two countries where they run their own clinics.
Z and Aivee both look good and are favorites on Best Dressed and Most Stylish lists.
PHILIPPINE STAR: You look like an inseparable couple. You work together, travel together, eat together.
Z: Yes, we are together almost 24/7. Since we came from a long-distance relationship — almost seven years of being apart — we finally decided it was time to plan our lives together. From then on, we were never much apart. We work together, travel, shop, eat, watch movies and even try to lose weight together, haha! We are really partners in everything.
And that includes being partners in choosing your wardrobe?
AIVEE: Yes, we both like to shop. In fact, I am his personal stylist. He wants me to approve first his shopping before he does the final purchase. We usually shop in Singapore — Club 21 in Hilton is one of our fave shopping places. We also love to shop in Paris, Barcelona and Hong Kong in between work or conferences.
Why do you enjoy wearing almost identical or themed outfits? Surely not as doctors, both in white?
AIVEE: Z and I think alike. Most of the time in the morning, he dresses up in his space and me in mine and it's amazing: before we leave the room, we look at each other and laugh because we end up wearing the same color or similar outfits without planning it. It's like we read each other's minds or we have the same mood or preference that day. For special events, travels or themed parties, we like to be "matchy-matchy" with the kids as well. It's just fun and cute for us.
Were you inspired by certain personalities who enjoy twinning?
Z: No one exactly. Aivee and I are probably just really in sync in all aspects of our lives, even in our dressing. Or maybe perhaps since we're always together we end up looking alike and thinking alike.
What is your advice to couples who would like to go twinning?
AIVEE: Do not overdo it. I think it has to come naturally. Because if you try too hard, it might appear overstaged. Both must like it and enjoy it for it to work.
You're a poster couple for togetherness and true love. Your advice to couples on how to keep the fire burning?
Z&A: Our advice would be to try to look good for each other. The attraction has to be there always. You cannot take one another for granted and expect your partner to just accept you for who you are. You have to take care of yourself and love yourself too. Also it's important for both of you to share common interests that you like to do as a couple . That way, you do not grow apart and keep enjoying being with each other.
And what are you two wearing on Valentine's Day?
Z&A: Hmmm. Since it's Chinese New Year too, we'll be wearing something red.
TIM YAP & JAVI MARTINEZ: 'Don't do everything together. Make space for growth.'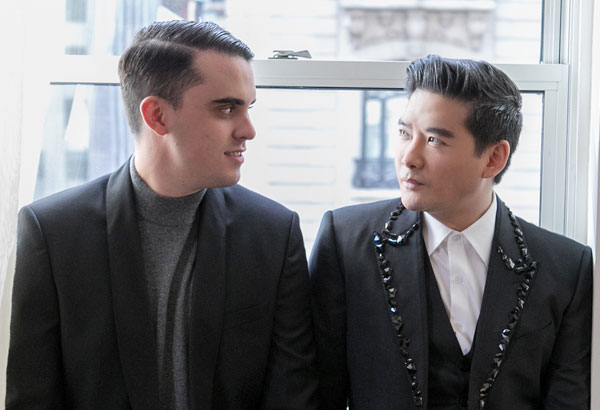 No event is complete and grand unless it has Tim Yap as its host. Whether it be a wedding, a birthday, a product launch, a fashion show, a retail place inaugural, a ball or just a gathering of like-minded people out to have fun, it is Tim who puts the real sparkle in the champagne, the wit and wisdom in every spoken line. High society, government leaders, business tycoons, showbiz stars — even children — roll with laughter once he holds the mike. Some people are just born to be masters of events.
What the audience doesn't know is that there is someone who works quietly and efficiently behind the scenes of such grand events. He is Javi Martinez Pardo, the better half, the partner, the love of Tim's life. Not surprisingly, Tim and Javi recently got married in New York. The brilliant and lovable Tim is the top influencer of his generation and it is no surprise either that they simply hit it off when he first met the muy inteligente y simpatico Spanish señor. "We met at the Peninsula Manila through Anton San Diego," Tim says.
And of course it was a master-planned event when Tim and Javi had their civil union at the Peninsula New York rooftop.
Tim and Javi, your life is a series of events you do together. You travel, work, and obviously shop together? Are there designers/brands you both like?
Tim: I have this bias towards Dolce & Gabbana, Louis Vuitton and Gucci. I like a "little" bit of flash in my outfits whereas Javi likes his to be more Zen Japanese. He thinks he's Asian. Locally I love Rajo Laurel, Rhett Eala, Joey Samson and Francis Libiran. Not only are they great menswear designers, they're also good friends of mine all through these years. Somehow Javi has influenced my daily work wear and I have also come to appreciate a certain uniform dressing. It's not easy to concentrate in a meeting when your outfit is fully embroidered.
What is the pleasure in twinning—or wearing almost identical or themed outfits?
JAVI: Aside from those times when we unknowingly wore similarly color-schemed attires, the only time we only TWUN (Tim's invention of a past tense for twinning) was during our wedding, when, because of the cold, we wore heavy winter jackets to protect us from the harsh New York winter. Underneath it was an embellished Dolce tux for Tim and a sleek Hugo Boss for me. Still not as Korean-couple-in-Boracay as you would like to think, but close.
Do you have a peg or were you inspired by certain personalities who enjoy twinning?
TIM: I never go with any pegs as my principle for dressing up is to "express, not to impress." So i try not to overthink it. The only consideration I make in my head is "Have I posted this on Instagram?"
What is your advice to couples who would like to go twinning?
JAVI: Opposites may attract, but similarities endure. So do what you want, wear what ever makes you two happy!
You recently got married in New York and you're a picture of true love. Your advice to couples?
TIM: Don't do everything together. Always make space for growth. Sleep on the same bed with your pets. Surprise each other. Don't put everything out on social media. Keep some things for yourselves. Make each other happy. Plan vacations. Hug a lot.
And what are you two wearing on Valentine's Day?
JAVI: Pajamas!
PHILIP & CHING CRUZ: 'Be the best of friends for life.'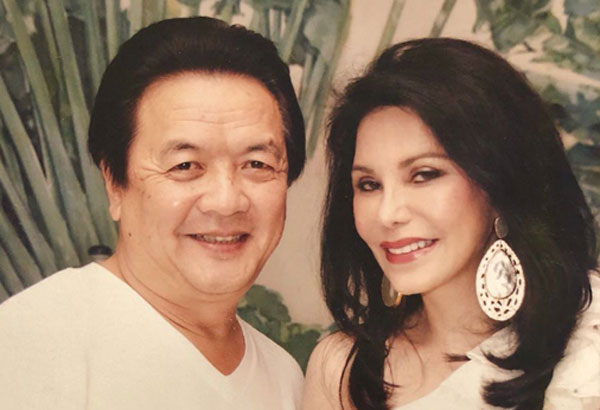 Construction tycoon Philip Cruz and his beautiful wife Ching Cruz form a perfect pair. Philip is heir to his father FF Cruz's legacy of integrity, quality and hard work, while Ching is a businesswoman who is a gracious host and impeccable homemaker. She is a Best Dressed woman of style.
What is striking about this couple is that they are often in white. Their beautiful home is white; and even their dog — a Tibetan mastiff called Sam — is always immaculately clean in furry white. To relax from work, they enjoy taking shelter in a simply cozy white hotel out of town.
You always travel together, whether for work or for leisure. Do you also plan your wardrobe together?
CHING: Philip likes plain Italian linen and pure cottons for the tropics . For colder climates, he goes for wool and light cashmere.
In the photo taken during a cruise, we are both wearing just comfortable white hoodies which you peel off as you adjust to outdoor -to-indoor .
You both often wear white together. Is it a kind of uniform you've both adopted?
CHING: We have fun together every time we are twinning. We think it's awesome and there's a partnership in it.
Philip has been wearing white ever since I can remember
What's the story behind you and your parents always being in white, Philip?
PHILIP: My father wore it every day and the logic that he saw was that it's a modest way of showing you're clean and disciplined and regulated . If he could turn everything around him white, he would do it so that he could make everyone around him conscious of dirt and dust, and have discipline to sustain and maintain very clean suroundings. So from afar, you could already pinpoint where it has become dirty and when it's time to clean.
So it was a natural thing for both of you to just wear white?
PHILIP: We don't really plan twinning in white . It just often happens. Maybe Ching and I have the same wave length of moods and habits.
What is your advice to couples for living in togetherness and love?
CHING: Place God in the center of your relationship. Be the best of friends for life. Be sincere and honest with each other. Don't fence in your partner.The magnet for partners to gladly come home each day is to build a home you look forward to, relax and sleep and eat healthy. Spend time together addressing each other's needs and share time with the kids and a few sincere friends you have nurtured to grow old with.
PHILIP: Try always to be happy before you sleep and it always makes the next day, a wonderful day to look forward to, even though it may be bad weather. Most of all, try and be a good citizen and help this country to become an educated and disciplined community. Try to uplift the quality of life of people around you. And lastly, share your blessings in an unannounced way.
CHITO VIJANDRE & RICKY TOLEDO: 'Give each other space, including lots of closet space.'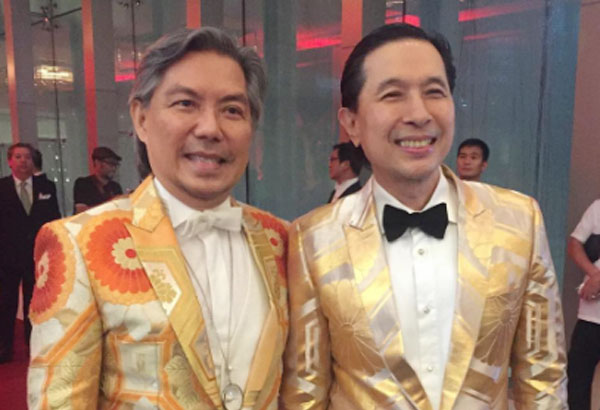 Chito Vijandre and Ricky Toledo — I always text them collectively as ChitRick — are two of the brightest minds in the lifestyle scene.
Chito is a revered master couturier who jolted Manila society out of their humdrum ball-hopping , champagne-gurgling existence by presenting a 40-piece collection at the Red Charity Gala that made us stop, look and listen. Listen to the mind of a designer who knows couture , history and culture. If you didn't get it, you didn't deserve to watch it.
Ricky is the gentle but persuasive partner in this duo whose passion as an erudite writer and history watcher has not diminished since his college days as an Ateneo campus writer and an exchange student in Indiana. He is the balancing force versus Chito, who is given to tantrums or outbursts. "Sometimes the tantrums are mine," says Ricky. "Like his name Pacifico, Chito is calm and balanced most of the time, but when he gets mad, I hide."
It was fun chatting via Whatsapp with ChitRick, Manila's glamorous pair of tastemakers and lifestyle doyens.
As a couple, you travel, work, and obviously shop together. Are there designers/brands you both like? Or does Chito design most of your outfits?
Ricky: If Chito's up to it, of course, there's nothing like couture at friendly prices LOL
Chito: If he's extra nice I'll do it for free LOL
Ricky: I was extra nice so he did the gold obi jacket for the last Red Charity Gala. Also the peacock feather waistcoat I wore for the Gala two years ago which is actually one of my favorites since it's a labor of love --- feathers individually shaped one by one and strategically positioned to create unusual random patterns.
CHITO: I liked the result so much I decided to make a wall like it LOL
Ricky: Fashion and interiors inevitably meld. Like how many upholstery fabrics for a sofa ended up on our bodies??!!!
CHITO: But there's always the fun and rush in shopping for clothes. We always try to look for unusual pieces. Alessandro Michele always comes up with something exciting.
Ricky: Just saw a fabulous medallion brocade suit in the window of Paul Smith in Greenbelt. We're also always on the lookout for new, young designers in emerging shopping and design neighborhoods wherever we go.
CHITO: But there are traditional brands that have stood the test of time.
Ricky: Like the men's shops on Jermyn St. God knows how I've worn out my Trickers at many balls!
CHITO: There are also handwoven ethnic pieces like our Afghan and Hmong tribal jackets which never go out of style.
What is the fun in twinning—or wearing almost identical or themed outfits?
Ricky: They look good on IG, LOL
CHITO: It came about since we're often photographed together, we have to look good together.
Ricky: Also because while shopping, a design we like sometimes comes in two or more complementary colors or patterns so doesn't the shopping dictum apply : "When you can't decide between the two . . . "
CHITO: Buy both! LOL
Were you ever inspired by certain personalities who enjoy twinning?
CHITO: Not really.
Ricky: We've been doing it for as long as we can remember because it's fun to do.
CHITO: Even before twinning was coined. The term used to be double exposure LOL
Ricky: They'd call us Bobbsey Twins or Little Twin Stars LOL
CHITO: We're just inspired by the mood of the moment.
Ricky: Or the affair we're going to like for the gala of Ballet Philippines' Don Quixote this weekend, we're doing a Spanish theme of sorts.
What is your advice to couples who would like to go twinning?
CHITO: The look and colors should always be harmonious.
Ricky: It doesn't have to be identical but should be somehow related and pleasant to look at together.
CHITO: It has to be interesting like stripes with florals but the colors have to work together.
Ricky: If one has a pattern-heavy top, for example, maybe the other can have the pattern on the trousers. Chito wanted to wear a heavily embroidered ethnic jacket to a Tatler Ball so I opted to wear a plain jacket from the same tribe but used an embroidered scarf over it instead as accent.
CHITO: Our looks were complementary and did not clash. You can still appreciate each one.
Your advice to couples on how to keep the fire burning?
Ricky: Have mutual respect.
CHITO: Give each other space.
Ricky: And that includes lots of closet space LOL
And what are you two wearing on Valentine's Day?
Ricky: We usually entertain at home with other couples and holiday orphans so something comfortable.
CHITO: Maybe a kurta and cotton dhoti trousers which we got from India. They've been worn and washed so many times that they're the coolest to wear.
Ricky: And so sexy! We'll match them with the most supple babouche slippers from Morocco.