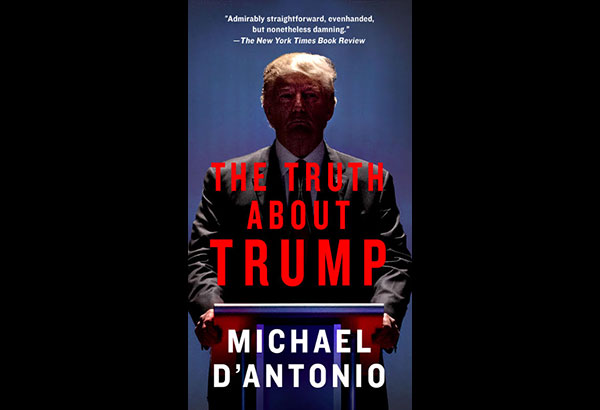 How Trump made billions, lost billions, and gamed the American public
THE TRUTH ABOUT TRUMP
By Michael D'Antonio
504 pages
Available at National Bookstore
You could be forgiven for thinking Michael D'Antonio's 2015 bio of Donald J. Trump looks a bit cheap in paperback, like those airport bestsellers with a shady character on the cover and promises of dark intrigue inside: Trump's well-known silhouette is just that, a dark mass, his face covered in shadow, like he's the bogeyman or the host of a new game show (Who Wants to Elect a Billionaire?).
Originally titled Never Enough, D'Antonio was allowed fair access to Trump (America's 45th president has never shied away from the press, or people writing books about him), but when it came to final approval of its content, the future president had his lawyer call the author and demand a final look-through; D'Antonio politely refused, and the lawyer reportedly said, "You just bought yourself a f***ing lawsuit." So it goes.
We know a lot about Trump from his appearances on reality TV and his presidential campaign, which struck many non-supporters as racist, misogynistic, xenophobic and other unpleasant adjectives. What do we learn about Trump from D'Antonio, a Pulitzer-winning writer for Newsday? Perhaps that, like the scorpion on the frog's back in the old story, all of the aspects of his personality we've come to loathe, admire, or merely gawk at are just part of "his nature."
You can begin with a childhood in Queens, New York, born into unusual wealth acquired by a real estate developer father even tougher and more competitive than Trump's German immigrant grandfather. (Fred Trump was worth about $200 million near the time of his death; Hillary Clinton famously said in the debates that Donald received a "$10 million loan" from his dad to start his businesses.)
Chauffeured to private grade schools, Donald, the middle boy of the family, was described as a terror. He "constantly" got in fights, threw erasers at the blackboard and even reportedly gave a music teacher a black eye for teaching "poorly." An okay student, his tough dad transferred Donald to a military academy to gain discipline; there, he received as many beatings and beratings as he had dished out in private school. But it didn't break him; it made him crave success, respect and wealth more than ever. And it sealed his view of life as an unrelenting struggle: "Man is the most vicious of all animals, and life is a series of battles ending in victory or defeat," he later told People magazine. "You can't let people make a sucker out of you." His early life also seems to have taught him the need to put himself first. As he's quoted by D'Antonio early in the book, "For the most part, you can't respect people, because most people aren't worthy of respect." So much for empathy. In Trump's world, you have to earn his respect. All else is secondary.
This may account for the catchphrase Trump began uttering during his campaign and right after being sworn in as president: "America first." He'd simply conflated America's interests with his own. The unfortunate overtones that the phrase evoked — going back to Hitler appeasement, anti-Semitism and Charles Lindbergh — were simply left there for liberals to argue over later; for his supporters and fans, it must have felt like manna from heaven.
The Truth About Trump does offer a portrait of Trump as a man who hasn't changed much from the grade school tyrant he once was: "When I look at myself in first grade and look at myself now, I'm not that different. The temperament is basically the same." Mind you, this is bragging we're talking about — not self-criticism.
The first half of D'Antonio's book focuses on his rise as a Manhattan real estate mogul. Much of this was built on chutzpah, determination, and some lucky tax breaks. Moving from business towers to condos to casinos and airlines, Trump relied on shifting around bewildering piles of debt, fueled by investors eager to get in on the name. Remarkably, when the Trump Company went bankrupt — for the second time — in 2004, he had lost countless millions for his investors for eight straight years, while remaining personally wealthy and maintaining a lavish lifestyle that included a private club in Florida, Mar-a-Lago, and a personal jet with his name splashed across it in gold letters. "I love debt," he's famously said. As long as it's someone else's, or he can walk away from it, that is.
D'Antonio parallels the rise of Trump with a widening gap between the mega-rich and the sinking middle class of America; just as in the early industrial days of Rockerfellers and Vanderbilts, when all the blue-collar classes could do was gawk at the immense fortunes of the very rich, Americans today are reduced to dreaming of living like Trump, or any other reality show emblem of vulgar wealth and success. As people started valuing image and money way above character and ability, they came to believe that only a (self-described) immensely wealthy "winner" could offer them solutions to their problems.
A man who never smoked, drank or took drugs, Trump does reveal at least one weakness in the book: attractive women. His marriage to Ivana Trump was rocked by a dalliance with Miss Hawaiian Tropic finalist Marla Maples, which led to years of tabloid headlines and, finally, a walk down the aisle with his new blonde trophy; but even then, the thrill of the chase was over: "I was bored when she was walking down the aisle," he says. The allure of beautiful women seems to amplify Trump's self-esteem, but it's also an unusual indulgence for someone so focused on his public image: it makes the infamous leaked Billy Bush bus recordings and unconfirmed reports of Russian hotel hijinks seem a little more plausible.
One key to his apparent sexism comes in his book Trump: The Art of the Comeback, a chapter titled "The Art of the Prenup." There, the two-time divorcee depicts women as sexually voracious "killers" who trade on their beauty to dominate men. "I don't know why, but I seem to bring out either the best or the worst in women."
Perhaps the roots of Trump's behavior lie in his relationship to his mother. BBC broadcaster Selina Scott concluded, after an ill-fated documentary aired, that "He was Mummy's boy, and terribly spoiled as a child. He had everything he wanted and never had much taken away from him."
Truth was never a fixed marker for Donald Trump, who admits to exaggerating to sell himself. "A little hyperbole never hurt. I call it truthful hyberbole." This hyberbole — or alternative facts, if you will — would stretch to lying about the size of his first Trump Tower, adding 10 stories whenever he talked about it, or claiming The Apprentice was "the No. 1 TV series," which D'Antonio debunks.
He also found that his political remarks won him even more publicity, and as early as 1987, Trump tested the waters with blowhard statements that the US should stiff NATO and stop carrying other countries. His political water-testing extended through the Obama years, spreading the lie (or else believing it himself) that the president was not a US citizen. It was a barometer reading, perhaps, for the emerging alt-right. His market research paid off.
As a prelude to Trump entering the presidential ring for real, there was a little TV show called The Apprentice, which amped up The Donald's addiction to public approval: where before he would collect newspaper clippings mentioning him, now he would boast endlessly about his TV "ratings," a tendency that has extended into his first weeks in the White House, sending his Press Secretary out to debate crowd sizes at the inauguration, and claiming he "won the popular vote as well" over rival Hillary Clinton, despite no evidence backing his claim.
Those expecting a seasoned politician to somehow emerge once Trump entered the White House weren't really paying attention to his past. The slightest prick to his ego is torture. This is a man who will say that "the saddest thing" a man can do is lose his hair, then order up exotic drugs from his personal physician to stimulate hair growth in his 70s; a man who, while first dating Ivana Trump, would remove his skis and boots and storm off an Aspen ski trail because she skied better than him; a man who would file discrimination charges against Native-American tribes because they were given "unfair" casino advantages by the US government; a man who would badger Fortune magazine editors for leaving him off their "500 Richest" lists; and a man who would fax New York Times writer Gail Collins a circled picture of her column photo with the words "THE FACE OF A DOG" scribbled next to it, after she jokingly described him as a "financially embattled thousandaire." (Not a billionaire.)
What American voters eventually elected was a businessman who prides himself on killer instinct and dubious professional ethics, lacking even the sheerest veil of political civility. He was never going to play nice with the other kids. And yet, D'Antonio's book — hatchet job though it is, even while withholding the juiciest tabloid gossip tidbits — still seems to grudgingly admire, or at least understand, the creature that is Donald J. Trump.
The truth is, those people standing at the National Mall for Trump's inauguration were not so different — well, different in numerical size, maybe — than the ones that crowded there for Obama's election or reelection: they all came there because someone had ignited their hope, by promising something that they felt had gone missing in America. That they placed their faith in the character described by D'Antonio is perhaps sadder than anything that's in the book.