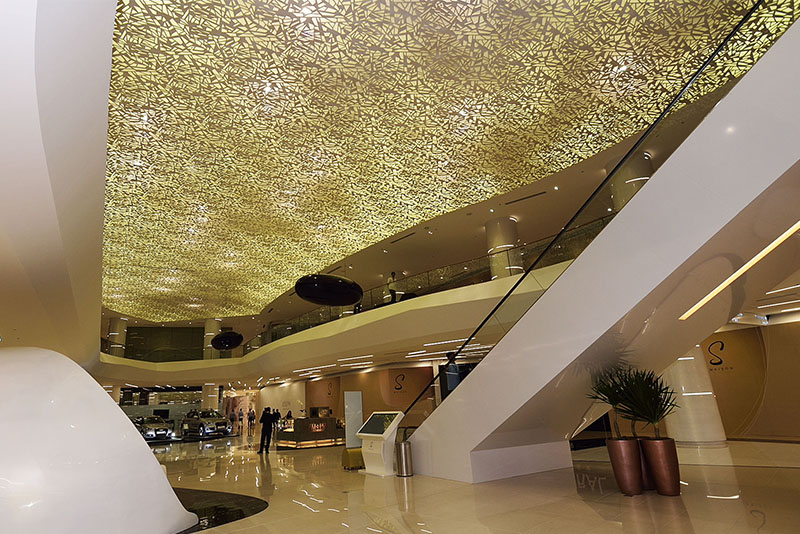 Designed by French design firm Malherbe, S Maison's sleek and modern interior was recently formally introduced to the public via a grand launch showcasing the mall's well-curated mix of Epicurean dining and high fashion retail brands. Photo release
Award-winning French-designed mall launched in Pasay
(philstar.com) - June 27, 2017 - 10:52am
MANILA, Philippines — An award-winning, French designed, Filipino-owned mall was recently unveiled in Pasay City.
S Maison, the 62nd mall of Filipino mall chain SM, was recently feted by the Prix Versailles World Architecture Awards at the Unesco Headquarters in Paris for design excellence in Interior Spaces, South Asia and the Pacific Shopping Malls category.
Designed by French design firm Malherbe, the mall's sleek and modern interior was recently formally introduced to the public via a grand launch showcasing the mall's well-curated mix of Epicurean dining and high fashion retail brands. Some of these brands from all over the world established their first brick-and-mortar shops in the mall, which is why it has been dubbed, "home of the firsts."
Located within the Conrad Manila's two lower floors and spanning over 25,000 square meters, the mall's interiors feature high-tech modernism with pearlescent Italian floors and iridescent metal accents to stimulate the feeling of being encased in a pearl.
The mall has introduced unique dining and retail concepts and is soon to launch more in the coming months to further excite travelers both local and foreign. Its ultimate tenant mix of 43 percent food and 57 percent retail and services ensures a taste of luxury and diversity.
With 90 percent of the mall leased, Steven Tan, Senior Vice President for SM Supermalls said that the mall will soon welcome new dining brands such as Sarabeth's of New York, a brunch spot frequented by Hollywood stars; Singapore casual bistro and café Olivia and Co., as well as something from home, SiamAroi, a sought after hole-in-the wall restaurant run by a Thai husband and wife tandem that serves authentic Thai cuisine which has its roots in Makati.
These join the interesting mix of dining and cafe concepts already at the mall such as Chibo, Osaka's most popular okonomiyaki brand; Mazendo, which serves authentic Taiwan style beef noodles; Singapore's Paradise Dynasty which offers various flavors of xiao long bao, including the famous truffle and foie gras versions; Bijin Nabe by Tsukada Nojo which serves a special collagen hotpot; Starbucks Reserve, the first outlet that offers the Experience Bar or exotic coffee variants brewed according to the customer's preference and Recession Coffee where you can dictate the price of a cup of coffee.
The mall, Tan said, "was created for people who want more spaces to relax and who are looking at our elevated retail offerings. It doesn't compete with the hustle and bustle of the Mall of Asia but complements it."
It offers a well-curated assortment of retail brands not found at Mall of Asia, well-appointed beauty and wellness services, and Director's Club cinemas to complete the shoppers' experience.
The upscale mall is home to the Cole Haan, Zero Halliburton, True Religion and Paris Miki flagship stores, also to retail brands like De Novo Studio, Swiss Gear, Titan, Fully Booked, Digital Walker, Moressi, Rosa Clara, Yankee Candle, Empire Golf and Mega Blue Bird.
Other retail brands like Pandora, Joseph; curated collections like Assembly; and branded services like Belo Medical Clinic, Teng Roma Salon and Gan Advanced Osseointegration Center (GAOC) have likewise made their way to S Maison.
Complementing the dining and retail options are three Director's Club theaters that have a capacity of 38 seats per theatre with La-Z-Boy Power Recline XR+ seats equipped with a combination of reclining positions including stress free zero gravity.
SM Supermalls is owned by SM Prime Holdings, Inc., the country's largest integrated property developer. It is scheduled to open four more malls in the Philippines namely SM Cherry Antipolo in Rizal, SM Center Tuguegarao Downtown in Cagayan, SM City Puerto Princesa in Palawan and SM Center Lemery in Batangas this year.
By the end of 2017, SM Prime will have 65 malls in the Philippines - 22 of which are in Metro Manila, 33 in Luzon outside of Metro Manila, five in the Visayas and five in Mindanao - and seven malls in China with an estimated combined ground floor area of 9.3 million square meters.