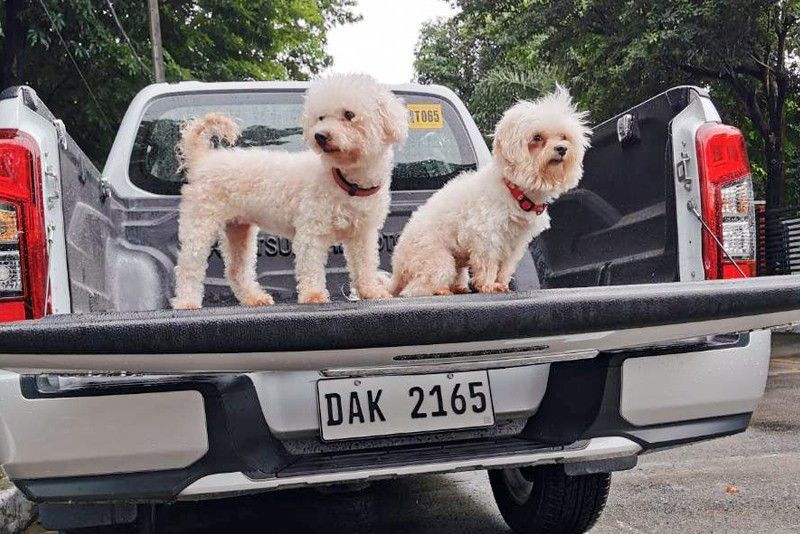 More than a an empty space: For Gorby the Matipoo and Vodka the Bichon the bed of the Mitsubishi Strada is a nice place to play.
Driving two doggos, safely
On days off from work or days when I am free, I take two of my white fur babies for a spin. Sometimes I only have two hours before I need to go off on an assignment, so I opt to take them nearby.
I have often wanted them to run free in the park of our village, but there are several signs that remind me that dogs are not allowed. Walking them on the pavement is an option, but sometimes I feel the need to let them run free, because I know they will love it.
So, on a random Wednesday, I loaded Gorby the Maltipoo and Vodka the Bichon into a reliable Mitsubishi Strada and drove them around the village I live in. As a pet owner I know that I have to prepare well before I take my canine companions on a spin. Since my two furry companions are used to taking rides in the car, here's a list that might help when taking teenaged dogs for a spin.
Restrain your dog in the car. It is not safe, nor is it advisable to let a dog roam around a car unrestrained. Consider putting your dog in a pet cage if you are driving a distance or if your dog is a nervous passenger. It is the most effective way of keeping a dog still and under control while you drive. Having a dog caged helps you focus on driving instead of on the dog. Consider confining your dog to the rear of the car.
You could also use a dog safety seat. It is safer and more comfortable than a car seat for your dog if you turn or stop the car suddenly. They attach to the back of the front seats, and the top of the back seats, creating a soft well in which your dog — and any liquids or solids they may create — is contained.
Have a positive attitude about the cage and walk away from the dog in the cage for several minutes. Allow the dog to get into the cage by itself by luring it with treats, and do not force the dog into the cage.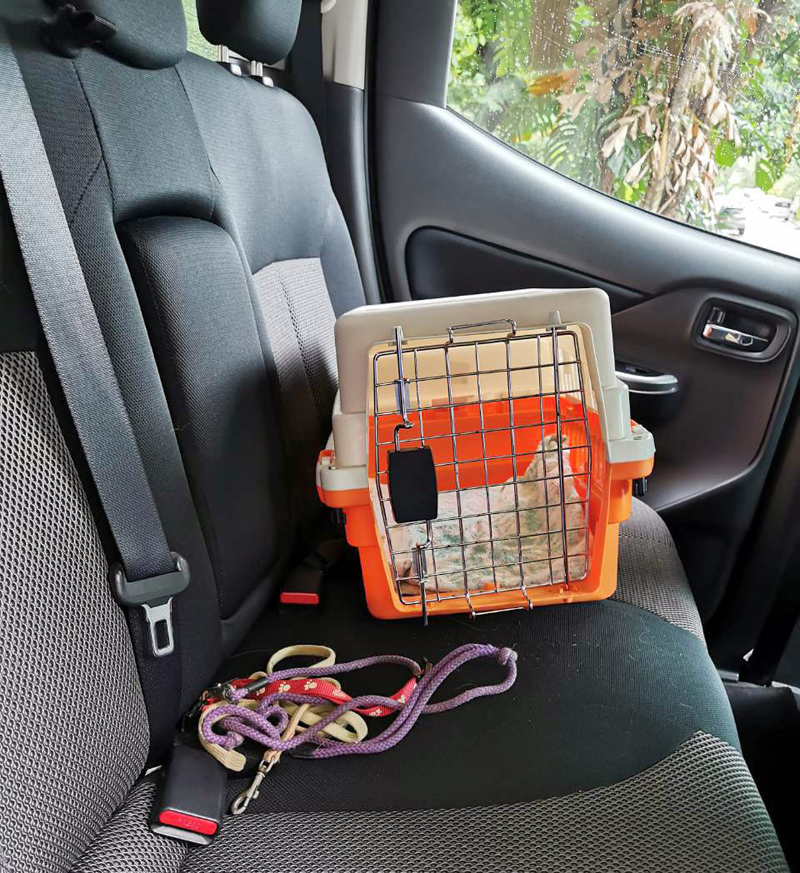 A cage and leashes are good ways to keep the dogs safe during a trip.
Exercise your dog before loading it into the car. You need to get your dog tired out before caging it.
Avoid feeding your dog right before your trip. Feed him or her at least a few hours before. This will help your dog avoid getting carsick or doing its business in the car, which is unpleasant for both owner and dog.
Bring water, treats, the dog's collar and lead, some of his or her favorite chew toys, and plastic bags for poop.
Place a few chew toys in the back with your dog to keep it occupied. It is better not to give him or her a bone or food treats because if the dog feels sick, it will bring it back up. Squeaky toys are also undesirable, as they will drive you crazy.
After following all these tips, we were ready — and off we went.
I believe that there is always time for our lovable companions, no matter how short. So, when I only have a few hours to share with my pets, I place them on a Mitsubishi Strada bed, since it is a great place to let them roam and smell the roses, too.
And, being the adventurous dog-owner that I am, I allowed them to take the three-minute ride home, noses in the air, as they rode shotgun in the Strada's bed with a faithful companion making sure they were safe.
Thank goodness for pickups.
* * *
For information of the Mitsubishi Strada visit your nearest Mitsubishi Motors dealership or check-out https://newstrada.mmpc.ph/.