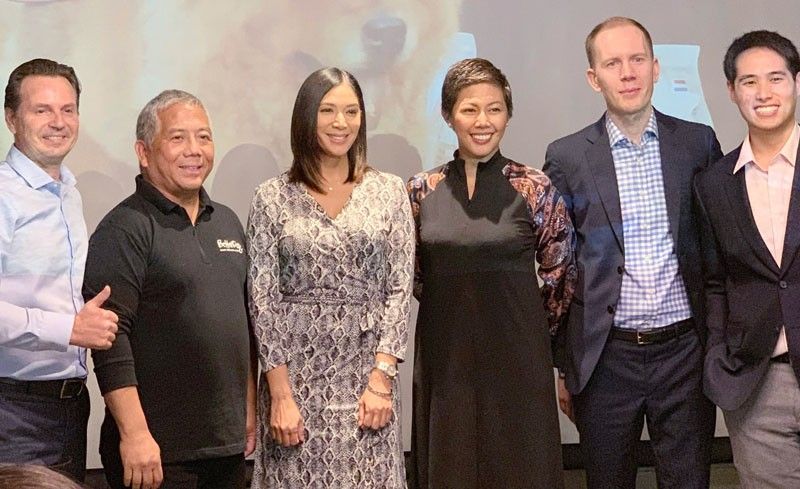 For the love of pets: Dimitry Konstantinov, exclusive distributor of Vigor & Sage Russia; Jojo Isorena, owner of Betterdogs Canine Behavioral Center; CNN's Pinky Webb: Dr. Maricel Licuanan, founder Philippine Pet Birth Control Center; Kirill Repin, Global Business Development Director Vigor&Sage and Luis Mercado, exclusive distributor of Vigor&Sage
When we hear brands like Rolls Royce, Makati Diamond or Vigor & Sage we think about the best ever materials, quality service and food," said Kirill Repin, director global business development, Vigor & Sage at launch of the pet food, recently. "But when we think of ourselves as the user of the service, owner of the vehicle or consumer of the food it becomes more than just a product or service it becomes our lifestyle one that we share with our pets."
How true.
When I tried Vigor & Sage for my Bichon and Maltipoo recently I noticed how my two furry companions were hesitant at first to try it out. Sniffing their bowls to find out what the kibble was — perhaps because the kibble smelled a little different? The use of herbs must have done it. But the hearty eaters that they are they tried it out — and they liked it.
I started their routine on Vigor & Sage by going half and half — that is half of their older brand and half Vigor &Sage. I did that for a week — and today, my two doggies are on Vigor&Sage as they have gotten used to it.
I was even told by Repin that I should begin to notice a change in their skin and more shiny eyes. I am waiting with bated breath for that to happen — and Repin told me it takes about three weeks before I begin to notice the difference.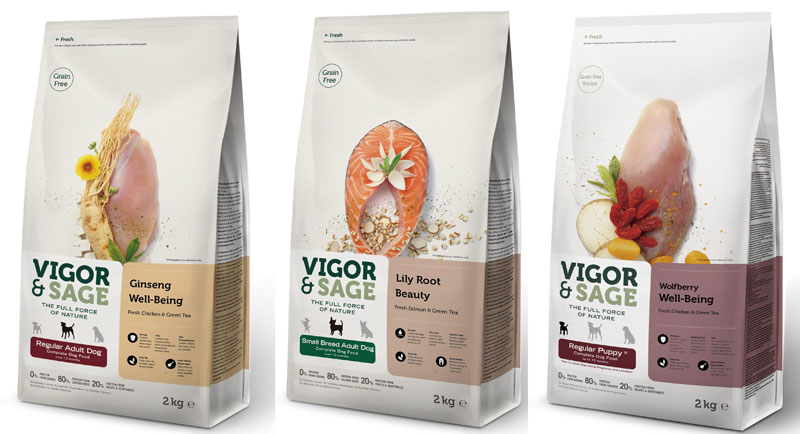 I woof you: Ginseng Well-Being Regular Adult Dog, Lily Root Beauty Small Breed Adult Dog and Wolfberry Well-Being Regular Puppies
For humans like me who like to make sure that their fur babies are eating only the best — specially since Vodka the Bichon and Gorby the Maltipoo sleep with me at night taking care of their nutritional needs — choosing the perfect, high- quality health food for them.
At the launch of Vigor & Sage we were told that it is a premium pet food brand that has carefully researched the evolution of the feeding habits of cats and dogs, which led the company to create a range of fine foods with natural herbal boosting effects.
Made in the Netherlands, Vigor & Sage officially arrived on the Philippine market in February, which boasts of tasty recipes made of pure natural ingredients and healthy herbs, and are gluten free. Specifically produced for cats and dogs, the brand offers a complete diet for pets by combining healthy protein options like salmon, turkey, and chicken with carefully selected herbs such as seaweed, ginseng and green tea to name a few.
"Unlike any other pet food, Vigor & Sage uses the purest natural ingredients with beneficial herbs in its recipes. They are tasty meals that have amazing health benefits for cats and dogs. In fact, we call it 'Fine Dining with Herbs' for pets," added Repin.
"We saw a lack of options locally whereas we've found that there is increasing awareness and standards among pet lovers for the ethical means of pet food production and transparency in product ingredients," said Luis Mercado, president of Rubicon Crossings, the official distributor of the brand. "We researched different products for a long time before partnering with Vigor & Sage. This is a company discerning pet lovers can trust. Everything is grain -ree, gluten-free, manufactured in and imported from the Netherlands."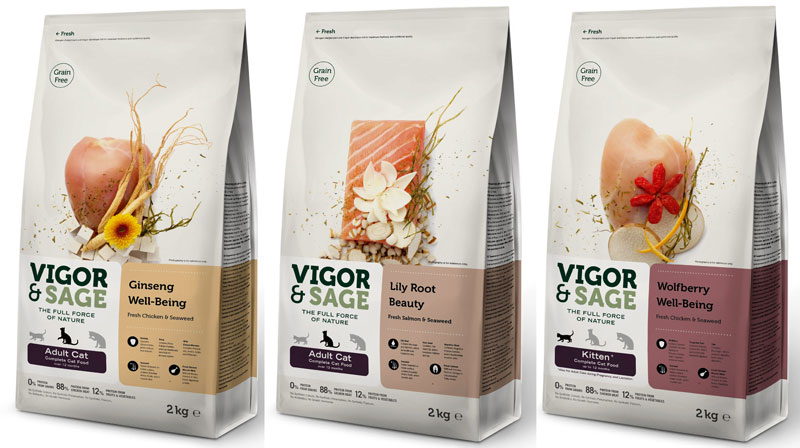 Moewmmy: Ginseng Well-Being Adult Cat, Lily Root Beauty Adult Cat and Wolfberry Well-Being Kitten
Invited special vet guests were Dr. Maricel Licuanan, founder of Philippine Pet Birth Control Center. "What makes Vigor & Sage unique is that the source of protein in the kibble is not a meat by-product," said Dr. Licuanan. "The incorporation of herbs as a supplement makes the food a unique approach in boosting the immune system and the of vitamins as well as from fruits and vegetables. The grain and gluten-free is an advantage for out pets since many of them have allergic reaction to to grains because of the way they are produced in kibble."
"We have had very limited experience with Vigor and Sage because it is very new in the market," added Jojo Isorena, owner of Better Dog Canine Behavior Center. "But we have seen that the dogs love it and they will eat every variant. You can put all the health ingredients in the dog food and all the good things but if the dog will not eat it then it doesn't make sense."
Humans eat, too
As we sat and enjoyed the lunch at Makati Diamond Residences in Makati, which had for it's main course Salmon which is also one of the variants of Vigor & Sage — guests were allowed to get a "petrait" of their fave canine companion by Robby Singhart who was happily sketching away.
The initial available variants of pet food, for both dogs and cats included: for dogs — Wolfberry Puppy, Ginseng for Regular and Small Breed Adult Dogs, Lily Root for Regular and Small Breed Adult Dogs and Lotus Weight Control.
For cats — Oat Grass Hairball Control, Wolfberry Kitten, Ginseng Adult Cat, Lily Root Adult Cat and the Lotus Weight Control variants.
"The goal of the company is to find ways to assist in extending the life span of pets by finding the highest quality of pet food in the market through brands like Vigor & Sage," said Rubicon Crossings general manager Ricky Santillan.
"With Vigor & Sage we want to overcome the perception that it is just pet food," added Repin. "We want food that will really care for the looks, mental and physical well—being of our pets — and make it a part of the every day lifestyle."
* * *
Exclusively distributed by Rubicon Crossings, Vigor & Sage will be available in select retailers in Metro Manila. Currently, it can be found at the PPBCC Philippine Pet Birth Control Center, run by Dr. Maricelle Licuanan-Resurreccion, a well-respected Veterinarian in the industry. It is available online at Mog and Marley (mogandmarley.com), a premium retailer for pets that delivers free of charge within Metro Manila.
Visit @vigornsageph on Facebook and Instagram for more details about the brand, products, and promos.