WATCH: Karla Estrada's Army reservist post features NPA song, draws mixed reactions
MANILA, Philippines — Actress-TV host Karla Estrada's proud moment went viral for reasons she might not be aware of.
Karla posted a new milestone as she revealed that she is going to be a Philippine Army reservist soon. Many of her celebrity friends congratulated her on her newest feat.
Her now-deleted Instagram video uploaded yesterday, June 6, showed her with officers from the Philippine Army with her in their uniform.
Several Internet users, however, were amused when they saw on her post and heard the background song to her Instagram video.
On the description portion of her post, the song's title read: "Ang Bagong Hukbong Bayan (Anthem of the New People's Army)."
One commenter wrote on the comments section: "Anthem daw ng NPA yan karla."
"NPA ka? Research muna tungkol sa kanta na ginagamit," another one wrote.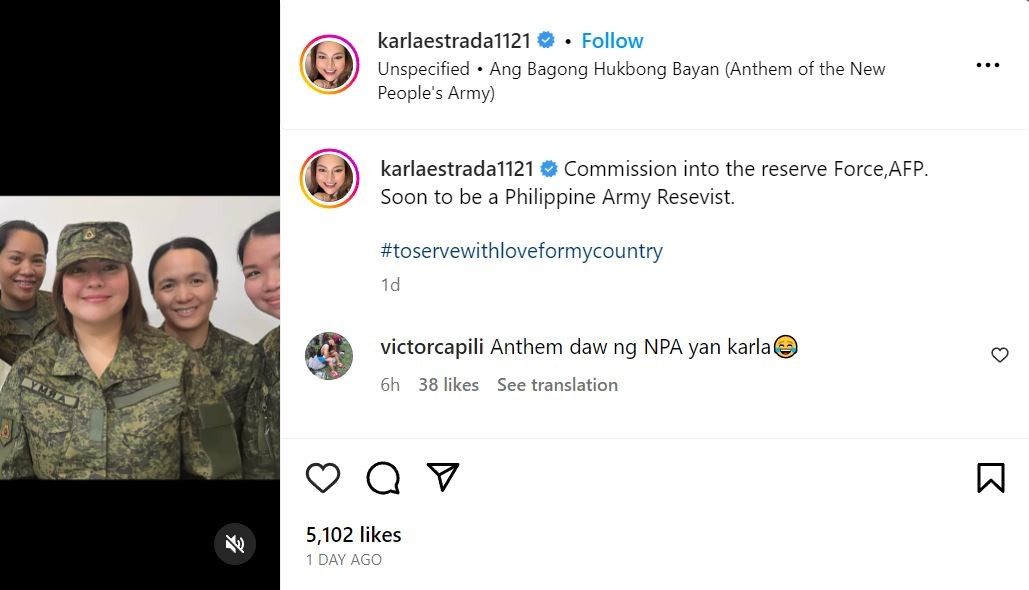 The New People's Army (NPA) is the armed wing of the Communist Party of the Philippines (CCP). The NPA has been in conflict with the Philippine government for decades since 1969.