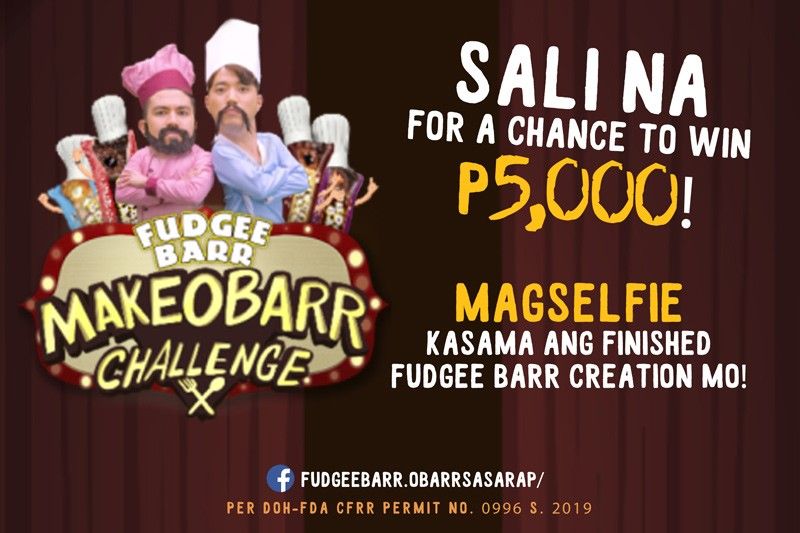 Fans' creativity and ingenuity are put to the test as they share their best Fudgee Barr creations online.
Photo Release
Fudgee Barr's Make-OBarr challenge lets you win cash and gift prizes
(Philstar.com) - September 17, 2019 - 1:10pm
MANILA, Philippines — Get a chance to win P5,000 in cash and exciting gift packs when you test your cooking skills to the OBarr Levelz with Fudgee Barr's Make OBarr Challenge!
On July 5, Fudgee Barr, one of the country's well-loved cake brands, launched its Make OBarr Challenge promo, where fans' creativity and ingenuity are put to the test as they share their best Fudgee Barr creations online.
It doesn't take a chef or a cake connoisseur to show skills in this exciting challenge! The promo is open to all Fudgee Barr fans ages 13 and above with an OBarr determination to create unique, out-of-the-box and OBarr sa Sarap recipes using Fudgee Barr variants as the main ingredient.
Thinking of creating your OBarr sa Sarap na recipe over the weekend? Here's how!
The Fudgee Make OBarr Challenge promo will run from July to December 2019. There will be a total of five monthly challenges. Your task is to:
Choose between two specific Fudgee Barr flavors that will be announced every challenge.
Post your creation on your Facebook account together with your complete recipe, ingredients and procedure.
Don't forget to comment on Fudgee Barr's monthly Facebook announcement post that your entry has been posted!
Be sure to set it to "public" so the Fudgee Barr brand can easily track your entry!
Your OBarr sa Sarap na entries will be scored based on three categories: innovative execution, OBarr Levelz takam presentation and OBarr sa Sarap na product usage!
Two winners will be selected every challenge, so there will be a total of 10 winners at the end of the five monthly challenges. The winners will be announced on Fudgee Barr's Facebook page to keep you guys updated!
So, who's up for an OBARR challenge? Join the Fudgee Barr Make OBarr Challenge now!
Please see schedule below for the next set of Fudgee Barr Make OBarr Challenges!
Challenge 3: September 6-October 3: Fudgee Barr Salted Caramel & Fudgee Barr Mocha
Challenge 4: October 4-November 7: Fudgee Barr Dark Choco & Fudgee Barr Milk
Challenge 5: November 8-December 6: Fudgee Barr Dark Choco
Click here to find out the complete details of the promo: https://www.facebook.com/watch/?v=476001979634999
For more exciting announcements and updates about this promo, like and follow the FudgeeBarr: ObarrSaSarap Facebook page: https://www.facebook.com/FudgeeBarr.ObarrSaSarap/